This is a sponsored post written by me on behalf of Stren for IZEA. All opinions are 100% mine.
Take the time to head outdoors for an amazing family-friendly, outdoor adventure. Fishing is fun for all ages and it's easy to do. Getting out on the water to fish is a great way to unwind, reconnect with others, and create some unforgettable memories. Your "fishing stories" will be ones that you will be telling for years to come. So grab a rod, get out on the water, and go fishing together to start making those memories.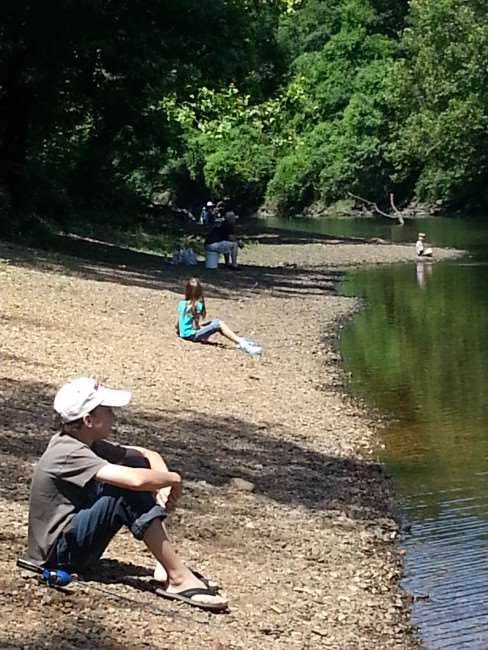 Fishing is a great activity for the whole family. I have been fishing since I was a little girl. My Dad loved to fish, so I started out with him. Every summer, we would head to the White Mountains in Arizona and go fishing together for trout. It was a trip that I looked forward to every year. We'd stay at the same cabin and head to our favorite fishing spots again and again. One year, we tried something new and went to a trout farm, a private lake where you paid by the pound for the fish you caught. My brother and I found a large school of trout very close to the shore line. For about an hour, we pulled out enough trout to fill a FULL bucket. We were so proud of ourselves. Unfortunately, our parents had the pleasure of paying for all those fish. My mom had to find new ways to cook trout so we didn't get tired of it. We still love telling that story to this day.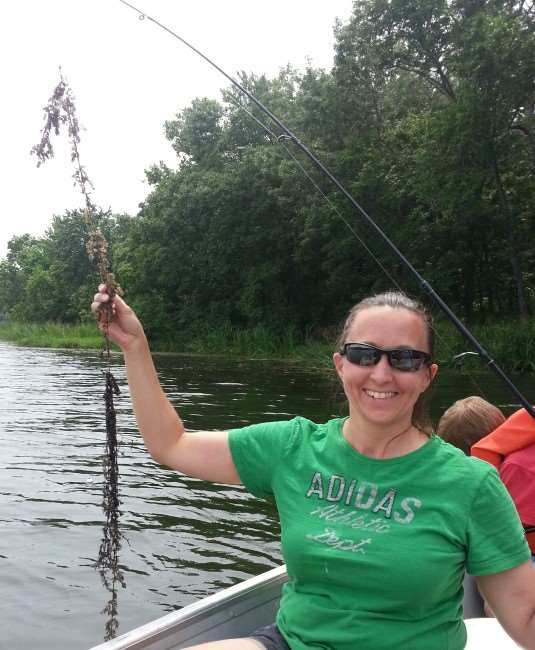 Now that I'm a parent, I take my children fishing too. We'll head to a nearby lake for bass and catfish or travel to the Illinois River in the eastern part of state for trout fishing. We have yet to catch the "Big One" or even a fill a bucket full of fish, but we have a great time together. We're telling stories of the one that got away and the other things we did and saw while we were out. The memories we are making are better than any toy we could ever buy. Best of all, we are just having a great time together.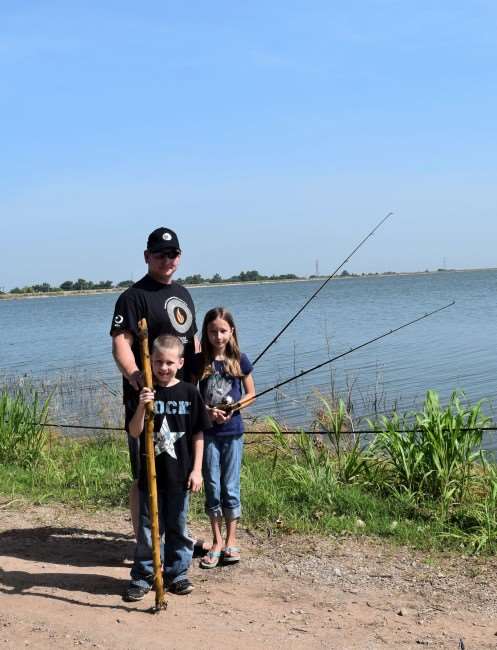 Now that water levels at local lakes are back up, the kids and I are enjoying fishing closer to home. Recently, we had the chance to go fishing together and try out our new Shakespeare Catch More Fish rod and reel fishing combo. These combos came pre-spooled with Stren fishing line and included a fishing kit equipped with hooks, bait and have everything we needed to enjoy fishing. Shakespeare is a well-respected and easy to use fishing tackle company. Stren fishing line is made in America, Spirit Lake, IA, and has been the standard of dependability in fishing line since 1958.
Depending on what type of fishing, there are a variety of different types of Shakespeare Catch More Fish combos available. We have three of their combo kits.
Catch More Fish Lake/Pond
Catch More Fish Ladyfish
Catch More Fish Youth Combo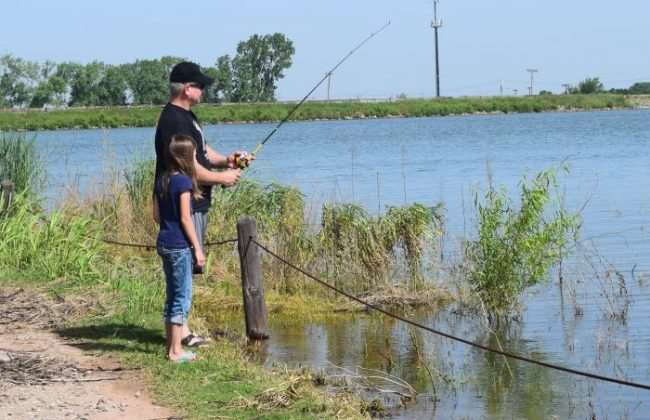 On a recent lake trip, we started off the shoreline, but quickly decided to fish off the pier to avoid all the brush along the shoreline. It was nice to have the covered shelter on the pier.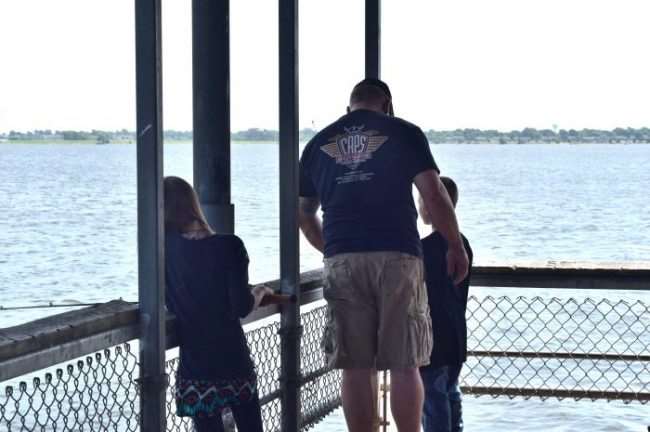 Unfortunately, the fish just weren't biting. So we went home empty handed.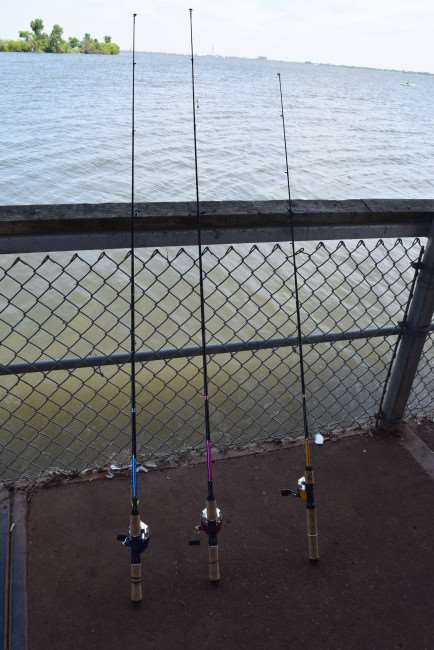 Whether you are a novice or an expert, fishing is fun for the whole family! If you have never been fishing before, Shakespeare has a great Outdoor Made Easy section on their website full of outdoor tips. You'll find their handy fishing checklist video and other great tips on fishing and camping. When you are ready to buy your first or next fishing rod, be sure to check out Shakespeare's website for their full line of rods, reels, and fishing combo.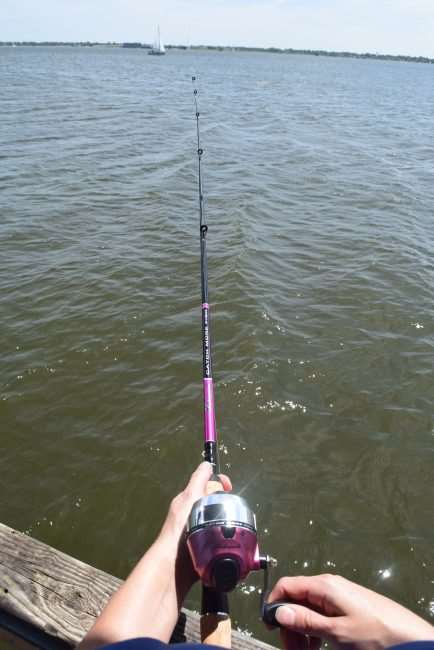 Shakespeare has everything you need to have a great time on the water. They will have you catching fish in no time.
When you go fishing, you need just a few things. Fishing license, a good rod and reel, and bait/lures from the area you'll be fishing in. Your rod and reel doesn't have to be expensive, just something you can trust. I really liked these new rod and reel combos from Shakespeare. They are quality products and the combo kit includes everything we needed to have fun on the water.
So what are you waiting for? Turn the TV off, load up the car, drive to a fishing spot, and go #FishinForMemories with Shakespeare and Stren!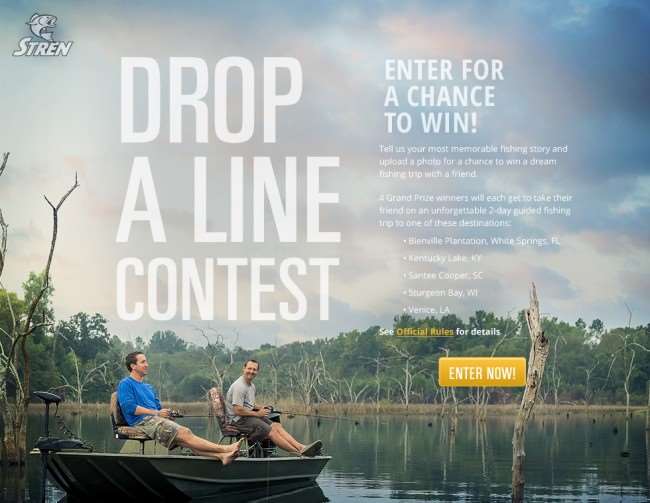 Enter the "Stren Drop a Line Contest" with a chance to win a dream fishing trip with a friend.
What is your favorite fishing story/memory? If you've never been fishing before, where would you go for your first trip?