Healthy Eating
When you want to eat healthy, you want simple recipes that taste AMAZING! This Seared Ahi Tuna with Snow Peas and Radishes is one of those recipes. It makes healthy eating simple, fast, and delicious.

This cold salad with seared Ahi tuna, snow peas, radishes, and Ginger Miso dressing is perfect year around. It combines a heart healthy source of protein in the Ahi Tuna with fresh vegetables; snow peas and radishes. The Ginger Miso Dressing is a rich, fragrant vinaigrette with toasted sesame oil, Braggs Amino Acids, fresh ginger, and white Miso paste. The combination is a burst of flavor in each and every bite. It's what healthy eating should always taste like!

What is Seared Ahi Tuna?
Ahi Tuna is another name for Yellowfin Tuna and its available at most grocery stores. This recipe calls for a lightly seared Ahi tuna which is only cooked for 2 minutes, 1 per side. The middle of the tuna steak is left raw. If that doesn't sound tempting, you can always cook the tuna steak all the way through instead of having a seared Ahi tuna steak. It will just take a few more minutes to cook.
Since we are lightly searing the tuna for this recipe, buy frozen steaks. Set the steaks to thaw in the refrigerator for about an hour before cooking.
Healthy Seared Ahi Tuna with Snow Peas and Radishes
This recipe for Seared Ahi Tuna with Snow Peas and Radishes is based on a salad I had in Southern California at a regional restaurant called Lemonade. This restaurant focuses on fresh, simple food that exemplifies what healthy eating should be. Everything I had that day was SOO good that I bought their Lemonade Cookbook and brought it home. The original recipe called for Watermelon radishes and snap peas. Unfortunately, here in Oklahoma I wasn't able to find those ingredients, so I substituted with snow peas and regular radishes. I changed up the dressing a little bit too. My version, shown below, is a cross between their original Ginger Vinaigrette and my Japanese Miso Carrot Dressing.
This recipe is simply amazing and I know you are going to enjoy healthy as much as I do with this Seared Ahi Tuna and Snow Peas salad. Enjoy!

Yield: 4
Healthy Seared Ahi Tuna with Snow Peas and Ginger Miso Dressing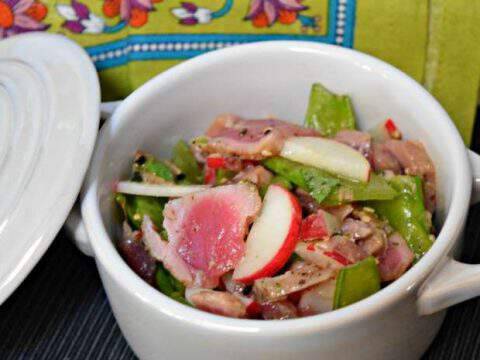 Ingredients
6-8 ounce Ahi Tuna steak
1 teaspoon Avocado Oil
1 pound Snow Peas, cut into halves
8 Radishes, thinly sliced
1 Tablespoon Furikaki (Japanese rice seasoning with black & white sesame seeds, and seaweed flakes)
3 Tablespoons Fresh Mint, chopped
Salt and pepper to taste
Ginger Miso Vinaigrette
1 Tablespoon White Miso paste
2 Tablespoons Seasoned Rice Vinegar
3 Tablespoons Braggs Amino Acids or soy sauce
2 teaspoons Toasted Sesame Oil
1 Knuckle of Ginger, peeled (about 1 Tablespoon)
2 teaspoons honey
2 Garlic cloves
1 teaspoon Dijon mustard
1 cup Avocado Oil
Instructions
Ginger Miso Vinaigrette
In a food processor or blender, combine all the ingredients, except the avocado oil. Pulse to combine until pureed. Turn on low and slowly add oil. Use immediately or refrigerate for up to 1 week.
Salad
Add avocado oil to a cast iron skillet and preheat on medium high heat.
Sprinkle the tuna steak generously with salt and pepper and place in heated skillet.
Cook for 1 minute on each side to get a good sear and form a thin crust. Remove from heat and allow to cool.
Once tuna is cool, thinly slice and cut into bit sized segments.
In a large bowl, combine the seared tuna, snow peas, radishes, mint leaves, and Ginger Miso Vinaigrette. Add additional salt and pepper to taste.
Cover and chill for at least 30 minutes.
This Ahi Tuna and Snow Pea Salad is delicious for lunch or as part of a dinner meal. I will often make it the night before and take it along when I need lunch while I'm out. The flavors only get better than longer it rests in the refrigerator. Try it today and let me know how you like this simple seared Ahi Tuna salad.
This post contains affiliate links, which means I receive a small fee if you make a purchase using this link.