Even with the busy holiday season, schedule some time and have fun as a family. We've put together a few of our favorite family fun winter acticties for the kids and adults. From baking cookies together to reading a favorite book on December 24th for Jolabokaflod, Christmas Book Flood, these are all fun things to do in winter. Together, you'll be entertained and create lasting memories together.
Winter Activities for Kids
Here a few fun thingsto do in winter including outdoor activities, indoor ideas, and holiday traditions. Go have fun and enjoy them with your family.
Create Homemade Ornaments
Kids love craft time. Find a few ideas on Pinterest or try one of these 10 homemade ornaments to create at home. You can use the ornaments to decorate your tree or give as a personalized gift to someone else.
String Popcorn for the tree
Eating while you work is half the fun with this one. This step by step guide can help.
Make It a Family Pizza Night
Who doesn't love a pizza night? Create pizza together and have fun with it. Try new toppings and let everyone make their own pizza. From pesto and tomato to cheeseburger pizza, you'll have fun doing it. Here is a great homemade pizza dough recipe and ideas for different types of topping combinations.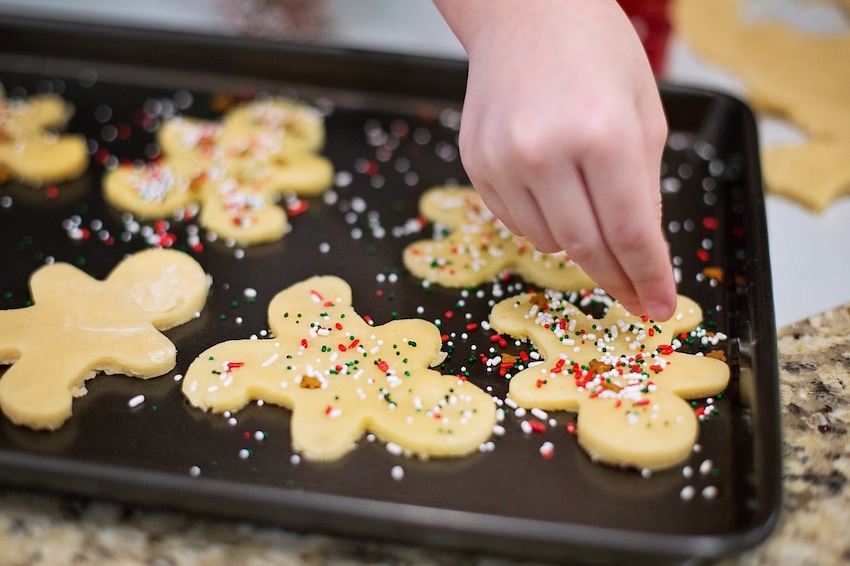 Decorate Cookies Together
Bake your favorite family recipe or try one of our Recipes for Santa Cookies. Together you'll create something delicious and have fun decorating with sprinkles, colored gels frosting, etc.
Invite friends, neighbors, and family over to swap holiday cookies. Everyone bakes a few dozen of one kind of cookie and brings it to the party. Then everyone selects a variety of cookies from what everyone brought. The idea is to bake once and get a variety of cookies for the holidays. Plus this is a fun and easy way to entertain for the holidays.
See Holiday Lights
Bundle up for a walk or drive around to see the Christmas lights. Add a little holiday music while you look and maybe a cup of hot chocolate too. My kids love doing this! We'll go on Christmas Eve again and try to spot Santa's sleigh in the sky.
Note: When at home in Oklahoma City, we love heading to Downtown Oklahoma City for light viewing.
Make a Holiday Craft/Gift
Get crafty and create more ornaments, tree trimmings, or homemade gifts. Try one of these:
Go Christmas Caroling
This is a tradition that needs to be revived. Gather your family and maybe a few friends for a night of caroling. Whether you walk around the neighborhood or just stay home, it will be fun. Be sure to sing at least one versus and chorus from "I Want a Hippopotamus for Christmas".
Holiday Movie Marathon
What's your favorite holiday movie? Watch it and a few others. Streaming services, like Netflix and Amazon Instant Video (free trial) , always have a variety of holiday movies on demand. Choose one of those or turn on an ABC network for their 25 Days of Christmas movie marathon.
Gift/Read a Book for Jolabokaflod, Christmas Book Flood
This is an Icelandic holiday tradition. On December 24th, books are given as gifts and many spend the rest of the night reading. You don't have to be Icelandic to enjoy this holiday. Share a book/story with your family and read out loud together. Even older children will love this new tradition. Plus no one says you have to stop after the holidays. You can make this a weekly occurrence. Read more about Jolabokaflod.
Snowball Fight
No explanation is necessary with this one. But, what happens if you don't have snow on the ground? Have an indoor snowball fight. Really! Create these fun yarn snowballs and have an indoor fight together. These yarn balls are easy to create and require yarn and a pair of scissors. You can have endless fun with these.
Do a Puzzle Together
Instead of a Family Game Night, have a Family Puzzle Night. Pull out the puzzles and do one together. It's educational and fun at the same time. If you don't have any puzzles handy, make one. Glue an image to a piece of card stock and then cut it out into different shapes.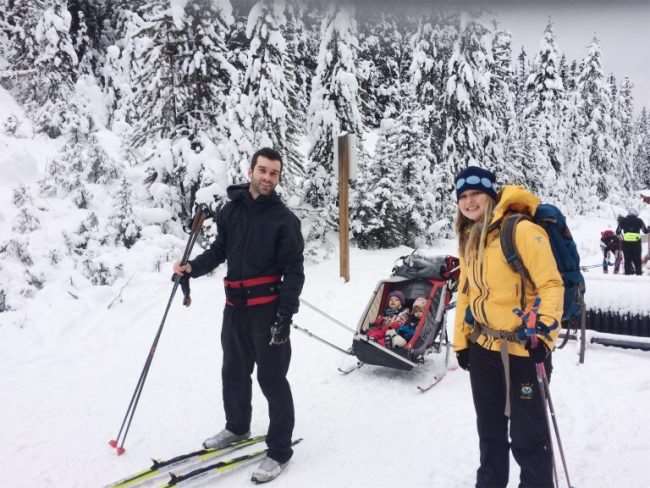 Skiing as a family is a fun winter activity for kids and their parents. It's a winter sport they can do together.
This is one of my favorite quotes about December. Reminds me of all the possibilities for winter activities.