Things to do in the surrounding areas
While many come to the area to visit Joshua Tree National Park, they are plenty of things to do within the Morongo Basin and the lower desert. Saturday's are the best day to head downtown to check out the local shops and art galleries. And every Saturday there is a Farmer's Market where you can find locally grown produce and crafts from local artisans.
If you're visiting during the toasty summer months, I suggest taking your family to Sunburst Park to enjoy the water playground, which is open Memorial Day weekend through Labor Day weekend.
If you're into astronomy, there is an annual Starry Nights Festival in September when there's a new moon.
One hidden gem in the desert of the Joshua Tree & Southern Railroad Museum. They are not always open so you'll have to check their calendar for upcoming events but I guarantee you its worth it. Here's a video I put together from a recent trip I took there with my son. We had a blast riding on an open car of a self built scaled down train. Check it out on YouTube!
Looking to see how the west was won in Hollywood? Then I suggest you take a trip through Pioneertown, which was originally built as a movie set for the old western movies. These grounds were graced by the likes of Gene Autry, Roy Rogers and Russell Hayden. Locals have vowed to keep the west alive by performing a variety of shoot-em up skits on Saturday's and Sunday's. Afterwards I would head on over to Pappy & Harriet's for some grub. And you may want to check their Event Calendar when planning your trip as they are host to a number of upcoming bands as well as some local stars.
Speaking of music, twice a year there's a Joshua Tree Music Festival held at the Joshua Tree Lake & Campground in May and October. This is definitely billed as a family event as they have a number activities planned for the kids while the parents are rocking out to indie bands from all over. But you'll want to get your tickets quick as they tend to sell out quickly.
As you're heading into or out of the Morongo Basin, you can always make a stop in Morongo Valley at take a nature walk through the Big Morongo Canyon Preserve and within walking distance you'll finding Covington Park so the kids can get out and stretch their legs.
Various retreats and yoga festivals are held throughout the year at the Joshua Tree Retreat Center, which was designed by Frank Lloyd Wright and his son Lloyd.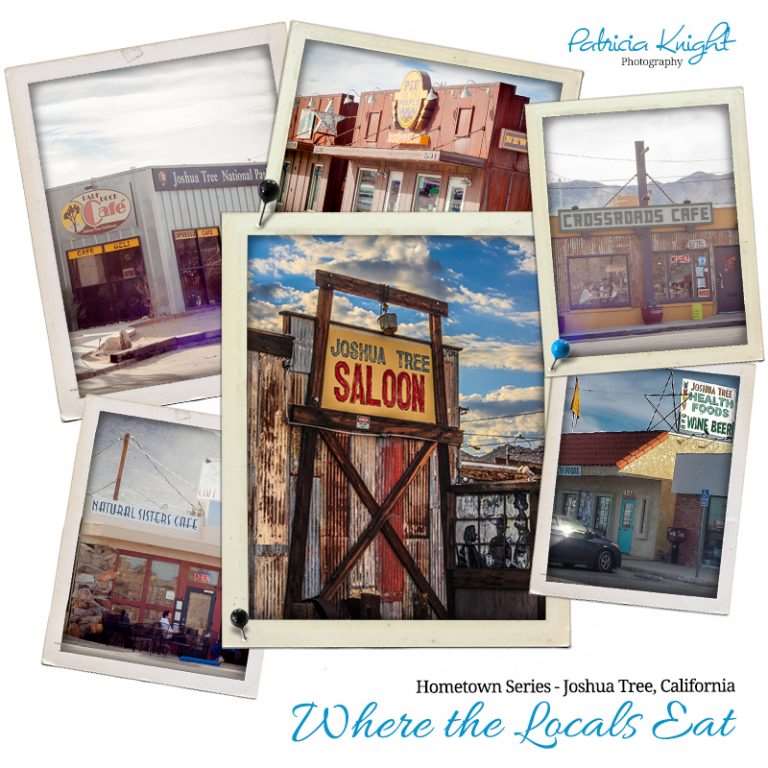 Where the Locals Eat
You won't find any of your typical fast food restaurants in Joshua Tree. In fact, the only place with a drive thru window is Santana's Mexican Food. The locals prefer to sit down with friends and enjoy the atmosphere. One of my family's favorite places to dine is Pie for the People. They offer specialty pies by the slice or you can a whole pizza with a variety of toppings. I love the Go Westo Ma Pesto while the rest of my family prefers the Highway 62
Revisited.
If you're looking to maintain your healthy lifestyle away from home, I highly recommend Natural Sisters Cafe. They offer a variety of vegetarian dishes for breakfast and lunch. And you better come with an appetite because they do not skimp on
servings. They're also known for their smoothies, my favorite being the Rock Climbers Revenge. The Park Rock Cafe
also serves up a variety of sandwiches, soups and salads. This place is known for their box lunches which are perfect for grabbing as you head for the south to enter JTNP.
Another local crowd pleaser is Crossroads Cafe. They are
open for breakfast, lunch and dinner 7 days a week. They offer a variety of tasty entrees including a kids menu.
As the sun goes down, you'll find locals and out of towners at the local watering hole known as Joshua Tree Saloon. They are known for their beer, food and local talent playing on stage. But you better get here early because this place fills up quickly.
If you're looking for familiar favorites such as Del Taco, McDonald's, Sonic or Appleby's you can find them in the town of Yucca Valley. Other places I recommend are Pappy & Harriet's in Pioneertown or the 29 Palms Inn in Twentynine Palms (another 20 miles east on the highway.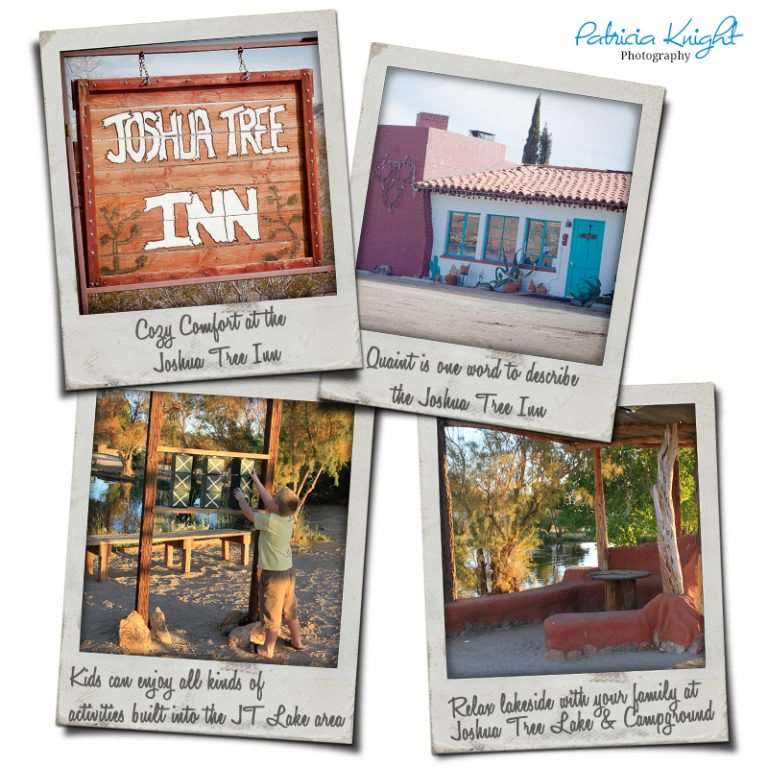 Comforts of home away from home
Guess that kind of all depends on the comfort
you're looking for. The more adventurous families will likely want to camp out in the great outdoors (weather permitting). In town, more like on the outskirts of town you have the Joshua Tree Lake RV & Campground. This is definitely an oasis in the desert since it is the only body of water you'll find for miles. Its rather tranquil out in the middle of nowhere and they have plenty of little nooks for families to enjoy. If you'd rather rough it, there are several campgrounds located within JTNP. Most of the campgrounds are on a first come, first serve basis and let me tell you, on the weekends during peak season, those spaces fill up quickly. The only two campgrounds that take reservations are
Indian Cove (located in 29 Palms just south on Highway 62) and Black Rock campground located in
Yucca Valley.
Now if you and your family prefer the comfort of four walls and a bed along with some modern amenities, there are a number of quaint places to stay. In downtown Joshua Tree you will find the Joshua Tree Inn, the Safari Motel and the High Desert Motel.
If you're truly looking for a home away from home, there are a number of vacation rentals and bed & breakfast places located in Joshua Tree like Sacred Sands (which overlooks the west entrance of JTNP) and Spin & Margie's Desert Hideaway.
Nearby in surrounding towns you will find the 29 Palms Inn, Travelodge, Holiday Inn Express and Kate's Lazy Desert. This last one might be well off the beaten path (located in Landers) but it's well worth it. Remember the band The B-52s? Love Shack or Rock Lobster ring a bell? Well Kate from the band has put together a collection of unique Airstreams' for guests to stay in. Definitely a one of a kind experience that can only be found in the desert.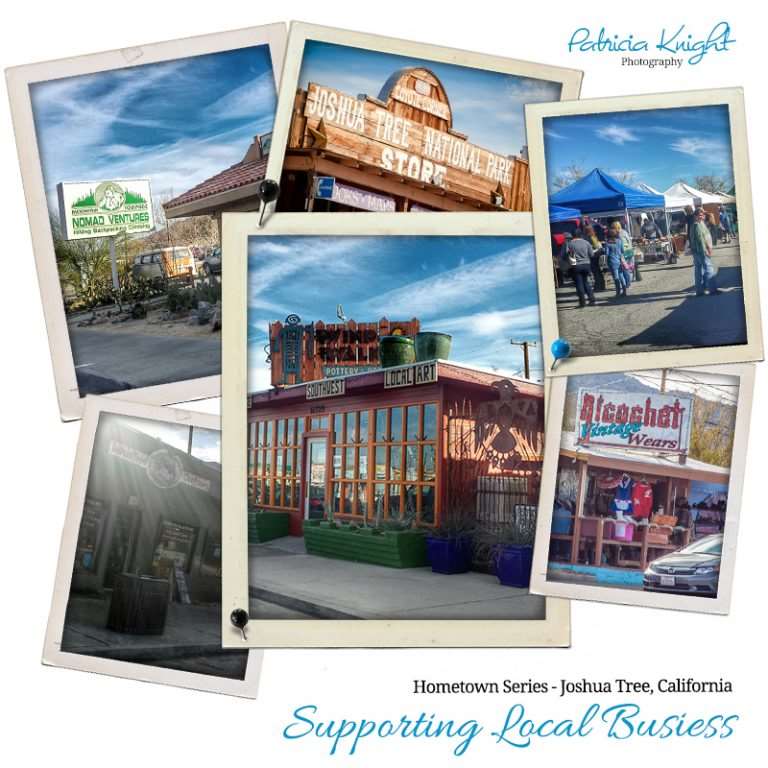 Support Local Businesses
Whenever I travel, it's always nice to get to know the locals and support local businesses. If you're looking for climbing and hiking gear than look no further than NOMAD Adventures right on the
corner or Highway 62 and Park Blvd or Joshua Tree Outfitters in the downtown area. And the best place to get local souvenirs is Joshua Tree National Park Gift Shop. If you need food for your camping trip we've got the Joshua Tree Health Foods Store. You can find unique wearable's at Ricochet. And Windwalkers has a unique collection of pottery and other sculptures.
The Place I Call Home
I've been a resident of the Morongo Basin for 19 years now and for 9 of those years, I've been proud to call Joshua Tree my home. It's quaint and without all the hustle and bustle of the city. Growing up my daughter hated living in the desert because there was nothing to do here. And then she moved to Long Beach for a few months. And she instantly disliked how rude the people were and all the traffic in the city. Sometimes you have to go away to appreciate what you have in your own backyard. Wishing you safe adventures whenever you may travel. And I hope to see you soon in Joshua Tree, the gateway to one of America's national treasure, Joshua Tree National Park.
About the Author
Patricia Knight is a professional photographer in Joshua Tree, California.
Website http://blog.patriciaknightphotography.com
You can also find her on: Facebook, Pinterest, Google +, Twitter, Instagram, Tumblr, Vimeo, You Tube