To get ready for the new Hunger Games movie, Mockingjay: Part 2, we volunteered to be tributes (a.k.a. participants) at the Science Museum Oklahoma Overnight of the Hunger Games.
We got to spend the night inside the museum and explore the science of survival. From volunteering as tributes to reaping the rewards of making it through the night, this was a fun family experience not soon to be forgotten.
Science Museum Oklahoma Overnight – Hunger Games
Welcome to the Panem Games (Check-In and Introduction)
We arrived to the museum after it closed to the general public. We stored all of our overnight gear in the café and headed to the "Reaping Ceremony" to hear the welcome address and go over the rules. We had our very own "Effie" (shown above) welcome us to the games.

Travel to All the Districts (Museum Exploration)
We received are very own Passport to Panem and with them we headed out on a tour of the districts. We were given a mission to find the secret code. Each of the 12 districts (museum areas) had a sign with a letter on it. We had to find each district using clues in the passport and discover the hidden message.
In the end, the message was … Well if I told you that would take ALL the fun out of it!
Volunteering to Be Tributes (Science Demonstrations)
Tributes were chosen to participate in Science Live demonstrations. Chemistry and Physics came together to demonstrate weapons used to defeat the Capital.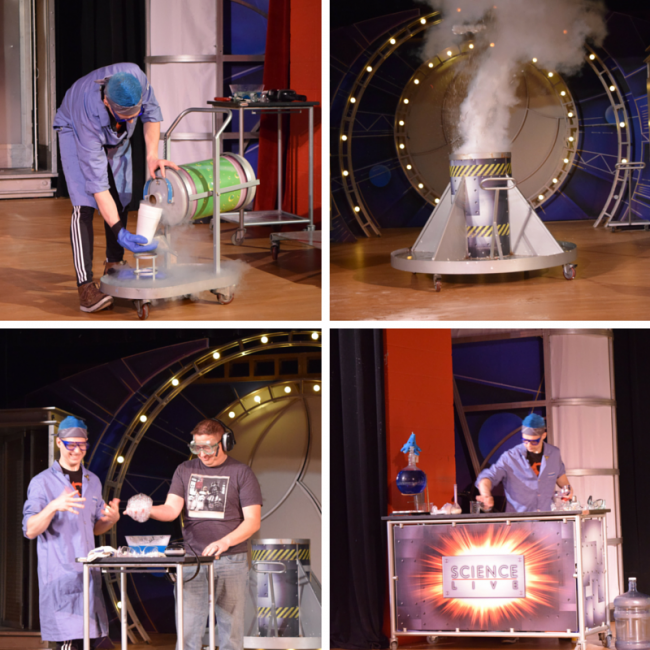 The show was all about EXPLOSIONS! The kids loved it.
Learn to Survive (Hands-On Fun)
You can't be victorious in the Hunger Games if you can't survive. Hands On stations were set up to teach us different survival skills.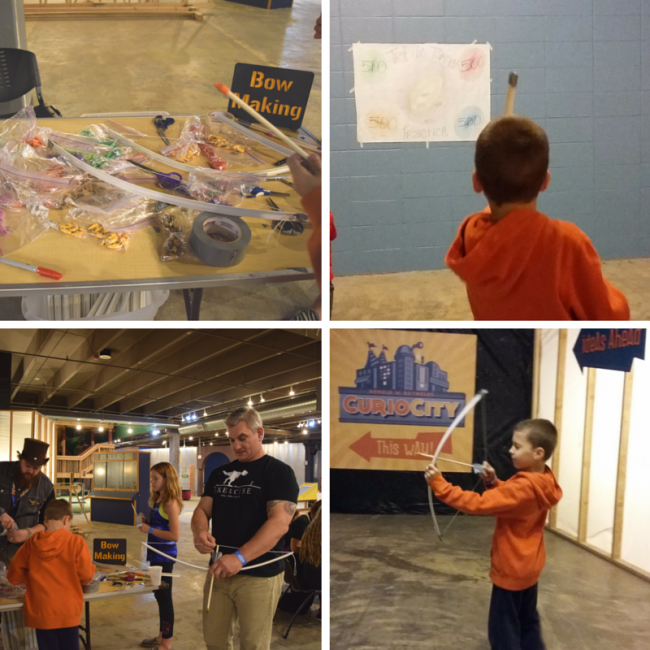 Katniss uses a bow to hunt for food and is her weapon inside the arena. We learned to make bows and arrows with PVC and wooden sticks. Then we had a chance to practice our bow skills with a target.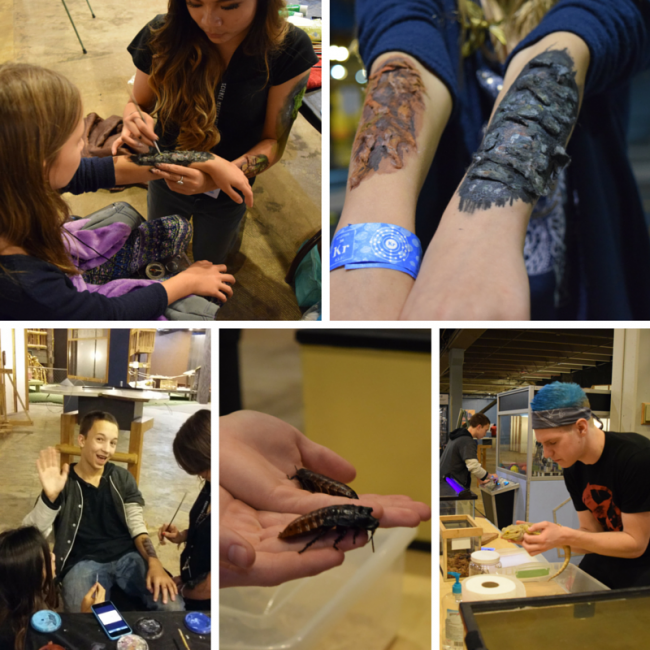 To survive, sometimes you just have to learn how to hide. Animals have different adaptations to help them. We got to learn more about several of them and they get camouflaged ourselves.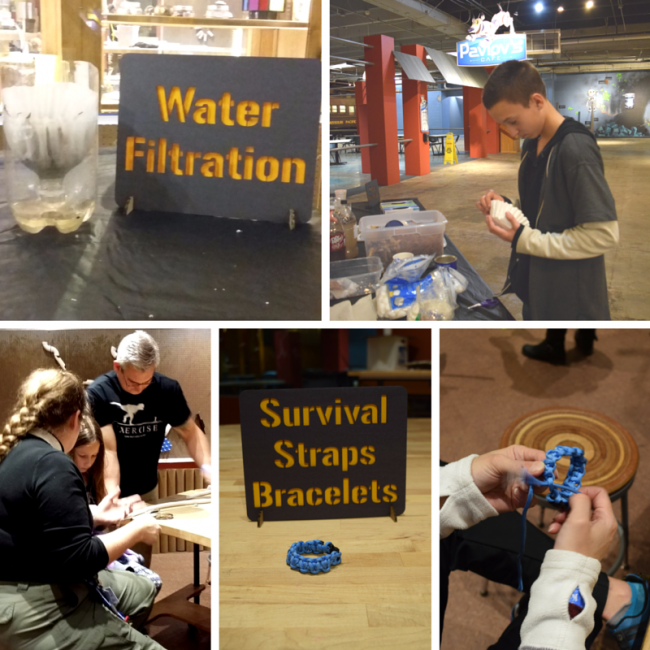 We also tried our hands at bracelet making with 550 paracord and homemade water filtration.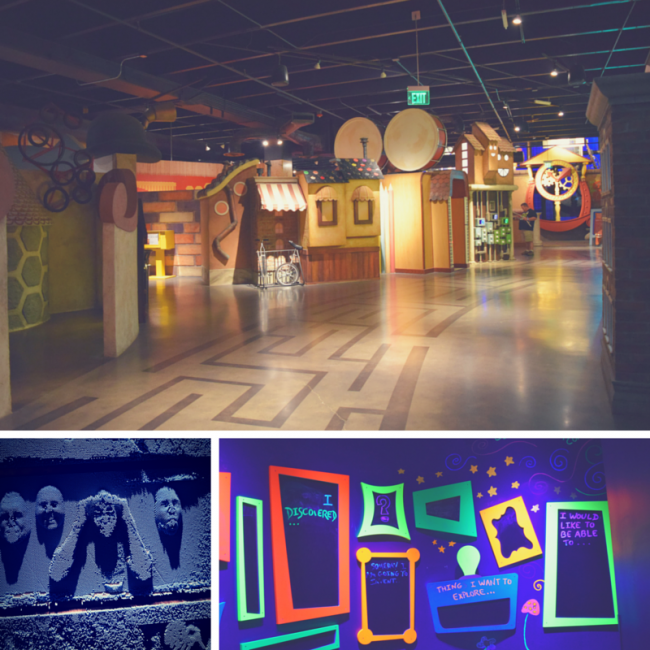 Before we turned in for the night, we explored the museum and CurioCity. This, new to us, interactive science area with amazing. It was full of hands on activities in light, sight, music, and water. With everyone being tired, we didn't get to explore it completely. So we'll be going back again to enjoy this again.
Survive the Night (Lights Out!)
Just before midnight it was time to settle in for the night. We choose to set up in an area near the geology exhibits. With our air mattress and sleeping bags set, we settled in for the night. For those still bounding with energy, the Hunger Games were being played in the Science Live big screen. My kids headed in until they were ready to turn it to. It was a fun filled night and I, for one, was ready for lights out.

To The Victor Goes the Spoils (Breakfast)
In the morning, we were treated to breakfast. Our food was a fun finish to the Hunger Games Overnight. We had Winner Cornucopias (ice cream waffle cones filled with fruit salad), an Apple Danish, orange juice, and coffee rounding out our breakfast. After breakfast, we packed up our gear and headed home.
We had such a great time at the Science Museum Oklahoma Overnight. The theme and activities made it fun and we all enjoyed our night at the museum.
The Science Museum Oklahoma Overnight Series is open to groups (scouts, corporate events, etc.) and to individual families. Each month a different theme showcases fun science topics and activities that are fun for all ages. Future nights we are looking forward to are the Star Wars (Dec 2015) and Harry Potter (Nov 2016) nights. Find more information about the overnight events go to Science Museum Oklahoma.
I received complimentary tickets to this event for the purposes of this review. All opinions expressed are mine.