I love popping into a local coffee shop for an afternoon espresso or Americano (espresso with hot water). I especially love doing this when I travel. Yet for the past year (thanks to Covid), I haven't been going much of anywhere and I REALLY miss this particular coffee experience. So in February, I got a Y3.2 iperEspresso Espresso and Coffee Machine from illy. I really enjoy illy coffee and this machine brings that coffee shop experience into my home. I enjoyed the machine so much, I featured it in my Valentine's Day gift guide. If you love coffee you'll want to read this espresso machine review.
Review of: Y3.2 iperEspresso & Coffee Machine by illy
Use: Single serve, one demand espresso and coffee
What I Like:
Easy to use/brew with the push of a button.
Temperature and size settings can be customized.
Slim, compact design machine.
Delicious single-serving espresso & coffee.
2 Step brew gives espresso the crema on top.
My Dislikes:
Only works with illy capsules.
Custom settings aren't intuitive and one must read the manual.
The machine takes some time to warm up for use.
At-Home Espresso & Coffee – Best of Both Worlds
Coffee gets me up and out of bed in the morning. An espresso and all of the coffee drinks I can make with a shot are always a treat, especially in the afternoons or alongside a rich dessert. I really like that this machine makes both coffee and espresso in one machine. But now that we have a new puppy (March 2021) in the house, I'm enjoying hassle-free, on-demand espresso more and more. An afternoon espresso or coffee drink is helping me through my lack of sleep thanks to late nights and 4 am potty breaks.
This machine is perfect for anyone who enjoys a daily or occasional espresso shot, coffee drink, or single coffee. I have had traditional espresso machines in the past, but got rid of them because I disliked the machine's size and the steps needed to make an espresso shot. This Y3.2 iperEspresso machine differs from those traditional machines by being compact and very easy to use. Pre-filled capsules make the process of creating a fresh cup or shot so much easier. After you are done brewing, the spent capsules are deposited into a storage compartment for later disposal. I also like that this machine is moderately priced at $149.
iperEspresso Capsules
illy's iperEspresso machines use exclusive coffee pods, called Iperespresso capsules. They are similar to a K-cup but are smaller and more densely packed. They are available for both coffee and espresso. Each variety differs slightly in the design. The espresso capsule is specially designed to allow for a 2 stage brew that gives you the lovely crema at the top of the shot.
Coffee and espresso capsules are available directly from illy and through retailers like Sur La Table. Capsule packages are priced at about $1 per capsule. I signed up for illy's coffee subscription service to save 20% off and get free shipping on subscription orders. With some subscription services, you can get a free iperEspresso machine. So that is definitely something to checkout.
illy provides a recycling program for their capsules. You order a postage paid bag and return the capsules to illy who will separate the contents and recycle them for you. The bags are free for illy a casa subscription members.
Is espresso stronger than coffee?
Yes, ounce for ounce, espresso does have more caffeine than coffee. An ounce of espresso typically has between 90 to 130 mg of caffeine. Coffee on the other hand has between 75 to 155 mg of caffeine in an 8-ounce serving.
Is a home espresso machine worth it?
If you really like espresso or coffee drinks made with espresso, then I think a home espresso machine is worth the investment. You can save some money by making them at home. However, if you are just an occasional espresso drinker, then no I don't think it's worth the money. It would just take up space.
Some of the negatives of this machine mentioned early on include that this machine uses only illy coffee/espresso capsules. That is both a positive and a negative in my opinion. If you are looking to reduce waste, then there isn't an option for a reusable pod/capsule. Also new owners MUST read their manual before operating their machine before use. This machine has settings that can be customized like the water temperature setting for brewing, size of the pour, and brew strength. The manual will instruct you how to set those.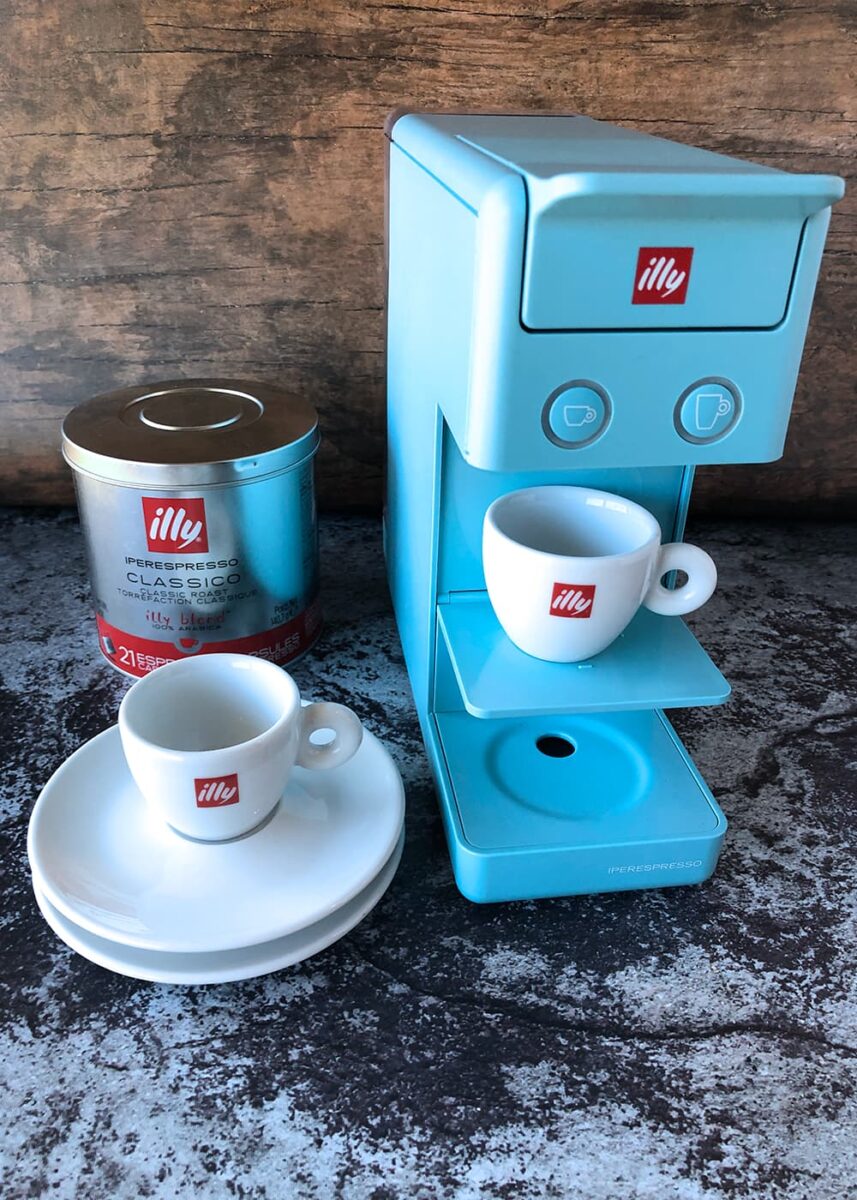 Hassle-Free At-Home Barista Experience
Overall, I love the Y3.2 iperEspresso Machine from illy. As someone who enjoys a cup or two a day, this is the perfect portion for me. The machine is easy to use and the resulting coffee or espresso always comes out perfect. Using this machine is more convenient and less expensive than visiting local coffee shops too. I can create a coffee drink or a coffee any time from the comfort of home. Available in Black, Red, and Light Blue.
For those wanting to create custom coffee drinks, take a look illy's website for popular coffee recipes or watch our website here are we recreate our favorites at home and share them with readers.
Read more of our latest here: