The Instant Pot is my best friend in the kitchen. Before buying my Instant Pot last August, I was an avid slow cooker fan. After learning that a pressure cooker could make perfect hard boiled eggs with fresh farm eggs, I decided to buy one. Let me just say that I've LOVED everything that I've made in it. Each meal/recipe is a smashing success! I finally have been brave enough to try cooking pasta in it. I know home cooks and fellow bloggers have been raving about doing everything from Instant Pot ziti to spaghetti, but I wasn't so sure. Until now!!
Instant Pot Pasta Recipes
Cooking pasta in the Instant Pot has been a game changer. I think the thing I like the best is that the sauce in each recipe tastes like it has been slow cooked for hours. All the flavors are richer and intensified being cooked under pressure. My biggest concern with making Instant Pot pasta was that the noodles would be mushy. I'm please to say that I haven't had that with any of these recipes. So rest assured that there are NO mushy noodles here. All you have are delicious Instant Pot Pasta recipes that your whole family will enjoy.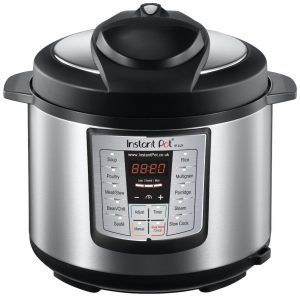 If you haven't gotten an Instant Pot either, this is one I bought. It's also the one I bought my Mother-in-law for Christmas.
Instant Pot Ziti
Instant Pot Review & Ziti with Ground Beef & Cheese – From Val's Kitchen
Slow Cooker Ziti {Gluten Free} – Get Crocked
Pressure Cooker Three Cheese Ziti – Key Ingredient
Instant Pot Spaghetti
Pressure Cooker Quick One Pot Spaghetti Dinner – This Old Gal
Crock-pot Cheesy Chicken Spaghetti – Lauren's Latest
Pressure Cooker Spaghetti Squash – Nom Nom Paleo
Instant Pot Penne
Penne in Meat Sauce – Power Pressure Cooker
One Pot Pressure Cooker Penne Rigate Pasta – Pressure Cook Recipes
One {Instant} Pot Penne Pasta – Copy Me That
Instant Pot Quinoa
Instant Pot Lentil & Quinoa Chili – Rebooted Mom
Butternut Squash & Quinoa Chili – Healthy Girls Kitchen
Beans & Quinoa – Ground Leaf
Instant Pot Rigatoni
Rigatoni with Sausage, Peas, Tomatoes & Cream – Taste and Tell
Beef with Rigatoni {Hearty & Delicious Instant Pot} – Simplify Live Love
Pressure Cooker Rigatoni with Meatballs – Sammy Approves
Unique Pasta
Asiago Shrimp Risotto – What the Fork {Arborio Rice}
QUICK! Pressure Cooked Pasta with Tuna & Capers – Hip Pressure Cooking {Fusilli Pasta }
Homemade Beef Pho – Delicious Instant Pot Meal – Little Family Adventure {Flat Rice Pasta}
Pasta {from your pantry}
Smoky Cajun Black Eyed Peas Pasta – Veggie Inspired {Any pasta, Long pictured}
Instant Pot Supreme Pizza Pasta – Adventure of a Nurse {Any pasta, Zita pictured}
Instant Pot Mac N Cheese – Active Hip Momma {Any pasta, Elbow Pictured}