Wary of handing out fun­size candies that are loaded full of processed sugar to the trick­-or-treaters? Don't be a monster neighbor—go with these equally sweet, yet healthier treats for Halloween.
While we all know loading up on sugar isn't the best idea, you sure don't want to disappoint any of those adorable witches, precious ghosts, or tiny little firemen. No one wants to have a Halloween like poor Linus in It's The Great Pumpkin, Charlie Brown, after all.
Thankfully, Thrive Market offers plenty of options for safely indulging your sweet tooth on All Hallows Eve and keep the hoards of trick­ or ­treaters happy—no matter your dietary preference.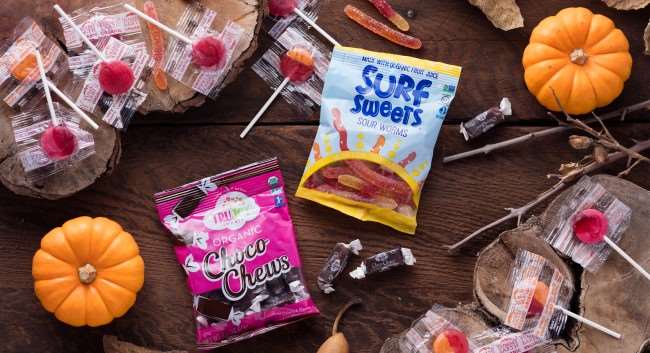 If you're gluten­ free, you need to beware of many mass­market candies. Trace amounts of wheat often hide in many, including candy corn and licorice. And lots of kids with a gluten intolerance need to worry about cross­contamination, which many candy manufacturers can't guarantee. Rest assured that you can find plenty of certified gluten­free options on Thrive Market, including these fun bubblegum lollipops.
If you're vegan, never fear—we've got plenty of dairy­free options for you! If you love a creamy treat, try Cocomel's coconut milk caramels. Oprah called them "transcendental," after all. If you'd rather grab something with a little tang, these "transcendental," will definitely make you pucker up.
If all you really want come October 31 is some pumpkin goodness, Thrive Market has you covered there, too. From plain old pumpkin puree, to pumpkin muffin mix, to pumpkin seeds, to irresistible pumpkin spice kettle corn, they really do offer everything pumpkin.
Have your happiest (and healthiest) Halloween yet with a great selection of goodies—all for 25 to 50 percent off at Thrive Market!
Disclaimer: I am an affiliate for Thrive Market and receive a small something when you purchase through my site. This article is brought to you by Thrive Market.