Disclosure: This holiday gift guide filled with clothing for families contains affiliate links and some products have been provided for review.  I'll only recommend and share products that I use and love myself. All opinions are my own, as always!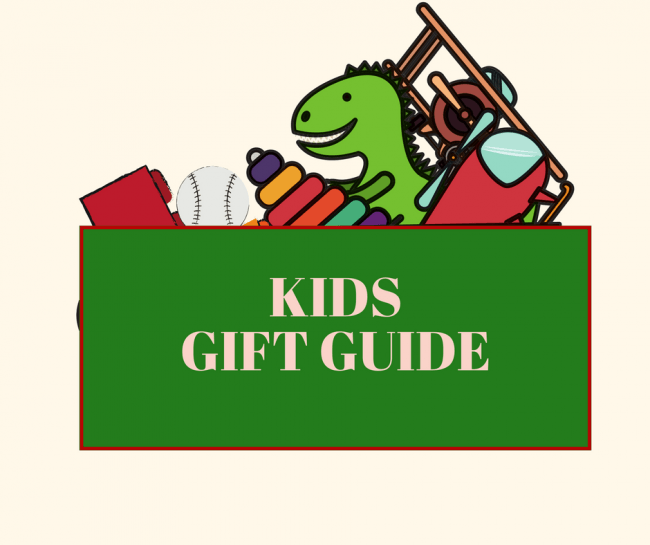 Imagine your child's face when they get the coolest toys and gifts. This Kids Gift Guide is filled with gift ideas for all ages. From infant toys and games to outdoor scooters and high-tech gadgets, you'll find the perfect gift for the kids on your list.
Baby Elephant Ears Infant Support Pillow
Chiropractor inspired  & mom-designed,  multi-use headrest provides spinal/neck alignment and maximum comfort for your little one. Great for use it in a car seat, stroller, changing table, etc. Comes in a variety of fabrics.
Find it on BabyElephantEars.com  or on Amazon for $21.95 
Learning Resources 1-2-3 Build It Car Plane Boat
Your budding engineer will love using these mix-and-match pieces to build three different modes of transportation—an airplane, a tugboat, or a car (one at a time). Use the play screwdriver to put the large, durable pieces where they go. Great for learning early STEM skills. Ages 2+
Find it for $19.99 at Learning Resources or Amazon
Playgro 5 in 1 Super Safari Gym
This flexible playgym is designed entertain, engage and delight all of baby's senses.  This 5 in 1 is playgym, playmat, tummy time mat, cot mobile & cot side play. Your little one will love the bright colorful and engaging safari animal characters
Find it at BuyBuyBaby $69.99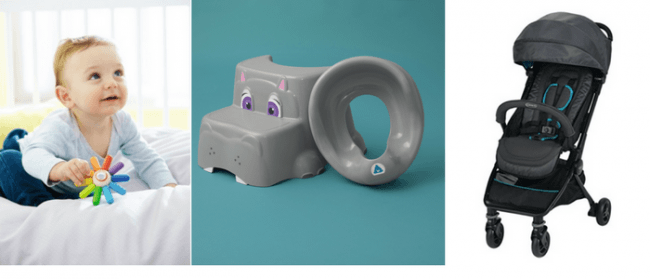 HABA Rainbow Sun Clutching Toy
This brightly-colored clutching toy features a solid wooden (beech) ball, with 10 different colored rays attached via sturdy yet flexible cord. Little ones will love grabbing and watching as the rays bend and clack back together. Ages 6+ months
 Find it at HABA.com $14.99
SquattyPottymus base stool with toilet seat
From the makers of the Squatty Potty, there is now a fun kids version to make potty training easier. Kids will love decorating SquattyPottymus with bright and playful stickers.
Available on SquattyPotty.com for $34.99
Jetsetter Ultra Compact Stroller from Graco
An ultralight stroller that can go anywhere is a must for busy families. The Jetsetter is under 14 pounds, features one-hand fold, and comes with a tote-style carry bag when not in use.  Compatible with any Graco Click Connect infant car seat.
Get it on Graco.com  or on  Amazon for $129.12 
Learning On The Go from Teach My
Children will love learning their numbers and letters with this coordinated set of magnets, learning cards, and magnetic dry-erase board. Lightweight carrying case (just over 1lb) makes it easy to take along on any trip. Ages 3+
Learn more and get your own ($19.99) at teachmy.com
World Village Playset
Give kids an immersive travel experience from their own play room. This is world travel in a box where you set off to explore China. The play set includes a richly detailed two-layer play mat, chunky wooden figures set in a puzzle tray, a story and activity book, and story cards. This national award winning toy provides for open ended, imaginative, creative play. Ages 4-10
Available at WholeWideWorldToys.com for $59.99
Kanoodle Jr from Educational Insights
Puzzle play isn't just for big kids anymore! Introducing the junior version of the bestselling, solo-play Kanoodle®! Includes puzzle book with 60 kid friendly puzzles and large puzzle pieces made for small hands. Ages 4-7 years
Find it at EducationalInsights.com or amazon.com $14.99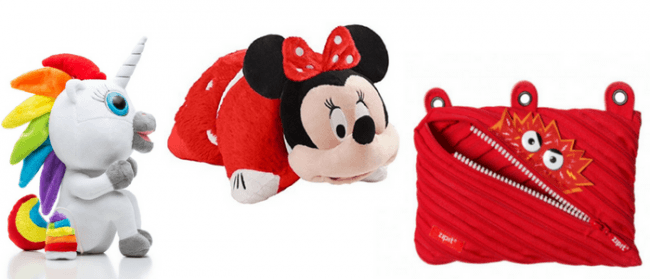 Dookie the Unicorn Plush Toy from Squatty Potty 
This limited edition stuffed uniform is just plain fun. Not only can he help with potty training but he poops rainbow swirl ice cream.
Available in SquattyPotty.com for $19.99
Disney Pillow Pet 
Perfectly sized for a family road trip, Pillow Pets  are perfect to snuggle up with at home, in the car, or while traveling. Find the perfect one featuring Disney and TV chacacters, scented pets, animals, and more.
Find them at MyPillowPets.com or amazon.com 
ZIPIT Talking Monstar 3 Ring Pencil Pouch 
Keep kids organized when they travel with this fun zippered pouch. The continuous zipper can be zipped or unzipped for easy access. Download the app and make your monstar talk.
Get it on Just-ZipIt.com for $9.99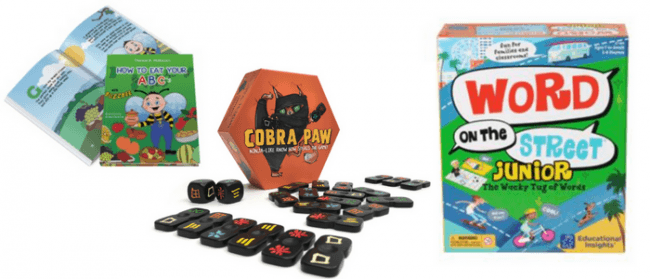 The ABCs of Being Me Book
This book is part journal, part scrapbook and part photo album. It uses each letter of the alphabet to describe a character trait that makes you who you are. Each page includes a fun activity page
Get it for $17.95 at Theabcsofeverything.com
Cobra Claw from Bananagrams
The winner of this game is the one with Ninja-like reflexes and a keen eye. Players snatch tiles that match a specific pattern. The first player to snatch 6 wins! Quick paced game for ages 5+, 2-6 players.
Get it at target.com for $14.99
Word on the Street Junior from Educational Insights
This hilarious tug of words road race is fun for the whole family! Players take turns flipping category cards and racing to find an answer. 2+ players.
Find it on amazon.com  for $19.99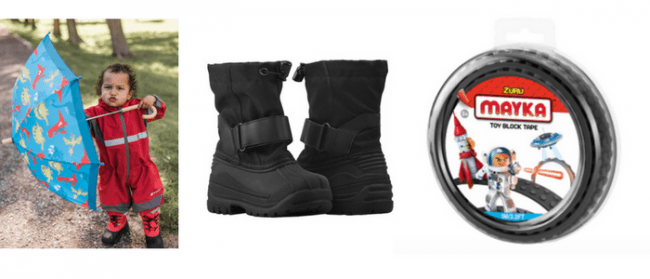 Trail One Piece Rainsuit from Oaki
Kids love to play outside. So let them play in the rain with this comfortable rainsuit. This one piece rainsuit can be worn over a kid's normal clothes. At the wrist, there are neoprene cuffs to ensure a customized fit. Perfect for camping, hiking, or playing in the rain.
Normally $69.99. On sale for $39.99 at oaki.com. Use code littlefam10 to save 10% off
Children's Velcro Snow Boots from Oaki
For rain, snow, and cold weather, these insulated snow boots for great for little feet. Removable fleece liner provides extra warmth when needed and the Thermoplastic rubber outsole with herringbone pattern provides great traction. It's an all-around boot for cold weather fun.
Buy them for $34.99  and save 10% off with code littlefam10 at oaki.com 
Mayka Toy Block Tape 
Transforms virtually any surface into a base for toy building blocks, figures and accessories. Simply cut, shape, then stick your toy block tape anywhere. Mayka Tape is reusable and compatible with all leading toy brick brands including Lego®. Available in different colors and widths.
Find it on amazon.com 
HoverFly XL from GOTRAX
The kids will LOVE this heavy-duty off road-capable hoverboard. A learning mode makes it learn to learn. Dual 350-watt electric motors are capable of taking riders up to 11.4 miles-per-hour for 12 miles on a single charge on 8.5-inch off-road tires can climb slopes up to 30 degrees. Bluetooth speakers kick out the jams, and an Android and iOS app allows you to monitor stats, control top speed and even unlock a "pro mode."
Get it here for $299
LEGO Friends Snow Resort Off-Roader set 
Imaginative play from the world of LEGO. This winter themed set is a fun way to play in the snow without getting suited up. It can also be a conversation starter to help new skiers to ease into your first pair of skis.
Find it for $11.99 at target.com or amazon.com 
OK Play from Big Potato Games
Think off-road Connect Four where to win the game you have to get a straight line of 5 tiles in a row. Only problem is there is no board to prevent tiles from going in all directions. But that's part of the fun. Plastic tiles and handy carabiner make it a great travel game.
Get it exclusively at target.com for $16.99
Mongoose Stance Pro Scooter
Perfect for the skate park or riding down the street, these freestyle scooter is perfect for any adventure. Easy to handle and designed to be durable, this scooter is welded steel so there is nothing it can't do. Read our Mongoose Scooter review. Ages 8+ up to 220lbs.
Available at Target stores and target.com for $79.99
Mongoose Force 2.0 Scooter
Want a folding scooter that is fun to ride? The Force 2.0 is a fun. stylish ride that folds down into a compact size. Perfect for family trips, riding to school and storing in the locker, or for riding around town. Height can be adjusted as your child grows. Ages 8+, up to 220lbs
Available at Target stores and target.com for $44.99
Crystals, Rocks, & Minerals: Earth Science Experiment Kit from National Geographic
Dig deeper, and discover the chemistry of crystals and the geologic science behind rock formation. This kit features 18 hands-on projects and investigations. You'll grow three chemically different types of crystals, build 3D geometric models of common crystal shapes, and mold your own crystal geode. Ages 10+
Available for $54.95 at NationalGeographic.com or $44.95 at amazon.com 
Travel Qwirkle from MindWare
A mini, travel friendly version of the best-selling board game. This family friendly game has players build lines by matching wooden tiles by color or shape. Convenient zippered pouch makes it easy to carry and play anywhere. Suitable for all ages.
Find it for $14.95 at MindWare.com or Amazon.com 
Backpack CornHole
Now you can take this family favorite game anywhere; tailgating, backpacking trips, car camping, or to the park. This wooden backpack version is compact and measures 12" x 6" x 1.25". So it's perfect for any adventure.
Get it for $30.95 at Outside Inside Gifts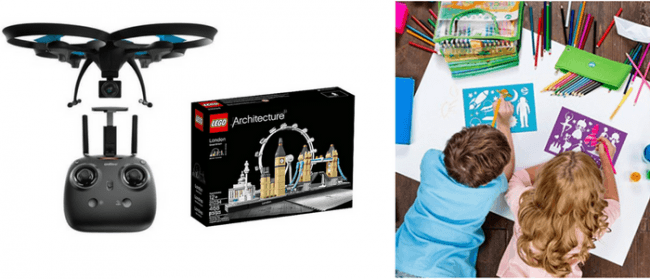 Blue Heron Drone from USA Toyz
Soar through the air and capture video with this quadcopter drove with live 720p HD camera.  Everyone is going to love flying this first person view drone. Features like one touch takeoff and touch down, altitude hold, and low speed mode make it a great drone for beginners. Imagine the images and video you'll capture on the adventure!
Get this at USA Toyz or Amazon.com for $179.99
LEGO Architecture London set
Whether they had been to London or dream of exploring there one day, they will love this set from the LEGO Architecture Skyline Collection. The model of the London skyline is scaled to give an accurate representation of the comparative size the National Gallery, Nelson's Column, London Eye, Big Ben (the Elizabeth Tower) and Tower Bridge. Age 12+
Get it on lego.com or Amazon.com for $39.99
Creativ'Craft Drawing Art Set for Kids.
Whether dining out, in a car or on a plane, this art set with keep your child creatively entertained for hours. Designed for children 4-8 in contains stencils, drawing paper, colored pencils, and a pencil sharpener. All combined in an easy to carry case for easy transport.
Find it on Creativ'Craft  or Amazon for $28.90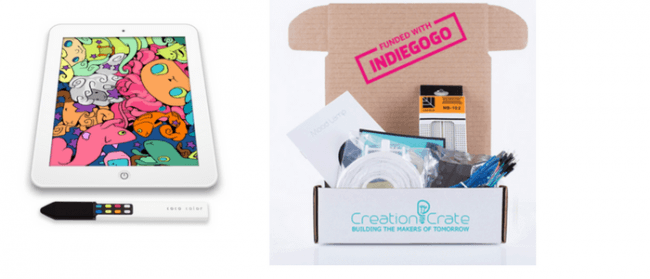 Coco Color Stylus
For the art lover, this is World's 1st coloring stylus that can be used on any touchscreen device. It's a pen, pencil, pastel and paint all in one color stylus with 768 color, style & size combinations. Just press the button and color.
Find it on CocoColor.com or amazon.com for $34.99
Creation Crate Programming Subscription Box
Augmented reality is fun new way to learn programming and electronics. The Creation Crate curriculum focuses on introducing new concepts every month that build on the concepts learned from the months before. Projects range from building a mood lamp, to a memory game focused on programming, to learning how to input a distance reading from an ultrasonic sensor.
EXCLUSIVE OFFER! Packages At Only $22.49 Per Month! Shop Now! For A Limited Time Only At www.creationcrate.com !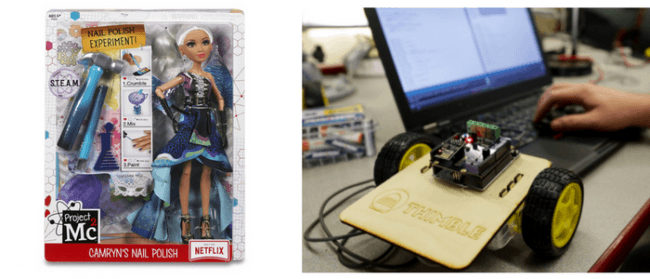 Project Mc2 Camryn's Nail Polish Experiment set
Create your own S.T.E.A.M. experiment and make your own nail polish with household items. Set includes  fully articulated Camryn Coyle doll, from the Emmy nominated Netflix original series Project Mc2 and accessories. Ages 6+
Available on amazon.com for $26.99
Thimble Electronics Subscription Box
Teach children tech skills while keeping them entertained. This monthly subscription box allows kids to explore their curiosity with engaging kits for projects such as wifi-robots, LED cubes, quadcopters, and more. Once they have received their kit,  sign into Thimble's Learning Platform for simple video instructions and code lessons. Use code  ADVENTUREFAM to save 10%.
Learn more at Thimble.io Boxes start at $59 
Pals Socks for Kids
Pals Socks are fun and funky socks for kids. Purposefully mismatched makes for fun combinations. Makes a fun stocking stuffer.
Find it at PalsSocks.com 
For more gift ideas, take a look at our holiday gift guide page.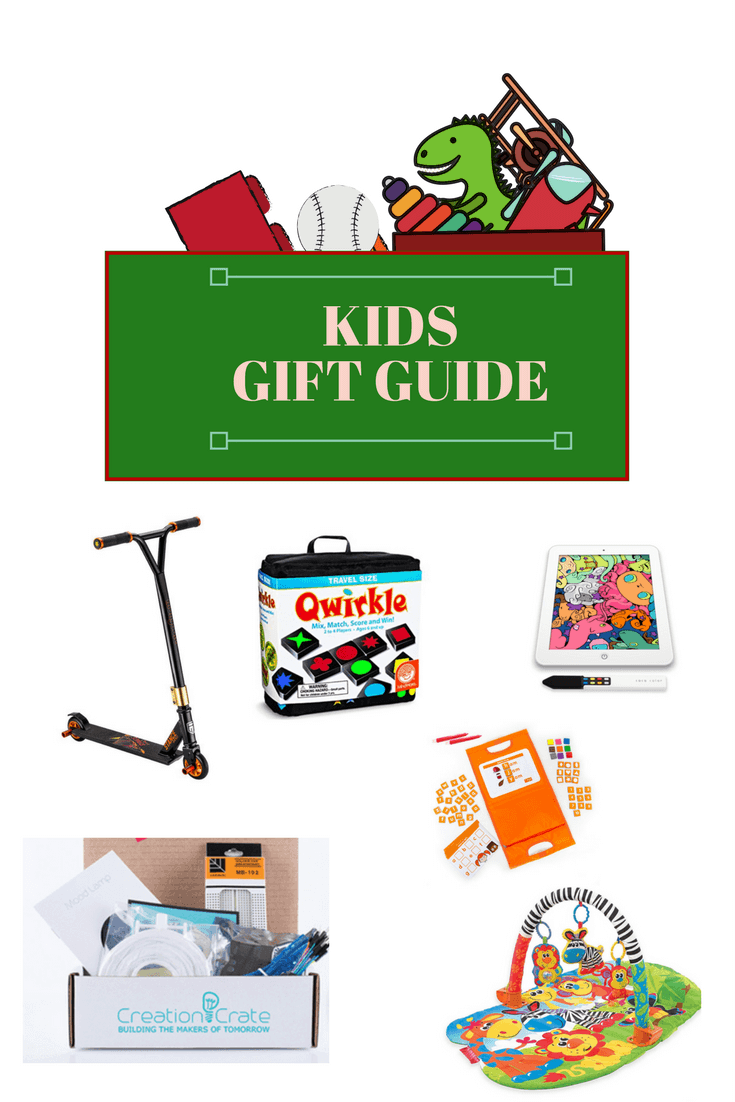 SaveSave
SaveSaveSaveSave
SaveSave
SaveSave
SaveSave
SaveSave