This post brought to you by Wet Ones Antibacterial Wipes. The content and opinions expressed below are that of Little Family Adventure.
Lunch time doesn't have to be boring. A packed lunch can be more excited than just an ordinary sandwich or salad. This Lemon Pepper Chicken Bento lunch is perfect for school or work. It's healthy and delicious. Find the recipe below, plus learn how you can enter to win $1,000 cash and a year supply of Wet Ones® Wipes
As a homeschooler, you would like we spend most of our school days at home. Unfortunately, that couldn't be further from the truth. Between Drama classes, co-ops, and orchestra rehearsals, we spend a lot of time out of the house. Plus when the weather is nice, it's such a shame to spend the day indoors. When we are away from the house during lunch, we'll pack a meal and take it with us. We're always sure to have Wet Ones® Wipes on hand too because messes happen.
My kids love bento style lunches. They like the small compartments and food variety. It beats an old' sandwich any day. Bentos can get really elaborate with decorations, but I don't. Although I have several of the tools and extras to do it, I like things plain and simple (aka less work for me). This Lemon Pepper Chicken is easy to make. Grill several chicken breasts for dinner and use the leftovers for lunch the next day. Less work and you'll have a delicious lunch.
Lemon Pepper Chicken Bento
Do something different for lunch with this chicken bento withgrilled chicken, hummus, pita, and fresh fruit
Ingredients
1 chicken breast
1/4 teaspoon lemon pepper
Dash of salt
1 tablespoon lemon juice
Instructions
Marinate chicken breast in lemon pepper and lemon juice while grill heats up to medium high heat. Place chicken on the grill and cool for 3-4 minutes per side. Cook until inside temperature is 165 degrees F.
Remove from grill and let rest 1-2 minutes.
Slice chicken and enjoy.
Complete your bento lunch with broccoli florets,
Traditional Hummus
, pita bread, and fresh
cut
watermelon.
When you pack your lunch, don't forget your refillable water bottle and Wet Ones® Antibacterial Hand Wipes.
Wet Ones® are portable and can be used anywhere where soap and water isn't available; picnic, in the car, in a hiking pack, or anywhere you take your kids.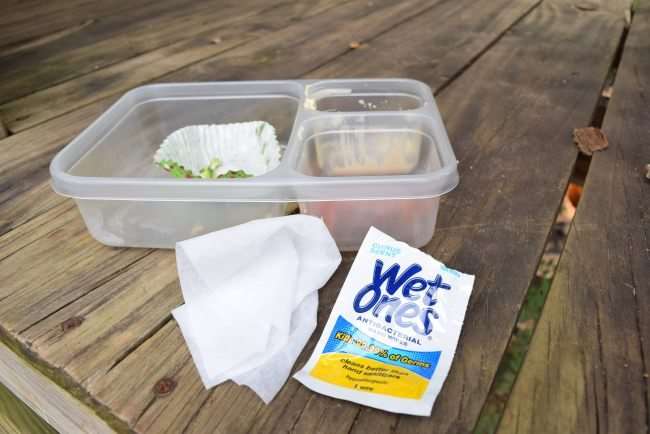 Wet Ones® Wipes also kill 99.99% of bacteria, wipe away grime, and get hands nice and soft. Their Aloe formula won't dry or irritate your skin like hand sanitizers can. Plus they're hypoallergenic. Enjoy them in Fresh Scent or Citrus.
What will you make for lunch tomorrow?