Travel is a fun learning experience. You learn about other places, people, and so much more. Learning comes naturally when it's also fun. Little Passports is a terrific educational program that takes children on a journey around the world. They learn about new places, people, and cultures in an entertaining and engaging way.
Little Passports follows two children, Sam and Sofia, as they travel the globe and share their travels via this monthly subscription service (USA edition or World edition). In their 5th year, the duo has now traveled all over the United States too. The Little Passports program recently sent me one of their Unites States edition packages to share with my children and with you.
As a homeschooler, I was familiar with the Little Passports program. I had considered ordering the program, but for whatever reason never subscribed. I was thrilled to receive this program and try it out.
The USA edition consists of 2 envelopes; 1 Discovery Kit that everyone gets on their first month, and a State Adventure Kit featuring 2 states (Wisconsin and Virginia). Monthly subscriber will receive a new State Adventure Kit each month with 2 new states.
The discovery kit I received contained (shown above):
Letter to the kids from Sam and Sofia
Large USA wall map
USA Scratch Book
Field Guide
Disposable Camera
Plastic envelope to keep the kit in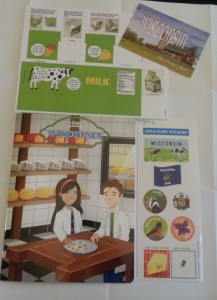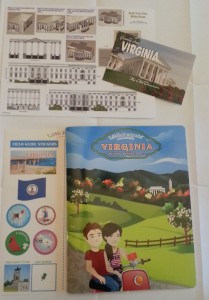 Here's what I received in my State Adventure Kit (Wisconsin and Virginia including Washington D.C shown above)
A full color activity guide filled with information, games, puzzles, recipes, and more.
Stickers for the field guide with State flag, animal, flower, seal, and more.
3D Pop up models of a milk carton (Wisconsin) and the White House (Washington D.C.)
Postcards (1 for each state)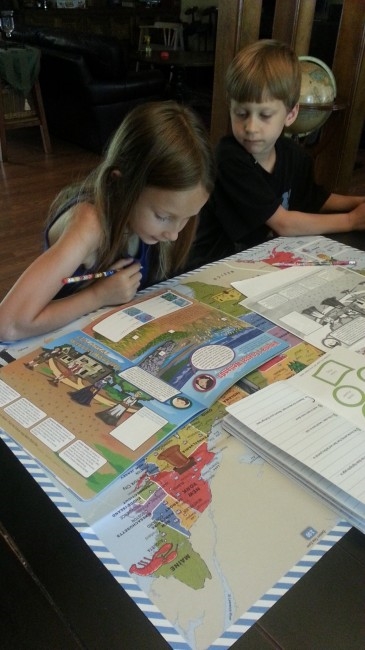 The kids loved this program. They spent hours enjoying the games, reading the material, building the models, and cooking the recipes. For Wisconsin, the kids were able to make fresh butter and cranberry pie. For Virginia, they made Mary Ball Washington's Gingerbread. They enjoyed the Photo Scavenger Hunt in the Field Guide that invited them to explore their hometown and take pictures with the included camera.
As a parent and teacher, I liked that the activity book was filled with a variety of activities. My kids were engaged for hours. Topics included map reading, science, history, geography, cooking, and art. Everything is presented in a full and age appropriate way. I loved the Photo Scavenger Hunt the kids did. It was great to see their take on everyday things. These photos will be ones that I keep for a VERY long time.
Overall, I loved this program. I would definitely recommend it to families. Here are the pros and cons of the program for me and my family.
Pros: Provides hours of fun, ideal for children ages 7-11, high quality and full color materials, encourages children to get out and explore their own area, educational, reasonably price ($10.95-$13.95 per month)
Cons: Some of the 3-D building kits had small pop out pieces that could rip.
 Do you like to programs like this? 
Now you can receive your own Little Passports kit delivered to your children. Little Family Adventure readers will receive special savings on the Little Passports United States or World editions. You'll save 40% off your first month right now with the code: FUN40.  Go to LittlePassports.com to redeem this code and learn more about the program.