What you put ON your body is JUST as important as the food you put IN it. So we have put together this list of natural personal care products for you and your family. It includes products ranging from organic baby shampoo to powder make up and deodorant.
Here at Little Family Adventure, we believe"A Healthy Family is a Happy Active Family." Since the beginning of this site, we have shared healthy recipes with you to help you eat better and have more energy to find your own adventure. We feel strongly that eating a healthy diet, free of processed/artificial ingredients, is key to living a healthy and active life. I am not a nutrition or health expert, but I know that I feel better when I eat this way.
Natural Personal Care Products
The personal care products we use on our bodies are just as important as the food we consume. Ingredients used in these products can play a key role in our health and well-being. That's why I look for products free of the following ingredients:
Artificial Colors, Flavors, or Preservatives
Synthetic Fragrances
Parabens
Sulfates
From time to time, companies send me products to try out. So some of the products I mention below have been provided for consideration. All opinions are my own. This article contains affiliate links. Purchase through our affiliate links and we receive a small commission without any extra expense to you!
Mineral Sunscreen
Mineral sunscreens are safe for sensitive skin and for the environment. aren't absorbed into the skin. Natural minerals found in mineral sunscreens actually form a barrier on the skin and reflect harmful UV rays. One of our favorite brands is Goddess Garden. You can read more about why you should use a mineral sunscreen and the best ways to apply organic sunscreen to prevent streaking.
Organic Baby Shampoo & Skin Care
For parents with infants and young children looking for baby skincare products, there is MADE OF. They offer parents a complete line of certified organic-first personal care products ranging from baby shampoo and body wash to baby wipes.
Their organic baby shampoo and body wash is the foaming type. So it is easy to use and the ingredients make it safe for sensitive skin. It comes in natural scents, Lavender or sweet orange, as well as fragrance free. The baby body lotion has a blend of argan oil, avocado oil, and organic oats to soothe the skin. It moisturizes without leaving the skin feeling greasy.
MADE OF is the first and only brand to commit their entire company to NSF organic standard's. Their Ultimate Transparency® Promise provides consumers with information about all the ingredients they use, independent test results, ingredient source location(s), and manufacturing site. All the ingredients they use are plant based and are made with at least 70% certified organic ingredients. Each of which are clearly listed on every product.

Related: Also check out what I use for Natural Jet Lag Relief
Annmarie Skin Care
The field of traditional skincare products is littered with chemicals and ingredients that wreak havoc on your skin. So it's extremely important to seek out products that list its ingredients and have those ingredients be nourishing instead of damaging. Annmarie skin care products are created using organic ingredients and wildcrafted herbs. Their skin care collections are tailored to specific skin types to provide products that nourish your skin.
Because I'm in my early 40's, Annmarie sent products from their Restore and Balance Collections to try out. My travel kit included Aloe Herb Cleanser, Herbal Facial Oil, Ayurvedic Facial Scrub, Purifying Mud Mask, and Coconut Body Oil. The face and body moisturizers are oil based and they nourish really well without causing break outs. Together the products work together to allow skin to glow, minimize wrinkles, and nourish. Learn more at annmariegianni.com

Try an Annmarie sample kit customized to your skin type for just $10. You'll also receive a free pack sample of our serums (probiotic with tremella, citrus stem cell, and anti aging serum)serum samples. Find that here.
Manuka Honey Beauty
Manuka honey isn't like your standard table honey. It has special antibacterial, antiviral, and anti-inflammatory properties that help with skin irritations, inflamed skin (acne), and retain moisture. Therefore, it makes sense to include Manuka honey into health care products like facial cleaners, creams, and lip balms. Wedderspoon did just that these products and I'm loving them! My favorite is the body lotion. It's a thick emulsion that moisturizes really well.
All-Natural Toothpaste
Our family has been using Tom's of Maine toothpaste for years. In the past I've been one of their ambassadors and were able to try ALL of their products. Personally my favorite is the flouride free Antiplaque and Whitening toothpaste. My mornings are fueled by coffee. So a whitener is a BIG plus for me to keep my teeth white. I like that this toothpaste has a natural whitener in it that doesn't cause my teeth to be sensitive like some other brands.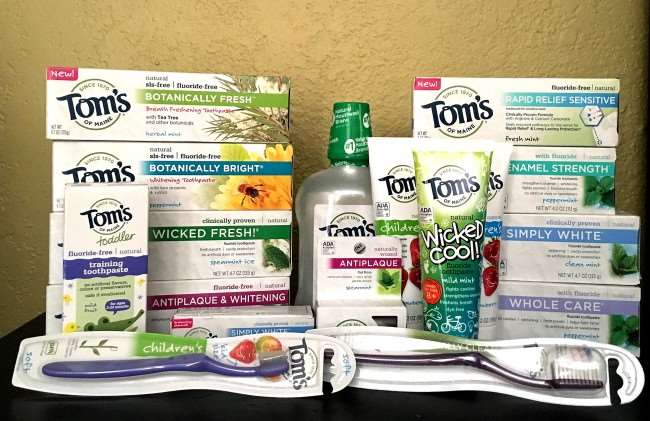 What all-natural personal care products do you use at home?