Birthdays are a big deal in our house. But over the years, we have moved away from giving big gifts and started offering more experiences instead . When you buy a toy or a little trinket, it only lasts for so long. But with an experience, the memories you create during it can last a lifetime. My baby boy recently turned nine years old and he wanted to go bowling and do a suspended ropes course with his friends. He asked to go to Main Event Entertainment for his birthday. Since I'm one of their #FUNstigators ambassadors, I knew Main Event was a great place, so we got to planning his Main Event birthday party.

Give Experiences not Gifts
Our local Main Event is a favorite place for family fun with bowling, video games, laser tag, billiards, Gravity Ropes (a suspended ropes course), and great food. We go at least once a month for their Monday Madness; unlimited video games, $20 Fun Card, or unlimited activities for just $9.95.
If you are looking to have a party, of any size, it's a great choice too. They take care of everything! Let me share with you what we did and why it was the perfect choice for a child's or adult's birthday party.
I like to entertain, but I don't like the clean up. So having a party at our local Main Event was a great solution. We had a dedicated party room and host to help with anything we needed. We showed up, had a GREAT time, and left when it was over. The staff were great and took care of everything, especially the clean up.
Related: Check out these other family experience gifts.
Plan your Main Event Birthday Party Your Way
To can choose from a variety of party packages based on what you want to do and your budget.
We booked the Triple Play that included:
1 1/2 hours of bowling with shoe rental
Choice of one additional activity: laser tag, billiards, gravity ropes course, 1 hour of rock climbing, mini golf, or bocce ball (activities vary my location)
$10 FUNcard per person
1 hour in that dedicated, private meeting room
Choice of all you care to eat buffets – We choice the Just for Fun Menu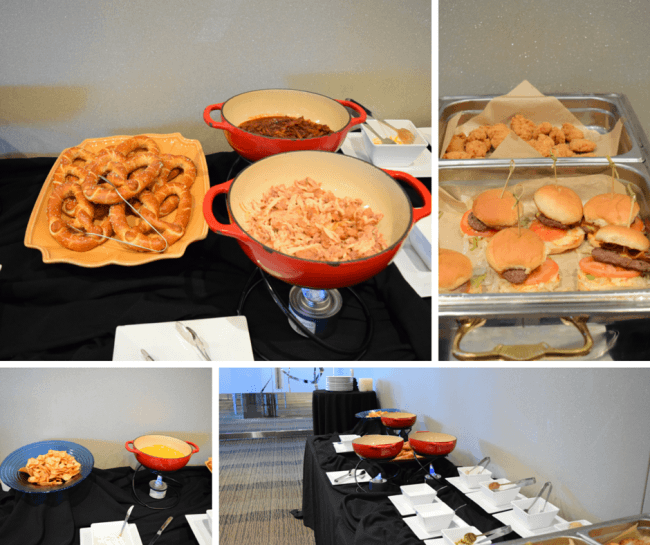 Our buffet items included:
Beef Brisket and Chicken Tacos with all the fixings
Salted Pretzels with Beer Cheese sauce and Whole Grain Mustard
House made Parmesan Kettle Chips with 2 different dips
Boneless Wings with different sauces
Bacon Cheeseburger Sliders
Ice Tea & Water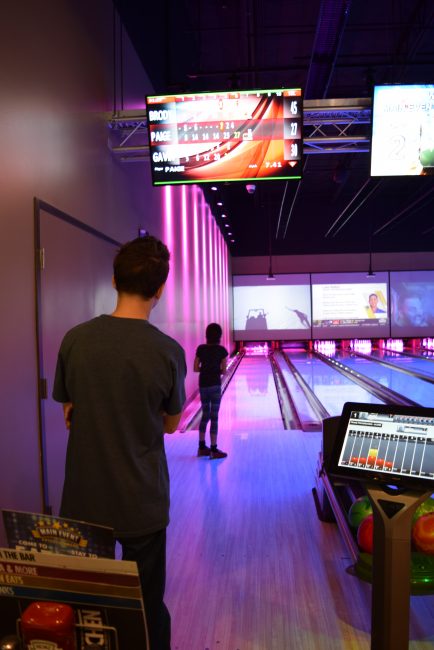 Since the birthday boy wanted to bowl, we went with the package that included 90 minutes of bowling. We had 2 lanes for all the kids. With the black lights, fun music, and electronic machines to keep track of everyone's score, the kids had a blast! For the little ones, we could pull the bumpers up with the push of the button and use fun dinosaur ramps to roll the balls down the lane with.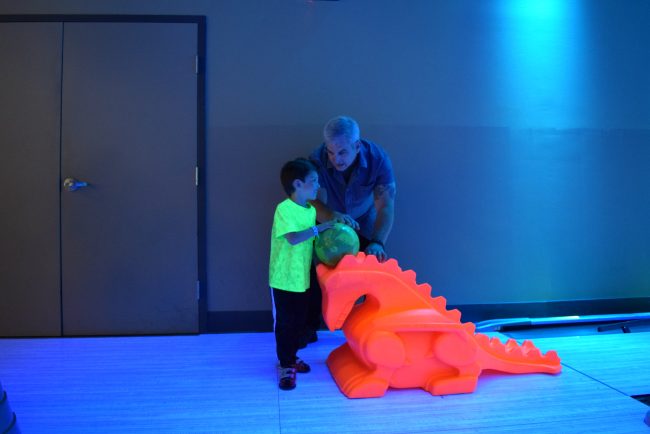 After bowling, it was time to eat and after 90 minutes of bowling, everyone was starving. Now when it comes to food, my philosophy is No One Should Ever Leave Hungry. I always like to have a variety of foods to choose from, especially when there are kids attending. Our party package included the all you care to eat buffet I mentioned. I will say that I was impressed with the food. Sometimes with buffets, I get leery about food quality. But everything was great. The kids went back for seconds and thirds. Even the picky eaters, enjoyed the food, so that is saying something.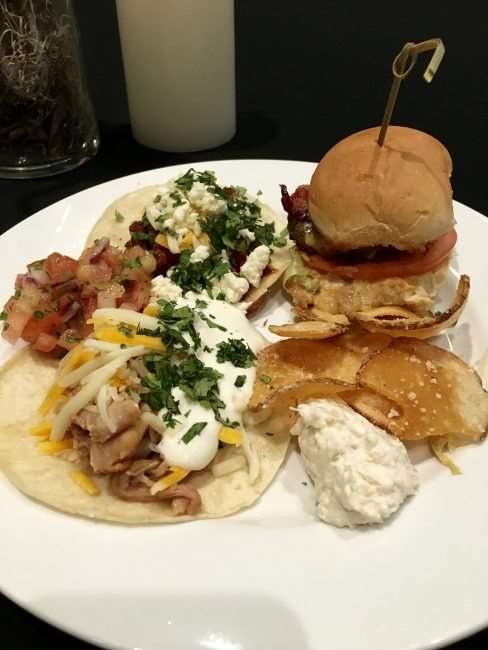 My favorites were the Chicken Tacos and Parmesan Kettle Chips. The buffet lasted for 1 hour and new food was brought out as needed by our hostess. So food was always fresh and hot. Everyone enjoyed their food and no one left hungry.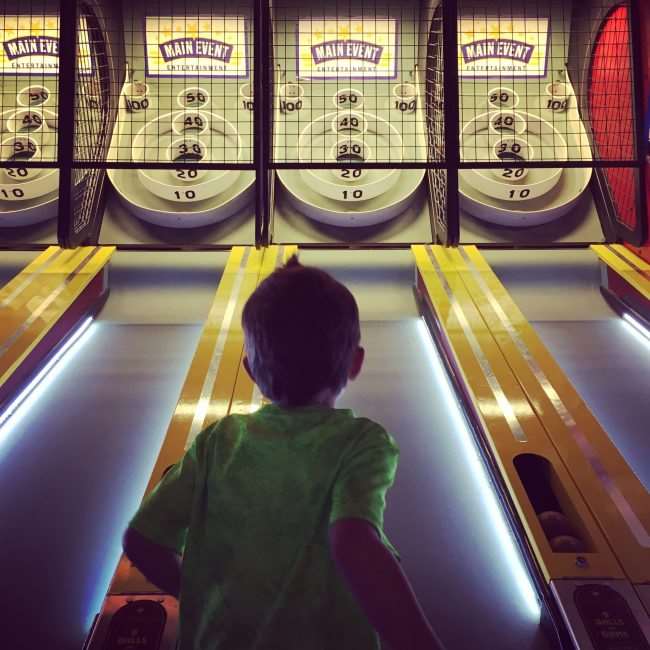 After eating, the kids went to do their other activities; video games, Gravity ropes, and Laser Tag. Giving them the option of what activity they all wanted to do was a nice feature to our package. Everyone could choose from 3 activities plus video games. It allowed for some customization which is always appreciated with kids or adults.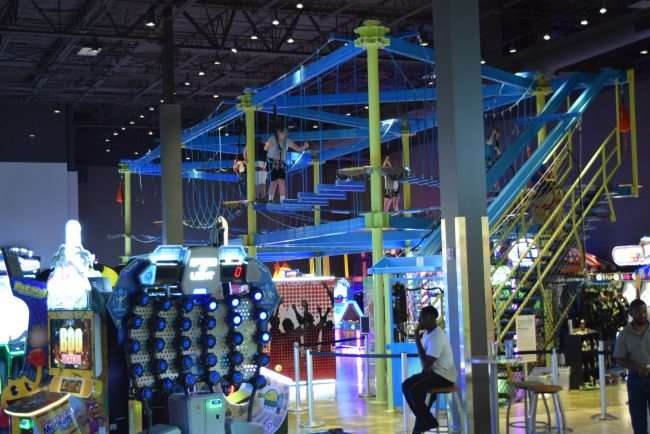 Since the main floor can be a little loud at times, it was great having that dedicated room to come back to. It gave the adults to place to congregate in and chat with friends. As an added bonus, Main Event has a full bar. So we enjoyed a cold adult beverage as the kids were off playing.
Before it was all over, the birthday boy got to bowl with friends, do the Gravity Ropes for the first time, and celebrate with birthday with friends and family. It was a great experience and you will would definitely do again. If you are looking for a place to throw a birthday party or event, take a look at Main Event Entertainment. They have locations all over the US. Leave the work to them and go have a great experience with your friends and family soon!