This is a sponsored post written by me on behalf of Cracker Barrel for IZEA. All opinions are 100% mine.
Whenever you're on a road trip, it's always great to stop somewhere you can grab a bite to eat and stretch your legs. If you travel with children, it's best to find a place that's fun where kids can be kids, but still have food that everyone can enjoy. When we travel south to visit family, we always find our way to a Cracker Barrel. Their home style cooking is something we can all agree on and Cracker Barrel's Retail Store is a fun place to explore.
Our extended family lives a short 3-7 hour drive away. It's become something of a tradition to stop at a Cracker Barrel along the way. We'll often meet friends or other family there and share a meal together before we head back on the road.

Cracker Barrel serves breakfast all day long. I'm happy to order breakfast any time and I'll often order a short stack of pancakes or French toast with a side of bacon and cheesy scrambled eggs. If I want something a little healthier, Cracker Barrel offers great options like fresh fruit and yogurt. Their coffee is always hot and fresh too. When you are on a road trip, a little extra caffeine is very welcomed.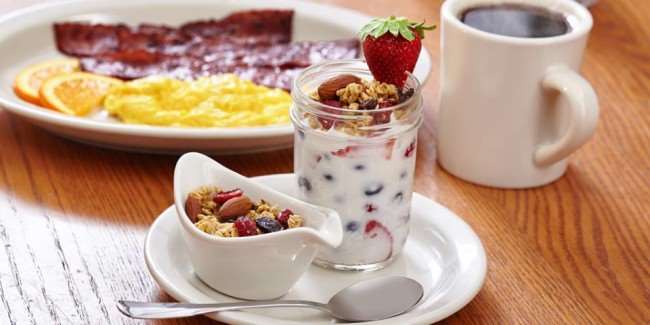 Cracker Barrel's scratch made cooking is delicious and well worth making the trip for. Buttermilk biscuits are one food I don't make. I've tried, but mine always turn out as great substitutes for a hockey puck. Cracker Barrel's fresh made buttermilk biscuits are made from scratch every day. They are light and flaky just like my Grandmother used to make. Add a pat of butter and they melt in your mouth.

My husband almost always orders Biscuits and Gravy or Chicken and Dumplings. He loves that they are made from scratch and taste like the Southern foods he grew up with. The kids have their favorites too; like fried apples, macaroni and cheese, and green beans. When my kids look forward to ordering vegetables, you know it has to be good. No matter what we get, we know that it will be fresh and will really hit the spot.
Lately, my kids have been complaining that they are "crammed like sardines" in the back of my car whenever we go anywhere. They love getting out, playing a game of checkers, or rocking in one of the porch rocking chairs in front of Cracker Barrel. My husband and I like it too! It's a nice break from being on the road. If there is a wait to be seated, we welcome the relaxing atmosphere and will often head into the Country Store too see what they have. They always have an eclectic assortment of products; old fashioned candy, jams, games, clothing, seasonal décor, and more. Their store has saved me a few times over the years too. There have been times that I have forgotten presents at home and found something even better there. There is always something for everyone in there and I could spend a good amount of time looking at everything.

If you are on a road trip or are just looking for a great place to eat and shop, check out Cracker Barrel and Cracker Barrel's Retail Store for yourself. You'll enjoy their fresh home style cooking and fun atmosphere when you are away from home.