I'm partnering with Crunchmaster crackers this year to make a change in my life and start our #NewBeginnings. All opinions are my own.
Today is an opportunity for a new beginning and new family adventures. Summer is fully underway and I'm sure big summer activities are already in the works. I know they are in our family, especially since this school year has had a few ups and downs. I was reminded at how important family is and that we need to make the most out of every moment.
This school year was a flurry of change for us. After years of homeschooling, our kids attended public school for the first time. We had a high school freshman, one in middle school, and a Fourth grader. It resulted in 3 schedules, 15 teachers, 3 different schools, and a multitude of after school activities. We went from spending all day every day together to an hour in the morning and a few in the afternoons, plus weekends. I felt like I lost touch with my kids when they went back to school. When I did see them, it was a rush to get them here and there after school and on weekends. I was quickly reminded how important it was to spend quality time with my children. I tried my best to make the time count, but it was hard, really hard.
As summer gets underway, we are making another BIG change. My husband, Read, is leaving his full time job to come and work with me here at Little Family Adventure as well as on his own site, Adventure Riding with Dad. After serving in the military for 20 years and then working as a contractor (similar job but without the uniform) for 8 years, he's ready to try something else. We often joke that he's been gone for half of our marriage due to the military, but the reality is that it's true. Now we have the opportunity for a new beginning where he can be around more and watch our children grow into who they are going to be.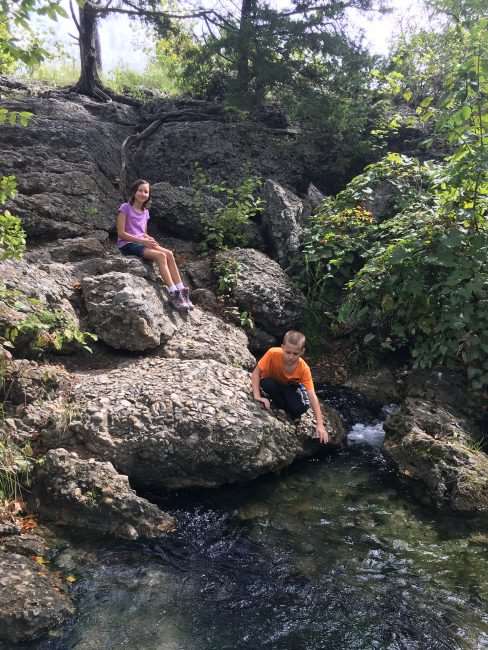 Moving forward, there are a few things we are doing differently as a family to make the most of the time we have together.
1. Make "Someday" Today
Quit putting things off until someday in the future. Make that "someday" today and start making plans to do the things you want to do as a family.
There have been so many times that I've said, "Some day I'll do….., see……, take the kids to …….". Before I knew it, I looked back and my kids were growing up before my eyes and I haven't made the most of the time we had together. I can't get that time back, but I can make a change starting today and every day moving forward.
Make a list of all the things you want to do with your family and do them. Not a bucket list to do one day, but your daily or weekly plan for the summer with your family.
One of the things we have started to do as a family is indoor rock climbing. So much fun!!!! This July/August we plan to get outdoors in Utah to put our new acquired skills to the test.
I also crossed Deep Sea Fishing off my To-Do/Bucket List. I quit saying one day and made it happen when I was in Gulf Shores, Alabama. I'm hooked (excuse the pun) and can't wait to go back.
2. Take the Trip You've Talked About
You can always make more money, but you can't get back the time you missed out on with your kids. When you think of your time with your children as 18 summers, it puts an urgency on everything!!!! You have 18 summers for summer road trips, summer trips to the beach, summer fun. After that, they become an adult (hopefully) and aren't kids anymore.
This summer, our family embarks on a trip we have talked about for years! It's a trip to Yellowstone National Park. Along the way, we're stopping in Colorado, other towns in Wyoming, and Utah. This is the current path/itinerary for our summer trip.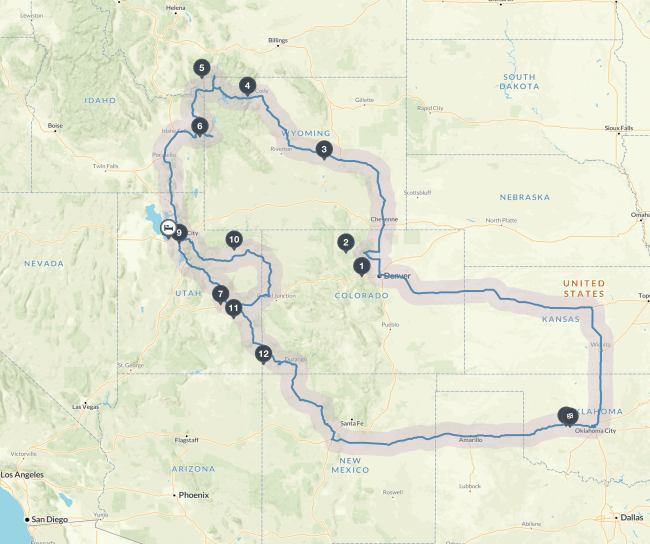 Thanks in part to my husband retiring and having a more flexible schedule, we are making it a 4 week trip filled with activities we have always wanted to do. Activities like
Seeing Old Faithful Geyser erupt in Yellowstone
Go trout fishing in the Rocky Mountains
River rafting down the Snake River in Wyoming
Biking around Moab, Utah
Canyoneering in eastern Utah
Hiking in Arches National Park
Visiting 4-6 National Parks in a summer
3. Make Family The Priority
This year, I'm turning 42 and it finally dawned on me that I'm not getting any younger, neither are my kids. No one has any idea what the future holds. If I keep counting on "tomorrow," I'm not living for today to make it the best it can be. I'm remembering that my emails can wait so I can listen to my son's story, that I should remember to bring the tripod and get in the photos with the family, and that the activity isn't important but the quality time together is.
A New Beginning for Crunchmaster crackers
Where ever we go and whatever we do, we like to be healthy in most everything we do. We find it's easier to pack our own snacks for road trips and outdoor fun. Crunchmaster crackers are a healthy, simply crafted snack that fits well into how we like to eat at home and on the road. Their crackers are great on their own, with sliced cheese and salami, served with a dip, or with different toppings.
Crunchmaster has a new beginning too. Their 100% whole grain crackers will still be the tasty, certified Gluten Free snacks you love. They are just getting a facelift, new logo, and new flavors for you to enjoy.
Protein Snack Crackers: Sea Salt, Roasted Garlic, and Barbecue
Tuscan Peasant Crackers: Garlic & Italian Herbs, Rosemary, and Simply Olive Oil & Sea Salt
Multi-Seed Artisan Cheesy Garlic Bread, Multi-Seed Signature Buttermilk Ranch and Dill, Multi-Grain Applewood Smoked Barbecue
Crunchmaster crackers are made with 100% whole grains like brown rice, quinoa, flax, corn, amaranth, millet, sunflower, chickpea, edamame. They are low in sugar, non-GMO Project verified, free of saturated & trans fats, plus contain no artificial colors or flavors.
They are the perfect snack cracker when you want to eat healthy so you can continue with your #NewBeginnings.
Follow along in upcoming weeks as I plan this epic road trip and share from the road on how we are finding adventure and reconnecting with the kids.
Find Crunchmaster crackers at a grocery, natural, or club store near you. They are available in the US and Canada. Find a store near you at crunchmaster.com
SaveSave