I recently had the pleasure of reviewing Beach House Baking: An Endless Summer of Delicious Desserts by Lei Shishak. It's a cookbook that I highly recommend because it's not your standard collection of cake and pie dessert recipes. You'll find desserts ranging from these Mango Swirl Ice Pops to ice cream sandwiches, cookies, s'mores cupcakes, and more. The theme of the cookbook is giving you quick and easy dessert recipes so you can be in and out of the kitchen quickly. When you do that, you can go and enjoy your day (the beach always sounds like a good idea).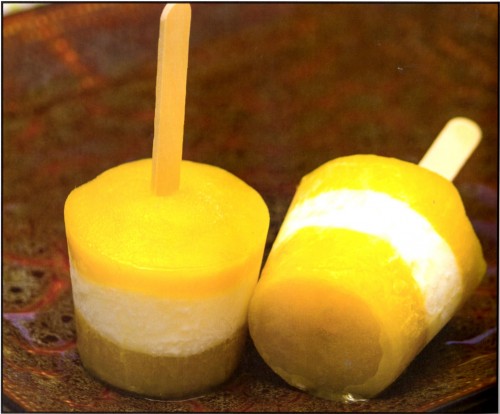 These Mango Swirl Ice Pops are a gluten free treat that takes very little time to prepare. If you have a quick freeze popsicle mold, like one available from Zoku (affiliate link). You can have popsicles ready in less than 15 minutes. That's a quick and easy treat that everyone is sure to love.
For my full cookbook review, you can find it here.
Mango Swirl Ice Pops (gluten free)

Ingredients

2 ripe mangoes

4 tablespoons + 2 tablespoons sugar

½ cup cold water

1 ½ cups whole milk yogurt

Instructions

Remove the skin from the mangoes and cut the flesh around the seeds.
Chop the flesh into small pieces and add to the blender along with 4 tablespoons of the sugar. Pulse until smooth. Add the water and process until completely smooth.
Stir the yogurt with the remaining 2 tablespoons of sugar until thoroughly combined.
Layer about 3 tablespoons each of the mango puree and yogurt in alternating fashion, beginning and ending with mango, into your pop molds.
Freeze until partially frozen and then insert sticks. Freeze until solid, at least 4 hours or overnight.

7.8.1.2

82

https://littlefamilyadventure.com/mango-swirl-ice-pops/

LittleFamilyAdventure.com
{Recipe  printed with permission from Skyhorse Publishing.}