Maple Shallot Vinaigrette makes a hooo hmmm salad into a WOW! salad.
It's true that a right dressing can really make a salad spectacular. It turns ordinary greens and vegetables into something you want to eat again and again. Maple Shallot Vinaigrette is one of those dressings. It has the right combination of sweet and sour that makes ordinary greens come alive.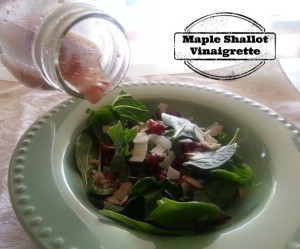 This dressing takes a red wine vinaigrette and adds minced shallots and maple syrup for a unique taste. It's sweet taste is a hot with my family. We've loved it on everything from this salad above with mixed greens with pomegranate seeds, almonds, and coconut strips to a kitchen sink chopped salad with all kinds of veggies. Try it for yourself and you'll see why it's a hit on our house.
What kind of salad would add this dressing to?
Yield: 1 cup - 12 servings
Maple Shallot Vinaigrette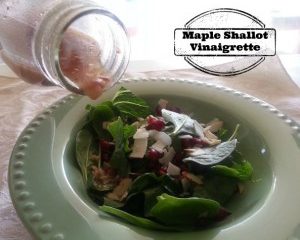 Prep Time 5 minutes
Total Time 5 minutes
Ingredients
1/4 cup maple syrup
1/2 cup red wine vinegar
1/4 cup olive oil
1 Tablespoon Dijon mustard
2 Tablespoon minced shallot
1 garlic clove, minced
1/4 teaspoon salt
1/8 teaspoon ground black pepper
Instructions
1. Combine all ingredients and mix well.
2. Add to your favorite salad and enjoy!
If you liked this dressing, you may also like some of our other salad:
Spring Greens, Prosciutto, and Olive Salad Pecan, Avocado, and Fruit Salad Blueberry, Cashew, and Feta Salad Trader Salad: Kale Salad with Orange Muscat Champagne Vinegar Dressing