Celebrate Christmas in Disney Parks!
Christmas time is a magical time of year filled with friends and family, twinkling lights, holiday carolers, reenactments of the first Christmas, and holiday cheer. This year, we were able to celebrate a little early in the "Most Magical Place on Earth". We traveled to Walt Disney World for a family vacation and Mickey's Very Merry Christmas Party.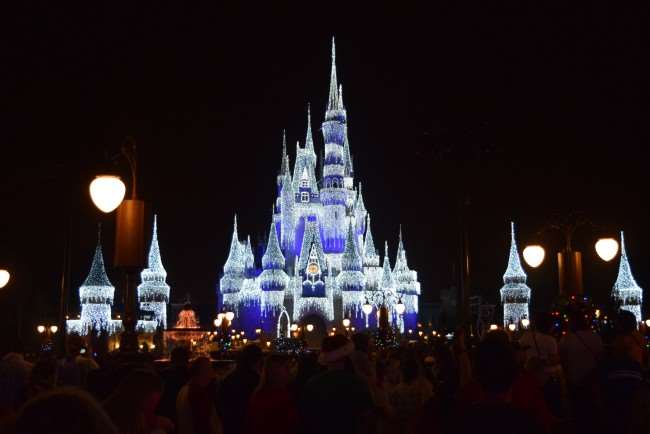 Last year, my husband and I celebrated our 20th wedding anniversary. What better way to celebrate that to go to Walt Disney World in Florida. Although, we have gone to Disney without the kids before, we decided to make it a family vacation and enjoy the parks together.
During our 10 day trip, we had the opportunity to attend a Mickey's Very Merry Christmas Party. It was a magical holiday celebration and we had so much fun. Even though it literally rained on our parade, a little water that night couldn't dampen our spirits or our enjoyment of the holiday festivities. If you have never attended a Disney special event like this, I highly recommend it.
Here are a few of the things we enjoyed about Mickey's Very Merry Christmas Party:

The holiday decorations
From Main Street to Fantasyland and everywhere in between, the Magic Kingdom is decked out in holiday cheer.
You have twinkling lights, poinsettias galore, Christmas trees, ornaments, are more.
Free Cookies and Hot Chocolate

During Mickey's Very Merry Christmas Party, participants enjoy free hot chocolate and cookies at different locations around the park. We enjoyed our fill of Snickerdoodle cookies and delicious cocoa. I liked that apple slices, apple juice, and Gluten Free chocolate chip cookies were also available.

Lighting the Castle
Elsa, from the movie Frozen, comes out and "freezes" the castle in lights. It is a wonderful sight to behold as the "ice" swirls around the castle and finishes with a BANG (fireworks)!

Special Holiday Wishes Fireworks Display
What can I say, I LOVE fireworks. Disney's fireworks presentations are spectacular!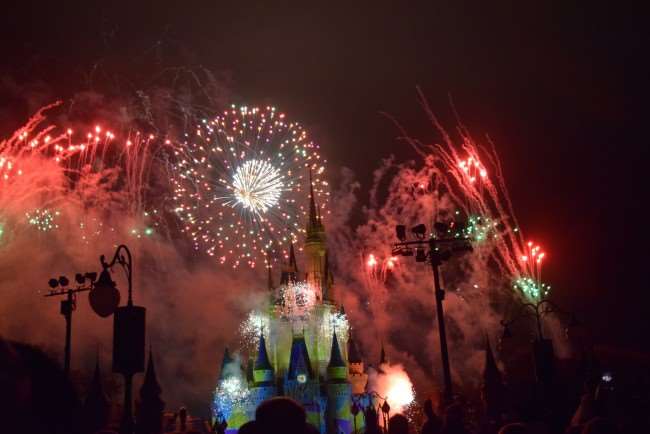 The night sky is lit up in color.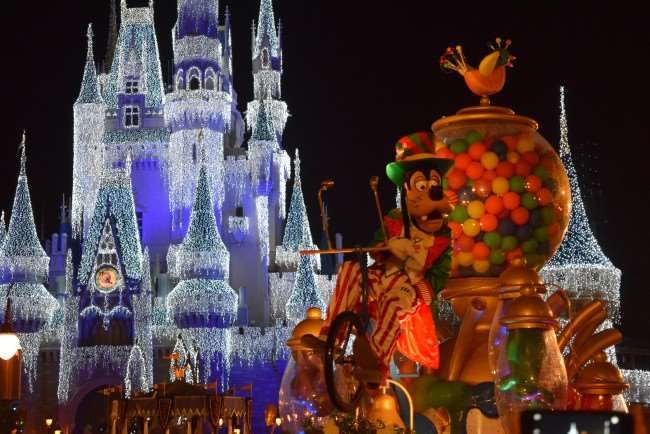 Mickey's Very Merry Christmas Party Parade
A cast of Disney characters and performers make their way from Frontierland down Main Street in a spectacular style for the Once Upon a Christmastime Parade. All the characters are dressed in their finest holiday attire as they greet guests and wave to onlookers.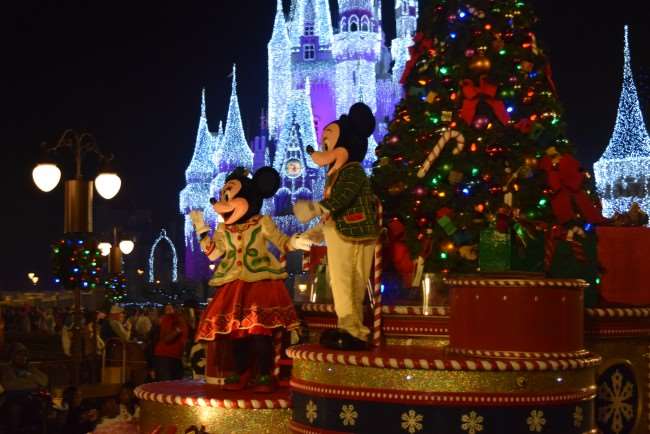 "It ALL started with a Mouse"
Mickey and Minnie Mouse welcome party guests and wave to the crowd.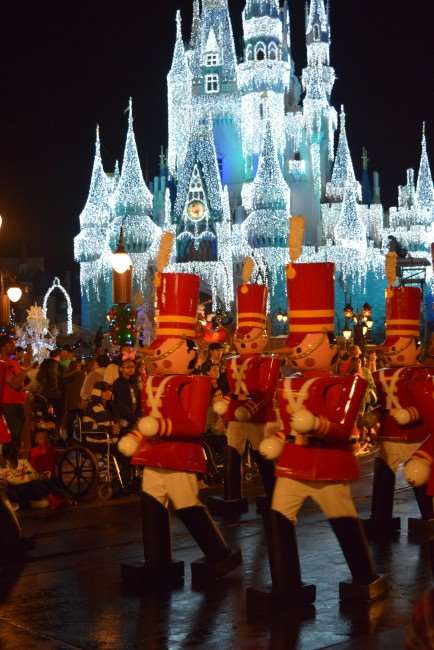 Toy Soldiers Come Marching In
I am a sucker for a man in uniform. I've been married to one for years. Toy soldiers march down the street just before Santa and his reindeer. The soldiers' choreographed march is fun to watch.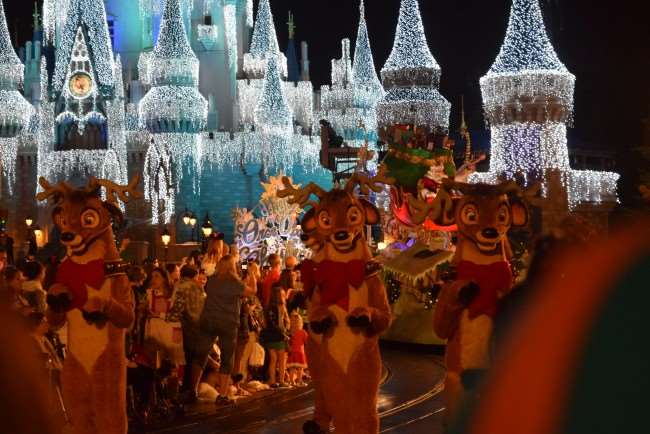 Jolly Old St. Nick finishes off the parade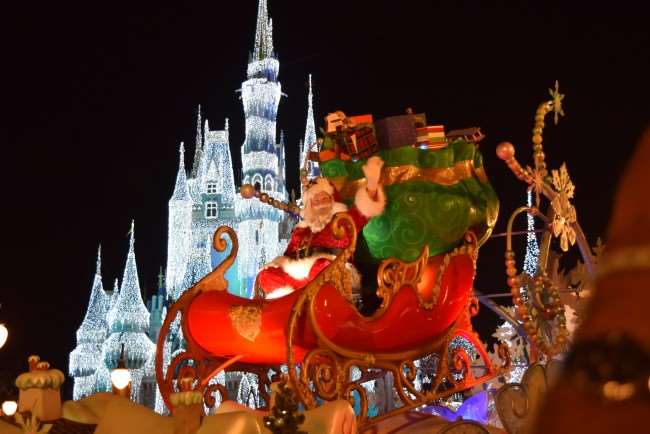 Lead by his reindeer and sitting in his sleigh, Santa Claus concludes the parade. He wishes everyone "Merry Christmas".

Mickey's Very Merry Christmas Meet and Greets
Special opportunities are available to meet your favorite Disney characters dressed in their holiday best. Mickey and Minnie Mouse are there, as well as the Princesses accompanied by their Princes, Jack from the Nightmare before Christmas, and more. My favorite party characters are the 7 Dwarfs from Snow White. They only come out to greet guests during special events like Mickey's Very Merry Christmas Party and Mickey's Not So Scary Halloween Party. They are so fun to watch.
Short attraction lines
This is our favorite part of special events like this. You can walk on rides with little to NO wait. The kids loved riding the mountains (Space, Big Thunder, and Splash Mountain) again, and again, and again.

Memories to last a lifetime.
For us the holidays aren't about the "stuff". It's about family. I'd rather have a family vacation or getaway instead of a tangible gift. We LOVE coming to Disney World and I'm thrilled that we decided to visit again this year. As the kids get older, it's easy for each of us to get wrapped up in what we are doing and forget what's important. Disney is one of the places we can all agree on and it's the place we can enjoy as a family. My kids no longer believe in Santa Claus, but they still believe in the magic and wonder of the holiday season. Our first experience with Mickey's Very Merry Christmas Party was magical and it provided us with memories we won't soon forget.
Thank you to Walt Disney World for providing complimentary tickets to Mickey's Very Merry Christmas Party. Tickets were provided for the purposes of this review. All opinions expressed are, as always, 100% my own.