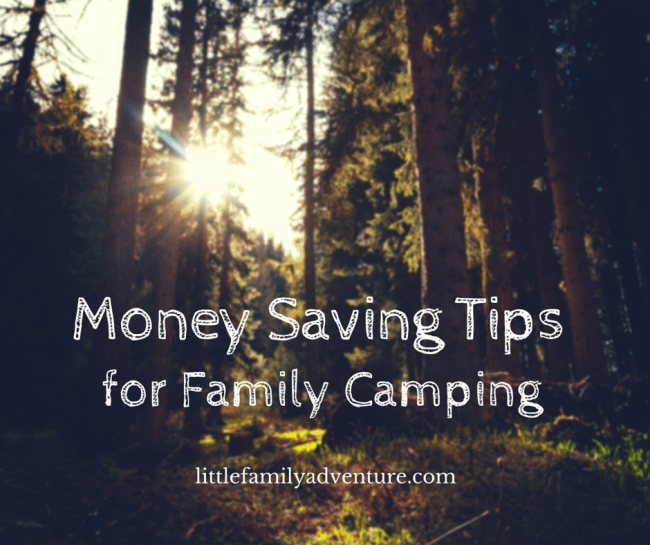 You're looking for money saving tips for family camping, right?
I'm here to share a few cost cutting tips that will help you and your family go camping too and all without breaking the bank. Our family enjoys going camping and we try to go as often as possible. These tips will help you avoid spending more than necessary! They will help make it possible to head outdoors more often and have a great time as a family. But before I share them, there are a few things you should know about camping….
Camping can be expensive, BUT it doesn't have to be
Camping, like any vacation or trip, can really end up being quite expensive. You may think, because there is no hotel fee or big tourist trap type activities, that you will get away without spending much money. That can really be deceiving and untrue in some cases.
But never fear! I have money saving tips for family camping that will help you avoid costly mistakes.
KISS: Keep It Simple Sweetie
K.I.S.S. is true in sooo many things, especially when it comes to families. It's best to keep things simple. Your family's first camping trip is not the time to stuff all your gear into a trail backpack and head into the backcountry for a week. You want your family's camping experience to be fun and a give them some thing to look forward to for years to come. Keep this in mind when we start talking about money saving tips for family camping.
Keep it simple and start slow by:
Having a backyard camp out and introduce kids to the sounds of the outdoors
Camp 1-2 nights in a campground near home or within an hour's drive if possible
Select an improved campground with creature comforts; flush toilets, showers, etc.
Consider camping with friends who have camped before

Money Saving Tips for Family Camping
We ♥ camping as a family and go as often as we can. The tips I'm sharing will help you save money and allow you to go camping more often.
The tips I'll share include:
Let's look at saving $$$ on camping gear first on the Next Page