Camp Food and Meal Prep/Planning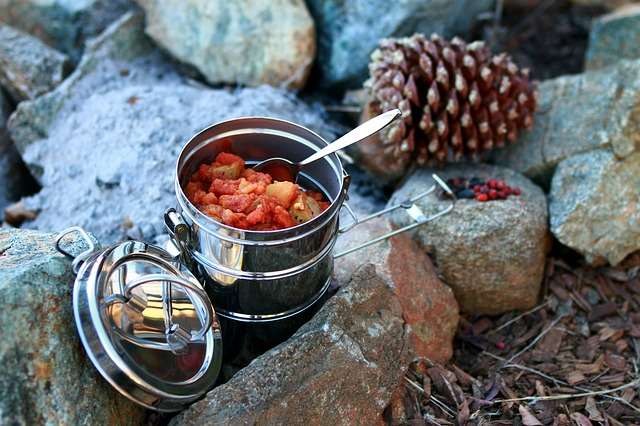 When trying to go family camping on a budget, your meals will play a large role in the cost of the trip. Just like meal planning at home will save you money, meal planning will also save you money on your camping trips. Consider planning out all of your meals beforehand so you can pack accordingly.
Kitchen/Cooking Items Needed While Camping
When you camp, you need to bring everything needed for cooking with you. There are no quick runs to the store when you forget something. If there is a camp store nearby, goods are at a premium and will cost you for their convenience.
" Get a complete budget friendly, weekend camping meal plan with recipes & printable shopping list here. It will feed 4-5 people for ONLY $50!."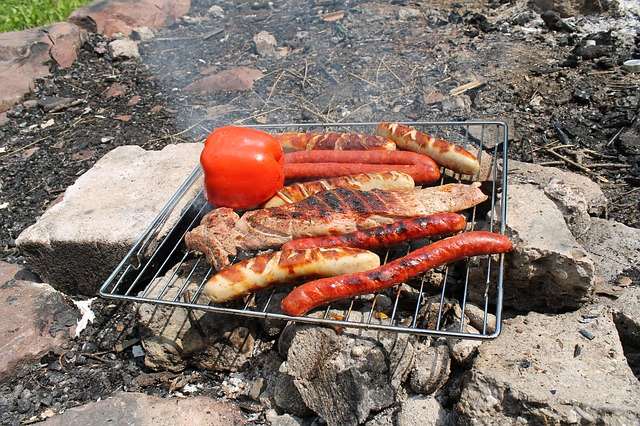 Here is a list of cooking items I recommend you bring on any family camping trip.
Ice chest/cooler for food
Container to store water in
Cooking utensils

Cooking utensils (changes based on cooking method)

Pot/pan/skillet/iron grate
Spatula, grilling utensils like metal tongs, long handles spoon, etc.

Serving/Eating Utensils

Plates, bowls, forks, knives, spoons, etc.

Way to start the campfire fire: lighter, matches, etc.
Heavy Duty aluminum foil – this a MUST HAVE for us. You can cook with it, line a nasty BBQ grill with, and use it to wrap leftovers in.
CAMPING TIP:  Bring an oven rack or grill rack with you. You can use it to cook on over the or over a dirty campsite grill. 
Part of an awesome camping experience is getting to cook over an open flame in the great outdoors. Plan to take simple to prepare meals that will feed the whole family! If you need ideas, take a look at these 26 Camping Recipes that include everything from breakfast to snacks.
The last place you can save money and go family camping for cheap is on activities.
Let's continue on the Next Page and I'll share a few more tips there.