Back to School time is here and it's time to start thinking about what you'll do for their school lunch gear.  This is the first year that I've really had to look at how and what I pack my kids for lunch. We've been homeschooling for 8 years and this year, the kids wanted to go to public school. I've always said that if you want to go, we'll let you. So this year, my kids are gearing up and heading to public school for the first time.
Up to this point, I think I've done a really good job teaching my kids how to eat healthy. My youngest, who is going into 4th grade, can tell you all about why you should eat brussel sprouts and what should be on your plate. With them going to school this year, I wanted to be sure that they continues to eat healthy and make lunch fun for them.
The best way to ensure that they are eating healthy is to pack it ourselves. We found some things that make it easier for us to pack a real food lunch for school. Let me show you what my kids are taking to school this year.
Bento Style Lunch Box/Kit
School lunches have come a long way from a bologna sandwich, milk, and banana. Today's kids want better meals and more variety. Bento boxes are one of the ways I get my kids to eat a variety of foods each day. When I want to pack them a real food lunch, it's the first thing I grab for. Here are three of my favorites.
 
PlanetBox Rover Box $55.95
This stainless steel bento box makes packing a real food lunch easy. It features individual compartments for food and 2 sealable metal containers for wet foods like dip and yogurt. This lunch box holds 4.5 cups of food, so it's a great size is for both children and adults who enjoy smaller portion sizes.
This the cadillac of school bento lunch kits. Because of it's construction, it will last for years and is well worth the price.

This plastic bento kit is perfect for children under age 8. It's leakproof and seals with just one lid. The removable tray comes in a variety of designs and is really easy to clean. The tray holds five 1/2 cup portions plus a small treat.
I love how fun this kit is. It makes lunch fun and several of the trays show kids what to pack in their lunch; vegetables grains, proteins, dairy, etc.

Bento Lunch Box from Fuel $21.99
This BPA- Free plastic bento box fits a 4 course meal in each box; main course or sandwich, smaller entree, dessert, and snack. This box comes in 2 removable sections, each with its own lid. The lids seal really well and keep food separate. It's the only bento box that I have that is microwavable.
This bento is a great low cost option for kids and adults. It come in a light gray color with green trim, so they aren't as bright as other kids' bento boxes. My high schooler is planning on taking this one to school each day.
Hot Entree Containers
Most bento boxes and school lunch containers aren't designed to keep food hot. So when you want to enjoy a hot meal from home, an insulated container is essential. My kids enjoy everything from homemade mac and cheese to tomato soup in an insulated container. Here are the 2 that we currently have and use often.

Food and Beverage Container from Fuel $16.98
This 12oz insulated container is perfect for hot entrees and beverages. It's double wall helps keep whatever is inside hot for hours. The lid doubles as a bowl or can be used as a snack container.
Stainless Steel Food Jar from Thermos $24.99
Thermos has been around for years and makes quality containers that keep food hot or cold. My favorite insulated container is a 16oz food jar because it fits a variety of foods and feeds a variety of appetites.

Reusable Snack and Sandwich Pouches
Using reusable pouches and containers is a greener alternative to plastic storage bags. Using just 1 reusable bag can save over 500 plastic bags.  This small change can have a huge impact on our environment.
Lunchskins by 3greenmoms  Price varies
These reusable bags come in a variety of colors and styles. They can hold everything from a sandwich to grapes with ease. They are BPA free and can easily be cleaned by hand or in the dishwasher.
Snack Pockets from Fuel
BPA free pouches are lined with a tear resistant material. They come in a set with 2 sizes; small and large. I usually keep the small pouch in my purse with granola or trail mix. $12.99
Silicone Popsicle Molds $11.88 for set of 8 
Not your standard lunch container, but I love these to store everything from nuts to yogurt. When they aren't in the freezer for ice pops, they are in the lunch bag serving up something really tasty.
 
Reusable Water Bottles
Several years ago, we stopped buying disposable water bottles and started carrying refillable bottles. Instead of wasting money of bottles I would throw out, we opted for ones that could be refilled again and again. Having a water bottle with me has helped me reduce the amount of soda my family drinks and has helped up stay better hydrated. Shown left to right below.
Stainless Steel Sport Bottles from Fuel $9.99
This water bottle has a spill proof lid and a handy carrying strap included.
Yoobi Tritan Water bottle $8.99
BPA Free plastic bottle with a fun, bold graphic design. The cap is spill proof and comes with a clip to attach to your backpack.
Yoobi teamed up with Pharrell Williams on a back to school collection that celebrates what makes each student unique. I love it when companies give back. For every Yoobi item purchased, a Yoobi item will be donated to a classroom in need. You can find the collection exclusively at Target stores and online.
Sigg water bottle Price varies
Find a variety of sizes and colors from Sigg. These are the water bottles we carry around everyday.
Juice in the box $11.99
It's a refillable 8oz juice box. This is a greener alternative to disposable juice pouches or boxes. Fill it with 100% juice or water for your child.
Lunch Bags for Real Food Lunches
 
PackIt Freezable Upright Lunch Box $19.99
Someone finally made a lunch box and ice pack in one. This upright bag has a freezable gel liner in the walls that keeps food cold for up to 10 hours. You fold it down, pop it in the freezer overnight, and in the morning it's ready to go.  It easily carries a meal or bento box, snack, and a 12oz water bottle.

Yoobi I am OTHER Backpack Lunch Bag $12.99
This graphic designed mini backpack is perfect to carry your real food lunch. It's part of the Yoobi i am OTHER collection that helps give back to schools in need. You'll find positive words and fun designs on this bag. My daughter picked this one out for herself this school year.

PlanetBox Carry Bag $28.95
It is designed  to perfectly carry the Planetbox Rover and a water bottle. It comes in a variety of colors.
Reusable silverware/tools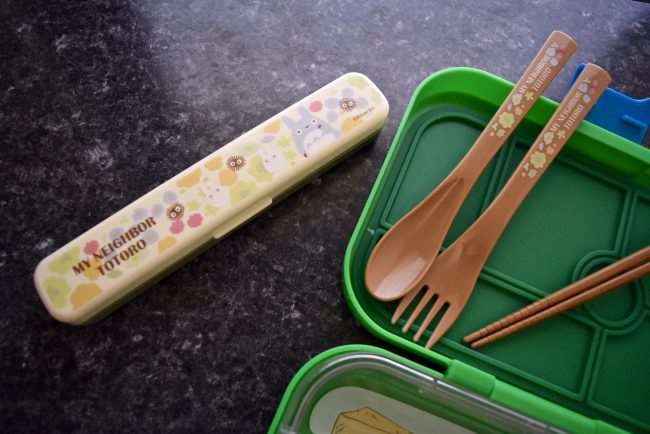 I would rather send real silverware with my child than use disposable versions day after day. I found this fun set for my daughter on Amazon featuring her favorite anime character, Totoro. You can find a variety of designs and sets at Amazon less than $10.
So what school lunch gear are you using to pack a real food lunch for your kids?
I received complimentary products from Trudeau, Yoobi, and PlanetBox for review. As always, all the opinions I share are 100% my own. This article does contain affiliate links.