This article is sponsored by Comfort Inn and Suites. All opinions expressed are 100% my own.
Do you ever say to yourself "I Need a Vacation"?
After all the goings on and activity of the holidays, that's exactly what I was saying. All of our holiday guests had gone home. The weather was cold and icy. We were all antsy to get out and do something. We decided to have a staycation and checked into a nearby hotel, the newly renovated Comfort Inn and Suites Quail Springs Oklahoma City, for a fun filled, 2 night, little family vacation.
You might be thinking a staycation is where you stay home and explore your city like a tourist. It can be, but my house doesn't have a heated indoor swimming pool. The Comfort Inn we choose had one of those and was close to some of our favorite entertainment areas; Quail Springs Mall, The Main Event, Bricktown, and more. When it's cold and wet outside, it's fun to do something different. A short hotel stay was perfect for us. It included housekeeping, breakfast in bed (well after we brought it up from the breakfast bar), heated pool during the winter, and more.
I travel quite a lot and have stayed at numerous hotels and resorts throughout the country and abroad. I hadn't stayed at a Comfort Inn in several years. I was pleasantly surprised with all of the recent upgrades and amenities they now offer . The company said they considered feedback from over 10,000 guests and franchisees in regards to their recent improvements. A few of the recent upgrades include:


• New contemporary bedding featuring 100% cotton sheets and coverlets
• New "Truly Yours" pillows in both soft and firm styles
• Free WiFi available throughout the hotel
• In-room refrigerators and microwaves
• Flat screen TVs
• Office style desk and chair in each room
• Free business centers
• Multi-device charging stations in each room
With a family of 5, it's hard to find an affordable hotel room that can accommodate us and still provide the space we need. We stayed in a 2 queen bed suite with sleeper sofa at a very reasonable rate. The room could easily hold 6 people and had plenty of room for all of us to be comfortable.
The kids most enjoyed the heated pool. That one amenity was worth the price of the hotel alone during cold winter months. The kids loved playing in the pool. Often times, there were other kids there too for them to hang out with.


I like to eat real food even while on vacation. I was really happy to see that the hotel's complimentary breakfast had

several real food options. There was whole fresh fruit, yogurt, oatmeal, juice, and eggs. Since we were on a vacation, the kids indulged with Blueberry Waffles, Biscuits and Gravy, and Bagels with Cream Cheese. I hadn't seen flavored waffles before on any hotel chain's continental breakfast bar. The breakfast attendant said that this was the first hotel chain to offer them. The kids gave them two thumbs up!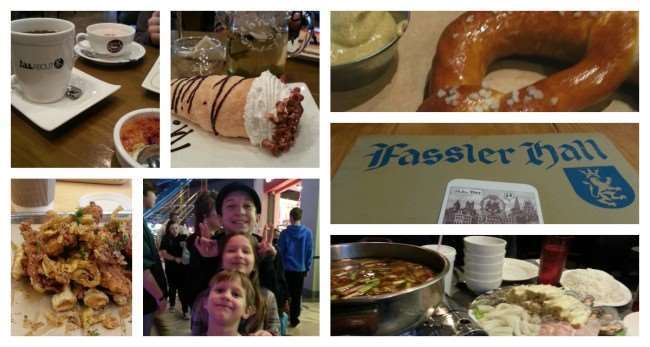 When we were not in our hotel, we had a great time in Oklahoma City. We took in a movie at the AMC Quail Springs, played laser tag and arcade games at Main Event, did a little shopping, and ate at some wonderful local restaurants. After all those activities is was wonderful to come back to a quiet room and relax. We watched TV, played card games, and finally feel asleep in large, comfortable beds. Even the sleeper sofa was comfortable.

We had a great staycation with Comfort Inn and Suites. From the time we checked in to the time we checked out, the staff made our stay enjoyable. They were always courteous, pleasant to talk with, and offered to help whenever

possible. At check in, I received a small welcome gift for being a Choice Privileges Points member. The hot chocolate mix was greatly appreciated as the weather was really cold and nasty outside. All in all, my stay was enjoyable and I would love to return to a Comfort Inn and Suites again whenever and wherever I decide to vacation next.
The next time you need a hotel for business or a vacation, you should check out Comfort Inn and Suites. They have all the amenities you need and could want at a reasonable rate.