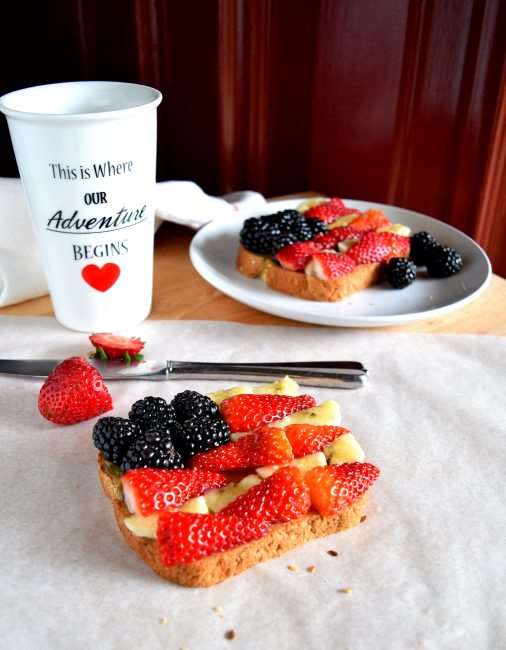 This open face sandwich is perfect for breakfast or lunch. It's berry sweet with fresh blueberries, strawberries, and bananas. Plus a little lemon curd adds a nice touch of tartness. You are going to really enjoy this and putting it together is just part of the fun. Have extra berries on hand so you can snack while you create this American Flag design.

Yield: 1
Berry Sweet Flag Sandwich Funny Face Veggie Sandwich

No more boring sandwiches! Get ready to play with you food and create this fun sandwich.
Ingredients
1 Slice of Pepperidge Farm® Harvest Blends Seeded Grain bread
1 Tablespoon Lemon Curd
1/4 Banana, peeled
4 Large Strawberries, destemmed
9 Blueberries
1 Slice of Pepperidge Farm® Harvest Blends Ancient Grain bread
1 Tablespoon Chickpea Hummus
Assorted vegetables (Carrot ribbons, sliced cumbers, Alfalfa sprouts, Garden Peas, olives, tomato slices, radish slices, etc.)
Instructions
Toast bread, if desired, and spread with lemon curd.
Slice banana in half lengthwise and into 1/4" slices.
Slice strawberries in half and into 1/4" slices.
Arrange blueberries in upper left corner in a square.
Arrange strawberries and bananas in alternating rows to form stripes.
Spread hummus onto the bread slice.
Top with a variety of vegetable slices, ribbons, vegetables, etc. to create funny face.
With either of these sandwiches, you'll never have to eat a boring sandwich ever again.
Grab a loaf of Harvest Blends bread today and enjoy playing with your food again.
Share your sandwich creation with us on Instagram and tag us #lilfamadventure and #HarvestBlends.