I recently attended ShiftCon, an eco-wellness influencer conference in New Orleans. While I was there I attended workshops on organic initiatives, met great bloggers, toured New Orleans, and found some great companies offering healthy foods that make healthy eating more delicious. I am all about making healthy eating easier for my family and when I find products or brands that help me do that, I want to share them with you.
New Healthy Foods to Make Healthy Eating More Delicious
Some of the brands listed below sent me home with sample products to try and others mailed me full sized versions to try. Everything listed here are foods that I really like and will use again in the future. I've included their websites for you to learn more about and find in stores near you.
Here are the healthy foods that I want to tell you more about that I discovered at ShiftCon:
Each morning we should start our morning with a protein filled breakfast. FlapJacked showcased two products at ShiftCon that do just that.
Protein pancake and baking mix – This pancake and baking mix is available in several  varieties including a gluten free version with oat and coconut flours, buttermilk, protein from whey and pea, and stevia extract for sweetener.  You can use it to make pancakes, waffles, cookies, and more. Each serving gives you 20g of protein.
When we start camping again in the spring, I plan to swap my old pancake batter for this mix. We'll make the buttermilk pancakes with sliced bananas and chocolate chips for a camping breakfast. The batter is easy to make (you just add water). Plus it will give my family added protein to fuel them on morning hikes, while kayaking, or if we are breaking down camp.
Mighty Muffins – These are single serve microwave muffin cups. You add water and microwave for 35 seconds to get a delicious protein packed muffin. I was sent an assorted 6 pack to try. The kids loved the S'mores muffin best. Each muffin is loaded with 20g or protein from whey and pea sources. The ingredients are all natural, including the marshmallows. 
I plan to start carrying these with us when we travel. Sometimes, it's hard to eat healthier while traveling. But almost all hotel rooms have a microwave, so we can make these in our room. It will be a nice alternative to oatmeal cups. Plus the clean up is super simple, I just throw the paper cup away.
If you are looking for gluten free, non GMO, and paleo baking products, be sure to check them out. What attracted me to the Simple Mills table was their frosting and their gluten free crackers (not eaten together unless you like sweet and savory). I haven't been able to find an affordable remade frosting until now.
Simple Mills Frosting – They have 2 types of frosting, vanilla and chocolate. Both are made with coconut oil, palm shortening and are sweetened with monk fruit extract. I have tried them both and really like them. With the chocolate I found that if I heated it up for just a few seconds in the microwave, it became easier to spread.
Simple Mills Baking Mixes – I received a few gluten free baking mixes to try at home. I haven't had any luck with creating my own gluten free baked goods. I can't seem to get the proportioned right. These mixes make it simple and easy. We tried the chocolate chip cookie mix and they taste like my traditional recipe.
I have been buying Applegate pepperoni and deli meat for quite a while. I love that they offer products free of GMOs, nitrates, nitrites, and antibiotics. We often use their natural uncured pepperoni and sliced ham on pizza night.
At ShiftCon, I was able to try the Natural Genoa Salami Trio. it was a package of uncured Genoa Salami, Peppered Salami, and Herb Salami. The herbed salami was my favorite. Like all the other Applegate products, these salamis were free of stuff I don't want. I like the packaging because it gave me a taste of 3 different products. Over the holidays I bought this for cheese platters and appetizer plates. It made them super simple. In the future, I will be sure to bring this trip when we travel. It would go great on sandwiches, with cubed cheese, or as a snack.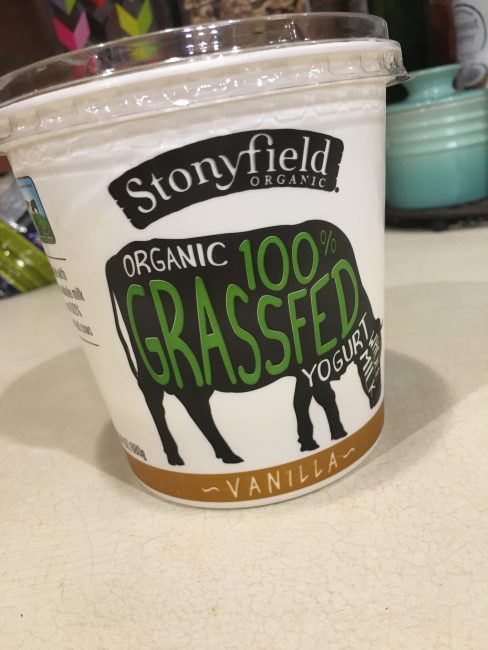 We are a Stonyfield household because we love yogurt. I'm also a Stonyfield YoGetter Blogger, so I often create recipes using their products. Their 100% Grass Fed yogurt is one of my favorites. Try it in this recipe for Gluten Free Pumpkin Spice Granola Parfaits.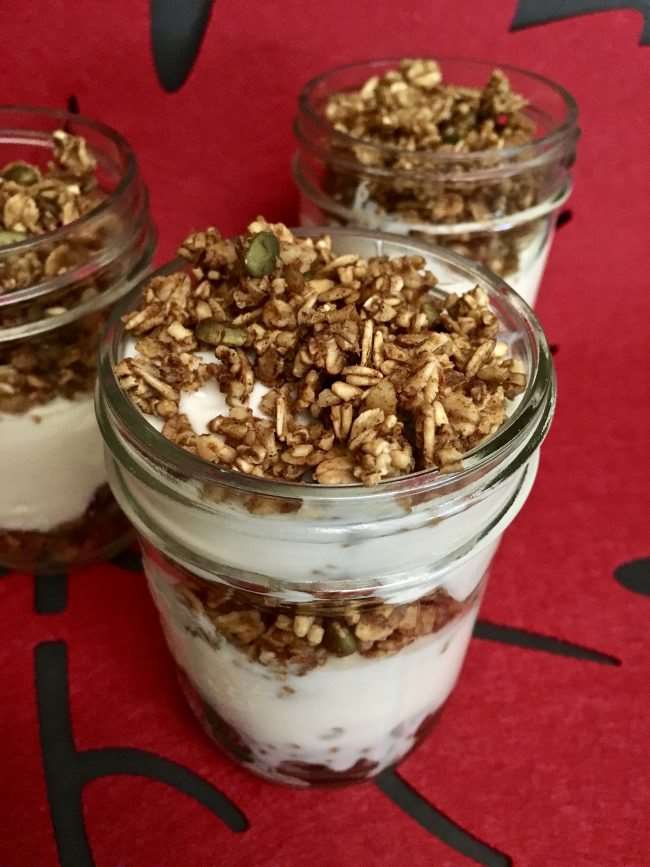 I love dried fruit as a simple snack, added to trail mix and in recipes like my Adventure Bars. Stoneridge Orchards was new to me and I tried their dried cherries at ShiftCon. I actually won a HUGE assortment of dried fruit from them, so I got to several varieties.
My favorites included the Chili Lime Dried Cherries and Dark Chocolate Strawberries. All of their dried fruit is free or corn syrup, sulfites, and hydrogenated oils.
I'm looking forward to trying a few of their recipes on their website.
I was introduced to Orgain last  year at ShiftCon. I have been using their plant based protein powder for over a year in smoothies and no bake snacks. This year they brought their new protein bars.
These peanut butter protein bars are really good. But my favorite is the New Chocolate Chip Cookie Dough protein bars. They taste like homemade cookie dough in a bar form. I can already see them in my hiking pack and in my travel carry-on.
Certified organic, dairy free ice cream made with coconut milk. I honestly hadn't had any dairy free ice cream before this. So I have nothing except traditional ice cream to compare this too. The variety of flavors Coconut Bliss offers is outstanding and each was better than the last. Favorites were the Cinnamon Chocolate Fusion and Chocolate Chip Cookie.
This was another new product and brand that I found at ShiftCon. Pukka is an English company that offers a variety of organic teas and herbs.
They have over 20 different types of tea from matcha green to turmeric gold. They have custom blends that are delicious any time of  day. I really like the elderberry and echinacea, vanilla chai, and three mint tea.
I like the fact that this salt is mined in Utah. It's unrefined sea salt from an ancient sea bed. It contains no added anything. I received bottles of this Real Salt and have been using it at home and really like it.
Be sure to check out the 8 Natural Products For You and Your Home that I discovered at ShiftCon too. Together these healthy foods and healthy products will help you clean up, eat healthier, and be more active with your family.
Note: I did receive sample products at the conference and a few to take home.  I'll only recommend and share products that I use and love myself. Thanks!