Real Food Meal Plan Grocery List

Each week we share a new real food meal plan featuring healthy meals we will cook at our house. Starting this week, we'll also share a grocery list for those meals. That way you can print off the grocery list and easily recreate our meal plan. This first real food meal plan coincides with our No Oven Real Food Meal Plan ( click here for meal plan).
Meal planning has been a life saving for our family. It helps us plan meals for the week ahead and prevents us from heading for take out at the last minute because we're too tired to think about dinner. Because we are trying to eat healthy, all of our meal plans are "clean eating" and contain real food. Clean eating may mean different things to different people. But for us, clean eating means eating whole real food ingredients that grow in nature. So that's what you will find here. If I buy packaged foods, they will only contain a few ingredients and be ones that I would normally use to cook from scratch.
If you are new to meal planning, take a look at our article "How to Create a Weekly Meal Plan." for tips and a printable meal plan.
Click above for a printable version of the grocery list

Additional Real Food Meals
Our weekly real food meal plans include meal ideas and dinner recipes. They generally don't include lunches or breakfasts. Since I'm sharing my grocery list with you, it includes items we need for breakfast and lunch. So on the weekly grocery lists, I'll include what we're having for breakfast and lunch during that week. We are pretty laid back for both meals, so it won't be as formal as our dinner plans. But they will still help you create healthy breakfasts and lunches for you and your family.
As a note, I should mention that I'm shopping, cooking for, and feeding 5 people; 2 adults, a teenage boy, and 2 children. All three kids are going through growth spurts and eating me out of house and home.

Breakfast Meal Ideas
Oatmeal with maple syrup and raisins or strawberries
Yogurt sweetened with maple syrup and raisins
Yogurt sweetened with honey, chopped apples, and walnuts
French Toast
Soft boiled eggs and toast
Omelette with cheese and salsa

Lunch Meal Ideas
Sandwiches (ham or leftover chicken)
Cheese quesadillas with guacamole
Sandwich Wraps with vegetables or leftovers
Green Salad with variety of vegetables
Cheese Nachos with salsa and guacamole
Leftovers
Find all of our real food meal plans at: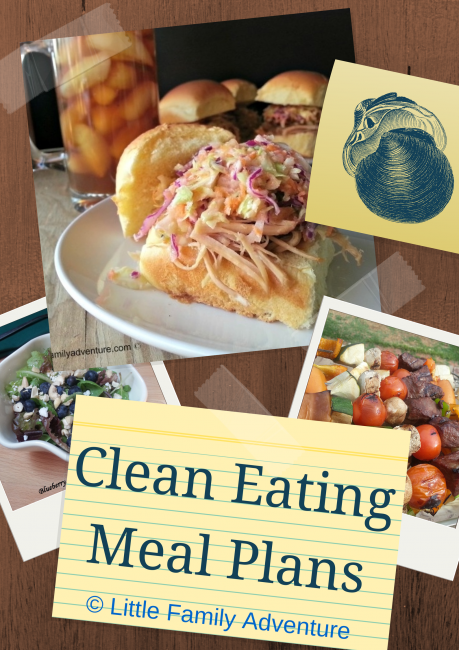 I'd love to hear what you think of the added grocery list to our weekly meal plans. Love it? Hate it? Please leave me a comment below or email me.