November is here! To celebrate, let's start the month with some delicious real food meal ideas. This month's November clean eating meal plan includes a traditional Thanksgiving feast, a themed week featuring delicious Mexican inspired meal ideas, hearty comfort foods, and quick weeknight recipes.
Each month I share a printable clean eating meal plan full of delicious, real food meal ideas. My goal is to inspire and empower you to plan real food meals for you and your family. If you want to follow this meal plan to the letter, I make it easy with weekly printable clean eating grocery lists (added each week). But, don't feel like you need to make everything on this meal plan, rather choose a few meals you want to try each week.
To get started with the November Clean Eating Meal Plan, click on the "printable" image below.
If you are new to meal planning or would like a few helpful tips, I recommend reading Meal Planning 101. I share tips and strategies that have helped me plan out our clean eating meal plans.
Thanksgiving is just a few short weeks away. Are you hosting this year? Use this Ultimate Thanksgiving Planner to help you make this Thanksgiving less stressful. It includes weekly tips and shortcuts to help you avoid a frenzied rush to get it all done just days before the big day.
November Clean Eating Meal Plan
Week 1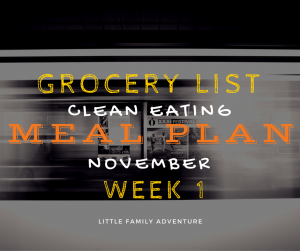 Click image above for the printable grocery list for these meals.
Slow Cooker Ribs and Baked Beans, Coleslaw, Corn on the Cob
Waffles with Bacon, Over Easy Eggs, and Spinach; Fresh fruit
Philly Cheesesteaks, Baked Sweet Potatoes fries, Apple Cobbler Dessert
Chicken Oreganato, Spinach Salad
Unstuffed Cabbage Roll Casserole, Hummus & pita, Tabouli Salad, Pickled Cucumbers
Greek Leftovers: Chicken and veggies from Chicken Oreganato, hummus, pita, Tabouli, Greek Salad
Miso Ramen Soup with fresh Ramen noodles, corn, spinach, pork, egg, bean sprouts
Week 2

Mexican Themed Week
Pork Verde, Brown Rice, Roasted Corn and Tomatoes
Shredded Pork Rice Bowls with leftover rice, black beans, corn, leftover pork, tomato, lettuce, and salsa
Mexican Pizza, Jicama Salad
Carne Asada (Marinated Skirt Steak), Roasted Zucchini and Tomatoes, Black Beans, Guacamole
Carne Asada Fries (Leftover steak on top of baked potato wedges topped with cheese and guacamole), Chili Fruit Plate
Taco Soup (From the freezer), Veggie Quesadillas with zucchini, bell peppers, onion, and mushrooms
Salmon Vera Cruz, Farro salad with avocado, kale, tomato, and a cumin vinaigrette
Week 3
Paprika Chicken, Black Eyed Peas, Cornbread, Kale Salad
Chicken Teriyaki, Brown Rice, Pineapple, Steamed Vegetables
Shepherd's Pie, Greek Salad, Baked Apples
Loaded Potato Soup, Grilled Cheese Sandwiches
Prosciutto & Pea Pasta, Tomato and Cucumber Salad with Balsamic Vinaigrette
Shrimp with Fennel and Feta, Gingered Carrot Salad, Kale Salad
Instant Pot Sticky Chicken/Wings, roasted maple butternut squash with cranberries, quinoa salad
Week 4
Hawaiian Pork (Crockpot), Lunch Plate Pasta Salad, Quinoa, Braised Cabbage
Carolina Pork Sliders, Hawaiian Pasta Salad (leftover), Pineapple
Chicken Noodle Soup (from freezer), Orange Asian Salad
Veggie Flatbread Pizza, Green Salad
Full Thanksgiving Dinner– Maple Glazed Roasted Turkey, Bacon Pear Dressing, Brussel Sprouts Salad, Veggies, Mashed Potatoes, Cranberry Chutney, Bread, Pumpkin Pie
Leftover Turkey and Cranberry Sandwiches, Fresh Veggies, Leftover Thanksgiving sides dishes
Turkey, Zucchini, Spinach Enchiladas, Black Beans
Want more clean eating menu plans?

Looking for more clean eating meal ideas?
I save all of our meal planning ideas and real food meal plans in one place. Click the image above to get inspired by previous meal plans.
SaveSaveSaveSave
SaveSave