When you want to accomplish something, you have to have a plan. Eating healthy is no different! It is MUCH easier to stick to a healthy diet when you have a plan. Our clean eating meal plans help us and you eat healthier and feel better. We are cooking from scratch with real food ingredients that everyone will love.
This month, we are doing something a little different and scheduling our meals for the entire month. We typically plan a week in advance and shop accordingly. This month is unusually busy for us and without a really good plan, we tend to get derailed and got out to eat more often. Since we are trying to spend less and eat at home more, I gathered my family together and we all sat down to meal plan this month. Everyone added something to the plan and they are looking forward to getting in the kitchen this month.
I have my meal plans and my grocery lists ready to go. I'll share the new grocery list each week and link it in for you here.
If you want to receive my meal planning email with meal plans and grocery lists in your inbox, subscribe here.
I know you will enjoy this October Meal Plan (printable link). It's full of healthy recipes and delicious foods. Have a happy and healthy October!

Clean Eating Meal Plan
October Meal Plan 1st Week
Roasted Chicken, honey glazed carrots, pan fried squash, and Caesar salad
Baked Lasagna Spaghetti Squash; Spinach salad with Balsamic Vinaigrette,
Chicken Tortilla Soup, Chili Fruit Plate
Sweet potato and black bean chili, cornbread
Leftovers
Mediterranean Flatbread with feta, spinach, olives, sliced salad peppers, Caesar salad
Baked potatoes with leftover chili, fresh cut veggies with chickpea hummus
October Meal Plan 2nd Week
Shepherd's Pie, Swiss chard salad with dried apricots, steamed peas
Cinnamon Roll Oatmeal, Green Berry Smoothie
Beef Enchilada Bake, Black Beans
Parmesan Garlic Chicken, Steamed Broccoli, Cheesy Rice
Leftovers
Chicken, black beans, and rice burritos, guacamole and tortilla chips
Potato and Leek Soup, grilled cheese sandwiches

October Meal Plan 3rd Week
Philly Cheesesteak Stuffed Bell Peppers, Fruit Salad, Steamed Broccoli
Carrot Cake Pancakes, scrambled eggs, sliced oranges and bananas
Leftovers
Pad Thai with shrimp, pickled cucumbers and carrots
Bacon Wrapped Egg Spinach Muffins, Sliced Pears
BBQ Cheddar Meatloaf, roasted herb potatoes,
Meatloaf sandwiches, sliced pears, green salad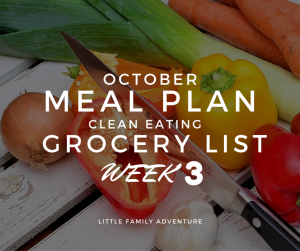 October Meal Plan 4th Week
Roasted Chicken, couscous, roasted sweet potatoes,steamed broccoli
Roasted Shrimp & Broccoli, brown rice, miso soup
Sweet & Red Potato Hash with Smoked Salmon, Kale salad with citrus vinaigrette
Homemade Mac & Cheese, Spinach Salad with Dried Cranberries and Warm Bacon Dressing
Leftovers
Garlic Chicken Flatbread with tomatoes, mushrooms, and bell peppers; fresh veggies with hummus
Mummy Cheese Pizzas, Fresh Veggies & Hummus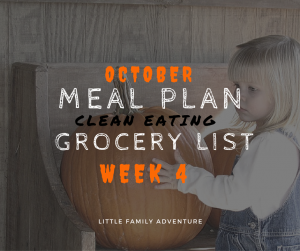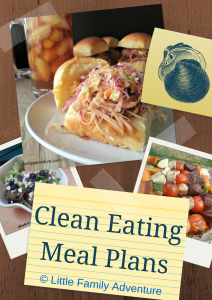 Looking for more meal ideas, check out all of our past meal plans here.
SaveSave