October Meal Plan + Clean Eating Grocery List = Healthy Eating Made Easy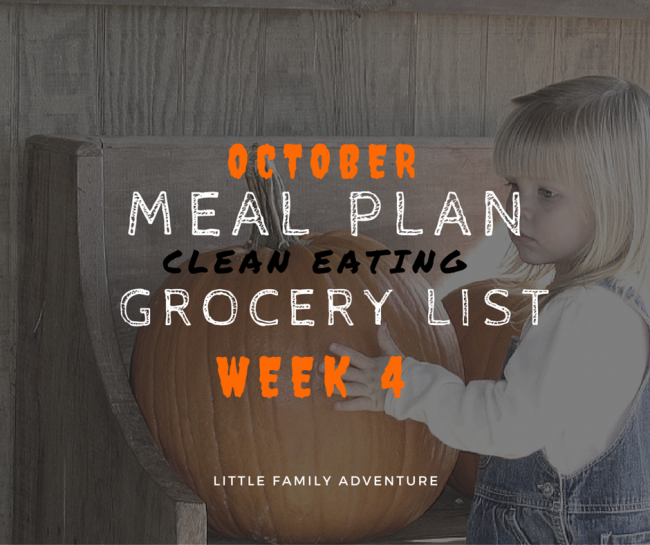 Meal planning is one sure way to help you eat healthy. Now with our printable weekly clean eating grocery list, healthy eating just got easier. We've included everything you need for this week's healthy meals (October Week 4).
For us healthy eating is "Clean Eating". We aren't counting calories or grams of fat. But we are eating high quality, real food ingredients. For us it's more about quality than quantity. So that's what you will find here. If I buy packaged foods, they will only contain a few ingredients and be ones that I would normally use to cook from scratch. Sometimes you'll find sugar in a recipe, but it will be organic cane sugar.
Here's the grocery list for this week. Click on the image for a printable version.
October Clean Eating Shopping List for Meal Plan Week 4
As a note- I should mention that I'm shopping, cooking for, and feeding 5 people; 2 adults, a teenage boy, and 2 children. All three kids are going through growth spurts and eating me out of house and home. You can decrease/increase the amounts to your needs. Just remember that leftovers aren't a bad thing.
Find other clean eating grocery lists for October here: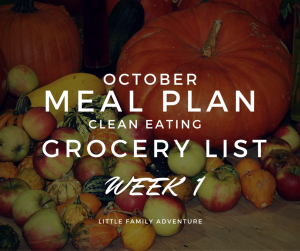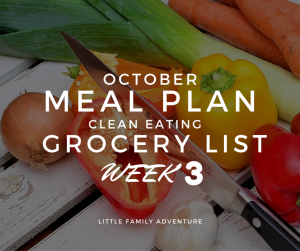 Find more healthy, real food meal plans at: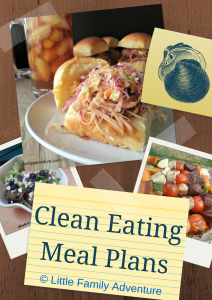 I'd love to hear what you think of the added grocery list to our clean eating meals. Love it? Hate it? Please leave me a comment below or email me.