When it comes to packing school lunches we are all looking for ways to make the task easier. So with back to school time creeping ever closer, I'm sharing one way we are getting organized and getting our kids to actually want to eat their lunch. I use this anytime we need to a pack a lunch or healthy snacks for any family adventure.
Get kids involved with packing school lunches.
This one thing is a sanity saver in our house. Kids, regardless of age, can make healthy food choices and can be involved in packing their lunch. If we give them the tools to make good decisions, they will start to make a habit out of it. To help kids make good choices, I do a few things.

Helping Kids Make Healthy Choices
Stock the fridge with healthy options for the kids; fresh vegetables, fruit, cheese, yogurt, etc. Remember, they can't eat junk if it isn't available.
Let kids help prep the foods they like and place them in small containers that are easy to grab and go.

For example, baby carrots or cherry tomatoes can be placed in reusable bags or containers.
Yogurt tubes and cups are great to have for grab and go options. Yogurt is great for breakfast, as a snack, with lunch, or frozen as a dessert. Stonyfield's YoKids Squeezers are just the right size for the kids and they come in flavors the kids really enjoy.

Create a dry snack bin filled with healthy options like nuts, dried fruit, whole wheat crackers, etc.

I like to stock our snack bin with things like Justin's nut butter and Hazelnut chocolate spread with whole wheat pretzels. Both add a great source of protein without artificial ingredients or preservatives I don't want. Plus with peanut allergies being more prevalent than ever before, it's a responsible choice to send to school.
Here is one of my daughter's favorite lunch combos; apple slices, fresh veggies, Stonyfield YoKids Squeezers yogurt tube, and Justin's Chocolate Hazelnut Butter with Pretzels.
She doesn't have anyone in class with nut allergies, so I can send peanut butter with her. I'll often add a piece of chocolate in her lunch as a treat. She likes to dip her apple slices and chocolate in the Justin's Honey Peanut Butter too!
Packing School Lunches
Now that the kids can help pack their school lunches, we need something to keep them fresh until lunchtime. Let me introduce you to my little friend, the Pack It Freezable Upright Lunch Box. This is a lunch box and ice pack in one!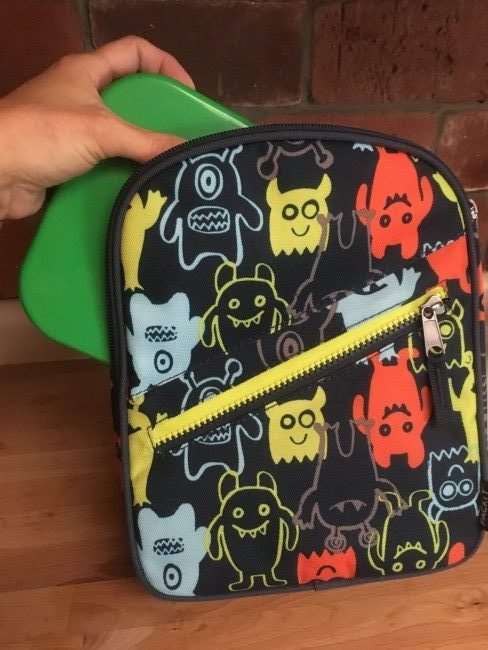 The Pack It Freezable Upright Lunch Box ($19.99) has a freezable gel built into the walls of the case that keep your food chilled for up to 10 hours. To freeze, you collapse the lunch box and place it in the freezer overnight. In the morning, the walls will be completely frozen and ready to pack your lunch.
I like that this lunch bag is large enough to pack water bottles and tall containers inside. So when we take it on a weekend hike or outing, everything will fit. For school, the kids' bento boxes and lunch containers fit nicely inside. The material is free of PVC, BPA, phthalate and lead. A buckle handle clips to backpacks too making carrying it easy.
When you give kids the tools and foods needs to make healthy choices, they will. Set them up and help make packing healthier lunches easier today with these simple tips.
What tips would you add that make packing school lunches easier?
Disclaimer: I am a Stonyfield YoGetter blogger, and this sponsored post is written by me in partnership with Stonyfield, Justin's, and PackIt. All opinions are always my own. This blog contains affiliate links, which means I may get commissions from products purchased. I only recommend products that I use and love myself. There is no additional cost to you as a buyer!