Busy families need quick and easy solutions to eat better, do more as a family, and conquer the day. One of the solutions I have found is grocery/meat home delivery services. Perdue Farms, the people known for chicken, now has a direct to consumer website offering poultry and other premium proteins including Niman Ranch. Now you skip the grocery store, order your favorite products, including Perdue Chicken Nuggets for the kids, and have it all delivered directly to your door.
Meat Home Delivery
I have been buying Perdue's organic chicken locally for some time now. When I learned of their new home delivery option, I knew I wanted to try it. Now, I am partnering with Perdue Farms because I love this service. It is making it easier for me to shop online for not only antibiotic-free chicken, but also other meats that are grass-fed, pasture-raised, and/or certified humane. Plus I save money! What could be better than that?
I recently received this organic chicken bundle featuring Perdue Harvestland and Perdue Simply Smart Organics chicken. Note: Perdue Farms offers both organic and non-organic options. Take a look at everything inside.
Perdue Farms Organics Bundle (Medium)
Perdue Harvestland Organic Whole (With Giblets)
Perdue Harvestland Organic Boneless Skinless Breast
Perdue Harvestland Organic Drumsticks
Perdue Simply Smart Organics Lightly Breaded Chicken Chunks
First Order Freebie – Perdue Harvestland Diced Chicken Breasts
Take the guesswork out of grocery shopping by shipping Perdue Farms' most popular organic chicken products straight to your door. Order here today! Buy Bundles to Save
Like other meat home delivery services, buying a bundle like the one above saves money, UP TO 25%!!!
Plus new customers get a free item to try in their first box. I received a box of diced chicken breasts.
I always find that when I shop in-store, I ALWAYS come away with more than I have on my grocery list. Ordering online prevents that because I order exactly what I need. I have also found that when I order for the month, we tend to eat out less. I know exactly what is in the freezer and what's for dinner that week.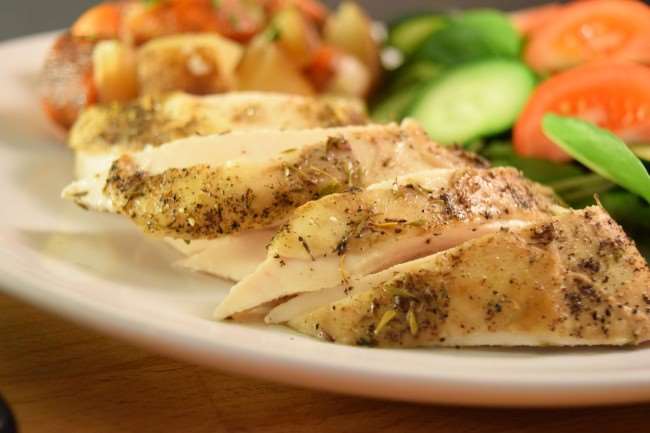 Another money-saving tip – One of my favorite chicken recipes is this Lemon Thyme Crockpot Whole Chicken. I will throw it all together for dinner one night and then make chicken stock with the carcass for Chicken Noodle Soup the second night. Both are delicious and cost per serving is VERY budget-friendly!
Perdue Chicken
Over the last 10 years, Perdue Farms has transitioned from conventional chicken & turkey production to becoming the #1 US supplier Organic Chicken as well as a leader in premium Beef, Pork, Lamb, Pasture Raised, Grass-fed, Heritage Breed, Antibiotic Free (No Antibiotics Ever), Non-GMO, Ever, Certified Humane, GAP & more. When you shop their website, you can choose from ALL their brands:
Perdue
Perdue Simply Smart Organics
Perdue Harvestlan
Niman Ranch
Coleman Natural Foods
Draper Valley Farms
Petaluma Poultry
Prairie Grove Farms
Full Moon
Panorama Organic Grass-Fed Meats
Spot Farms
Commitment to Sustainability
With any delivery service, I am always cognizant of its environmental impact; what types of packaging materials are used, what green initiatives are in place, etc. I like to support companies that are doing it right and offering eco-friendly solutions. Perdue Farms sees this as paramount to their success and their future. They aren't the first meat delivery service to the market because they wanted to get this right and they 100% did! This comes from offsetting their carbon footprint and choosing sustainable materials in their packaging.
Donations to Arbor Day Foundation
For every bundle shipped, a donation is made to the Arbor Day Foundation. This is a cause near and dear to my heart as they work to reforest damaged areas within our nation's forests. Each donation helps offset an order's carbon footprint.
What's In EVERY Box:
Reusable and recyclable grocery bag
100% Recyclable cardboard box
Pollinator seed packet to help you create a home pollinator garden
Compostable, eco-Friendly insulation
Perdue Farms uses Green Cell Foam®, a packaging made from high-grade non-GMO cornstarch. You can either recycle it or dissolve in water and use in the garden on for your houseplants.
Fun Fact: Did you know that one out of every three bites of food we eat is made possible by bees, butterflies, and other pollinators?
You can learn more about Perdue Farms' commitment to the environment, animal care, community and their farm partners.
I've talked enough about why this meat and chicken delivery service is making it easier for our family to eat healthier. Go visit the PerdueFarms.com and stock up on quality meat for your family.