Whole Grains is the theme to this week's Real Food Experience Meal Plan.
Week 2 of the challenge is to incorporate more whole grains into your diet. This simple change is easy to do with a little planning. In all of this week's dinners, I've substituted conventional grains for whole wheat or more natural products. For instance, Tuesday night California Sushi bowl is made with short grain brown rice instead of traditional white sushi rice and on Friday's Pizza Night I'm using a whole wheat pizza crust. Other days, I've added healthier side dishes using corn, quinoa, and buckwheat or soba noodles.
Making these small changes is what the Real Food Experience is all about. All of these small changes equal up to a healthier you. Find out more about the Experience and join us in living healthier in 2015.
This week's New Food of the Week is Buckwheat or Soba Noodles. These are a staple in Japanese cuisine. Wednesday, I'll be making a quick and easy Yakisoba with vegetables and shrimp. This noodle dish takes about 15 minutes and is a favorite as a fast food meal. Buckwheat noodles have a slight nitty flavor and can be substituted in most any pasta dish. Try them this week and let me know how you like them.
Sunday
Roasted Chicken in a Clay Pot, Herbed Spinach Quinoa, Brussels Sprout Salad with Orange Tahini Dressing, Roasted Green Beans with Sesame Oil
Monday
Carne Asada Tacos on corn tortillas, Spanish Rice, Black Beans, Guacamole, Fresh Salsa
Tuesday
California Sushi Bowl with Brown Rice, Quick Pickled Cucumbers and Carrots, Green salad with Miso Carrot Dressing, Steamed Edamame (soybeans)
Wednesday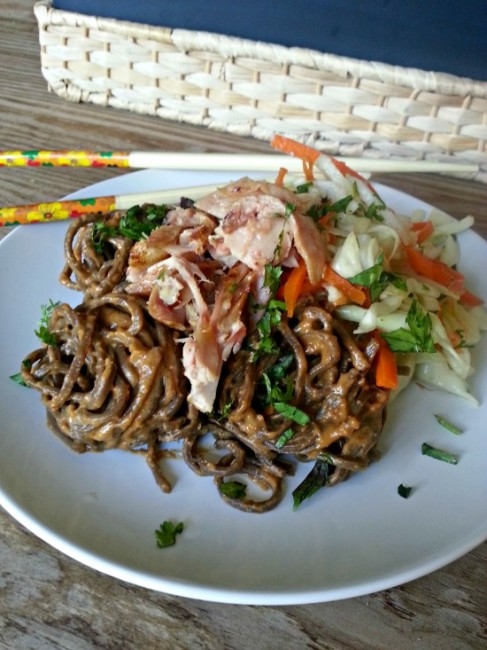 Chicken and Peanut Noodles (Features Japanese Soba or buckwheat noodles, vegetables, and leftover chicken from Sunday's meal ) Miso Soup, Green salad with Miso Carrot Dressing
Thursday – Breakfast for Dinner
Farmer's Strata (with Kale, Mushroom, Tomato, and Feta), Fruit Salad, Roasted Rosemary Potatoes
Friday
Whole Wheat Pizza (Pesto, sliced chicken, spinach, sun dried tomatoes, Kalamata olives, and feta cheese), Spinach salad with oranges, almonds, and dried cranberries, Maple Shallot Dressing
Saturday
Whole wheat pasta with Leeks and Italian Sausage, Green salad with Maple Shallot Dressing
Other Meal Planning Resources
Weekly Clean Eating Meal Plans
How to Create a Weekly Meal Plan