We're back with another Real Food Experience meal plan. This is week 3 of our month long food challenge to help you eat better and be healthier. This week's goal is to eliminate and avoid artificial colors.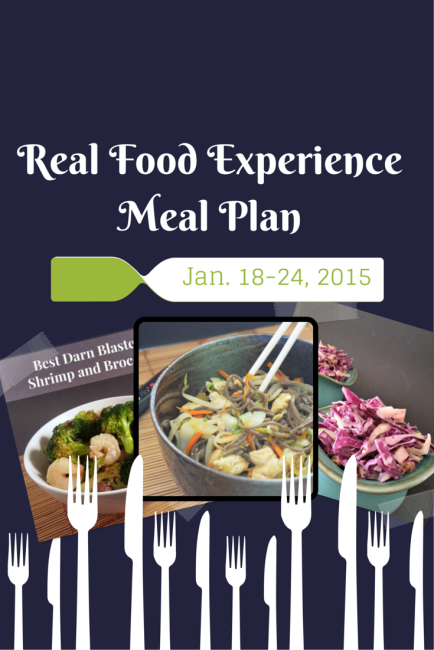 All of the meals listed on this week's meal plan are free of artificial colors because we're using real food, not pre-made, convenience foods. Fresh fruit and vegetables don't come with ingredient labels. They don't need to! Eating real food is all about eating those foods that are as close to nature as possible and avoiding highly-processed, commercially made foods. To avoid artificial colors or ingredients, start reading labels. If an artificial ingredient, put the item back and look for someone else. It's that simple!
These week, we continue with roasted chicken on Sunday that will give us leftover chicken for later in the week. I'll make homemade chicken stock again from the chicken bones after dinner for chicken soup. Soup and salad is a favorite lunch in our house. Here is a step by step guide on how to make homemade broth and a chicken and veggie soup with it. Then we'll have a taco night, Breakfast for Dinner, and Pizza Night too! The kids love these nights. So until we get tired of them, we'll stick with them. It's one sure fire way to get them excited about dinner and eat everything on their plate.
This week is another busy one. So other than Sunday night, all but the Tacos Al Pastor is a quick and easy meal. The tacos al pastor is marinated pork and pineapple made in crock pot. It's super easy and will serve for dinner Wednesday and then re-purposed on Thursday as Rice bowls. I know you are going to enjoy this week's Real Food Experience meal plan. These tasty dinners are sure to get your family to table and ready to enjoy some real food home cooking!
Sunday –Roast Chicken, Roasted green beans, Irish Colcannon with Bacon
Monday –Chicken Yakisoba with buckwheat noodles, green salad with carrot miso dressing
Tuesday – Roasted Shrimp with Broccoli and Mushrooms, Brown Rice, Red Cabbage and Apple Slaw
Wednesday – Tacos Al Pastor (aka Pork & Pineapple Tacos), Spanish rice, Black Beans, Sliced Avocados
Thursday – Rice bowl with leftover Spanish Rice, black beans, pork for the Tacos Al Pastor, guacamole, corn salsa, sour cream, and shredded cheese.
Friday – Pizza Night – Thai Chicken Pizza (Diced chicken, peanut sauce, julienne carrots, shredded  cabbage, green onions, cilantro, and Monterrey cheese) with whole wheat pizza crust, green salad with balsamic vinaigrette.
Saturday – Breakfast for Dinner – Two Way Potatoes with Smoked Salmon, Sliced Pineapple
Other Meal Plan Resources
How to Create a Weekly Meal Plan
Stocking your kitchen with real food
Weekly Clean Eating Meal Plans
Real Food Experience