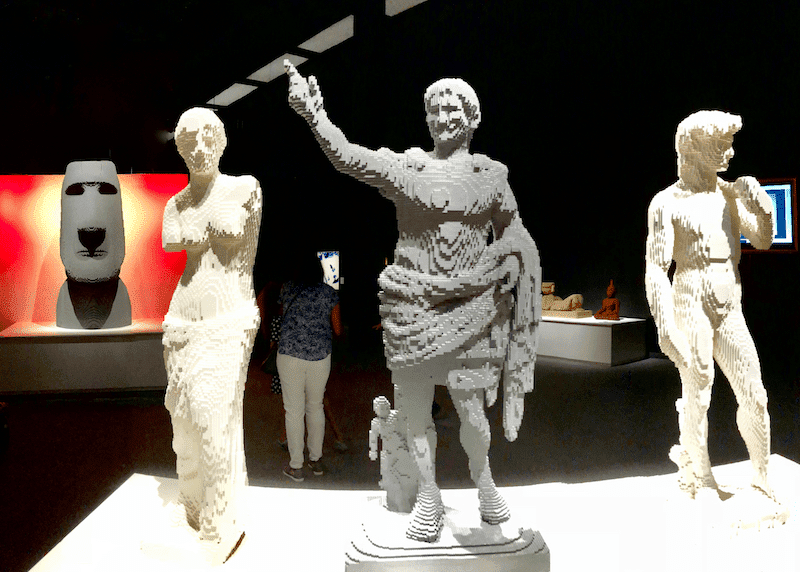 Got a LEGO fanatic in your house? Then I have something you are going to want to see! It's called the Art of the Brick. It's an art exhibit taking LEGO building out of the box (sorry, I couldn't help the pun) and presents them as artwork, sculpture, and 3 dimensional designs. Each of the pieces on display is created with LEGO bricks. You'll find yourself saving, "I didn't think I could do THAT with LEGOs." This traveling exhibit inspires, gets your creative juices going, and starts you thinking about the new ways you are going to start using your plastic building blocks. Here are a few things you'll see when you visit.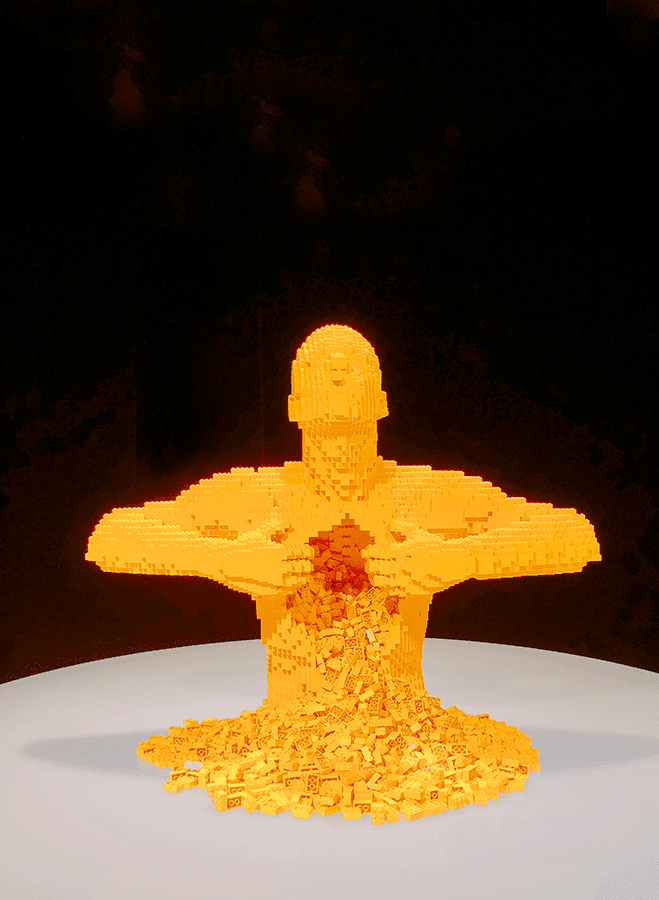 LEGO is Art
I recently visited Pittsburgh, PA for a press trip and one of the highlights was the Carnegie Science Center for its special Art of the Brick exhibit. It's hard to believe ALL the different things you can do with a LEGO. The exhibit is equal parts art and building fun. Contemporary artist Nathan Sawaya uses a simple plastic building block to create unique works of art, reimagine famous masterpieces and sculpture, to present an exhibit for all ages will enjoy.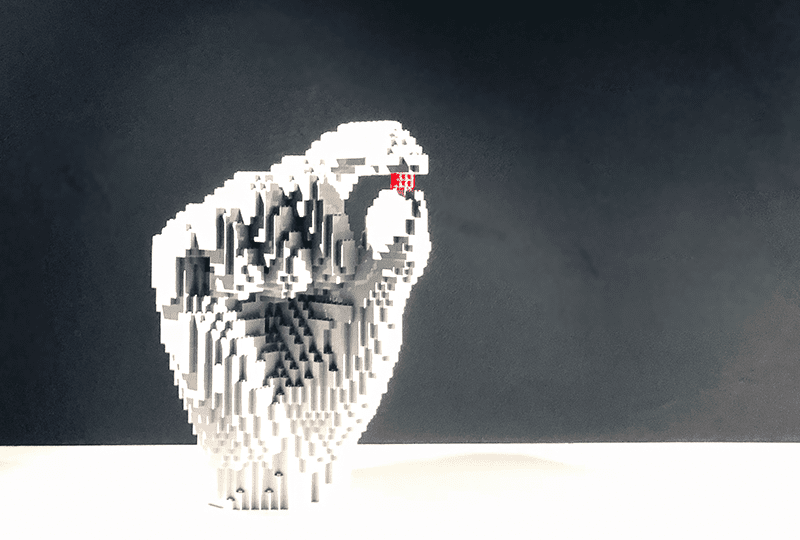 The exhibit begins with a short film on Mr. Sawaya and then sculpture of a hand holding a single brick. The caption reads:
Untitled
Piece Count: 1,601
13 x38x 18 cm
There it is, small enough to hold between you thumb and forefinger. Hold it up to the light. Can you see through it? Look at it more closely: what is it? Well it's art after all. So you tell me what it is!
Pin this for later…..
Paint by Bricks with LEGO
Remember the paint by numbers pictures? During the summer months, I remember getting those and doing my best to make the picture look the way it was supposed to. Sometimes it worked, sometimes not. Imagine doing the same thing with LEGOs.



You'll find masterpieces like the Girl with the Pearl Earring, The Kiss, The Scream, Rembrandt Self Portrait, and Mona Lisa. There are sculptures too like David, Caesar, The Thinker, and an Easter Island figure head.
A Different Kind of LEGO Statute
Visit a LEGO store and you'll see completed models, maybe a larger than life statute of a Harry Potter character or a dragon. The section dedicated to the human body is amazing. It's the artist's favorite subject and it shows. The detail he can achieve is really incredible.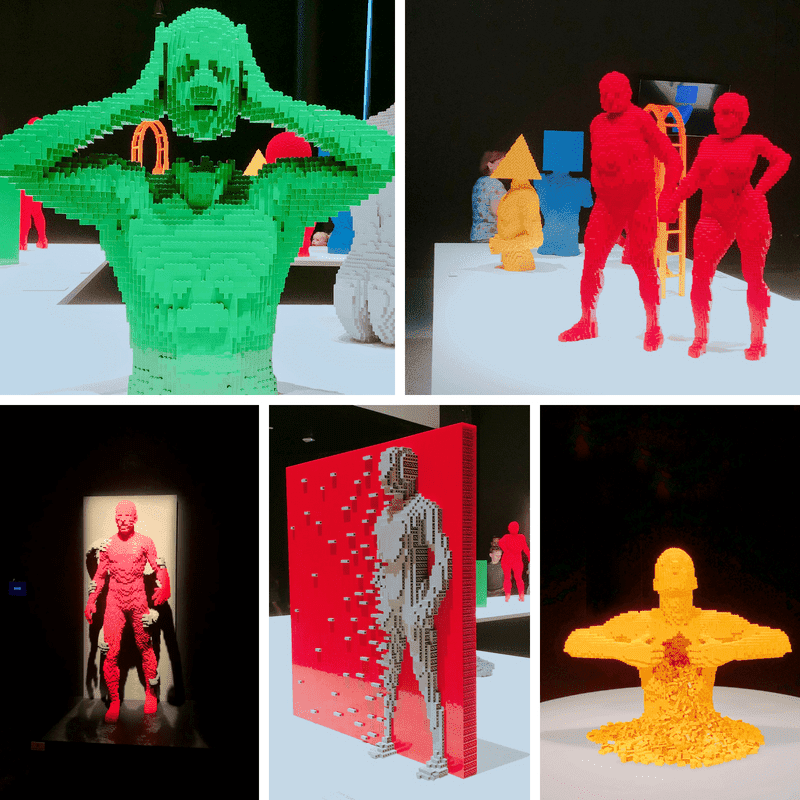 Did you know you could get details like this from a building block?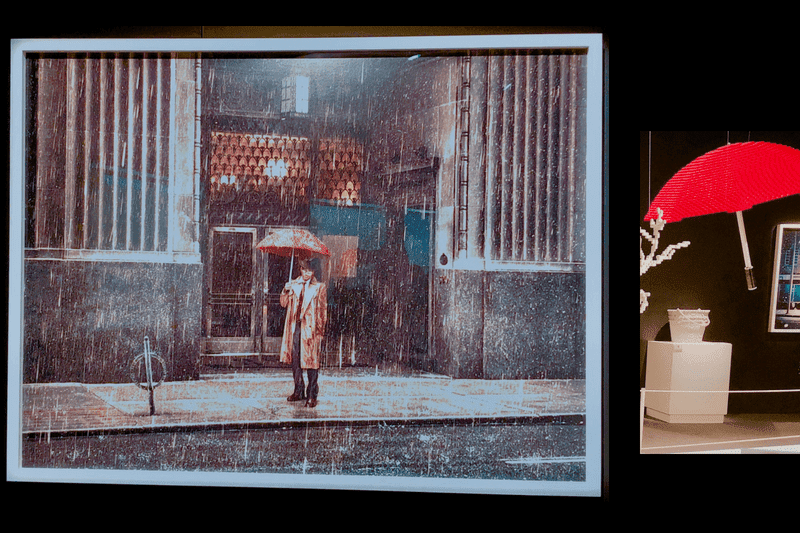 Brick Infused Photography
My favorite collection is a series of photographs created by photographer Dean West. These pictures can best be described as a LEGO version of "I SPY". Each photograph features a LEGO element; red dress, umbrella, dog, tree, clouds, etc. It's up to you to find the element in each picture. The umbrella in this picture is shown on the right.
Hands On Fun – It's Time to Play!
Although the LEGO sculptures on exhibit are for eyes only, there is a whole section dedicated to hands-on exploration. The Science of the Brick has stations set up where you can learn about architecture, physics, spatial reasoning, art, etc. There is also a free play area for children. The whole area makes learning fun and you can see why teachers love using building blocks in the classroom. There really isn't anything you can't do with a LEGO.
Thank you to Visit Pittsburg for hosting me on my visit to Pittsburgh, Pennsylvania. This post includes affiliate links below from partner brands. *Purchase through our affiliate links and we receive a small commission without any extra expense to you.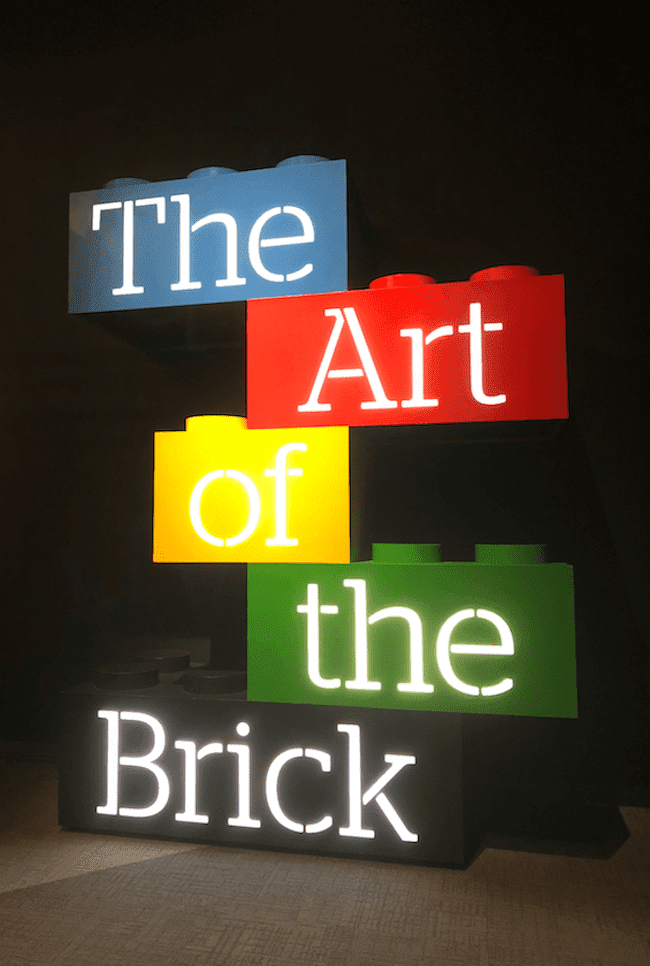 Where to Find Art of the Brick?
There are several exhibitions happening simultaneously in North America and in Europe. Currently, you'll find the Art of the Brick exhibit at Pittsburgh's Carnegie Science Center through January 7, 2019. It's the only location in the USA at the moment. Find the entire exhibition schedule including upcoming exhibition locations at brickartist.com
June is National Outdoor Month
Our family loves LEGOS and anything outdoors related. There are some really fun outdoor themed sets available like these:


Also check out these building books that will inspire new creations:
If you are visiting Pittsburg soon and looking for additional family attractions, hotels, etc., be sure to check out Visit Pittsburgh as well as TripAdvisor for current reviews and rates.