I participated in an Influencer Activation on behalf of Influence Central for Boys & Girls Club of America. I received a promotional item to thank me for my participation.
As parents, we only want the best for our children. We want them to grow up safe, be healthy, and become amazing people. As a mother, that's what I want for my children and that's what I enjoy sharing with you here at Little Family Adventure. I wanted to tell you about another program that has these same goals in mind. The Boys & Girls Clubs of America is celebrated the 10th anniversary of its Triple Play program. This healthy lifestyles program encourages you to help shape your children's future and get active as a family. I encourage you to learn more about this program and have some fun together today.
Triple Play Program
Over the last 10 years, the Triple Play Program has shared the importance of physical activity, health, and proper nutrition with over 10 million children. This program focuses on three key components; a child's mind, body and soul. Through the support from partners, Coca-Cola Company and Anthem Foundation, the BGCA Clubs hope to inspire more children to be healthy, active, and successful now and for the rest of their lives.
I recently downloaded the BGCA Triple Play Parents Game Plan for our family. The game plan is a great guide that helps parents and their children while focusing on three main areas; mind (healthy eating habits), body (physical activity), and soul (character & relationships). Each area offers information on forming healthy habits and tips on how to implement these habits into your family.
Mind – Healthy eating habits
With nearly 3 out of 10 children in the United States either obese or overweight, it's never been more important than now to teach our youth about what a healthy diet really is and what portion sizes should look like. The game plan offers nutritional education and ways to learn more about forming healthy eating habits.
Games are a great way to learn. One of the games offered in the guide is called "Taste Test". These game encourages to try new foods as a family and makes it fun. Each person is blindfolded and asked to identify different fruits and vegetables. My kids loved this game and tried to stump each other with different food combinations.
Body – Get active at least 60 minutes a day
Only ¼ of youth ages 12-15 are getting out and getting active at least 1 hour each day. The Triple Play Parents Game Plan offers great activities and sports that provide moderate to vigorous physical activity for 60 minutes every day. The guide offers some great ideas on how you and your family can do it together.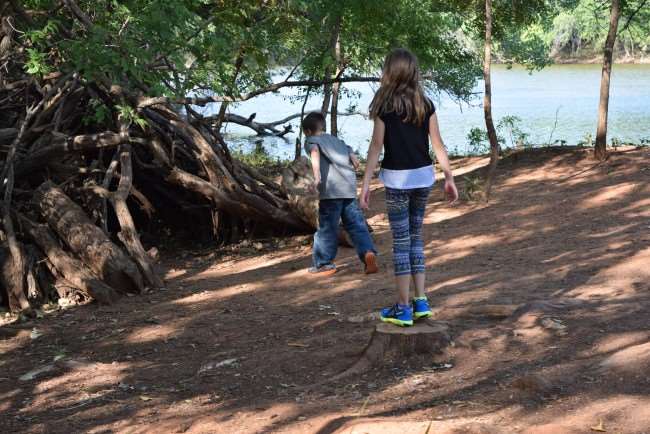 Active recreation is one of the activity suggestions. Canoeing, hiking, skateboarding, and rollerblading are all fun ways to get active. The kids and I went on a local park for a hike and some monkeying around. Exercise can be fun when you do it together.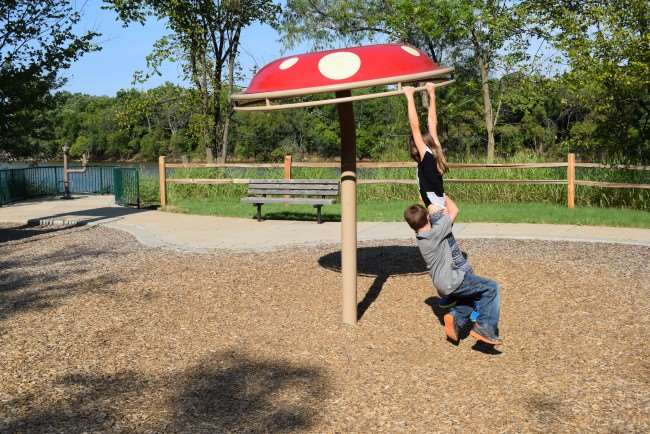 Tree climbing and swinging on the playground bars or your sibling is a great ways to strengthen muscles.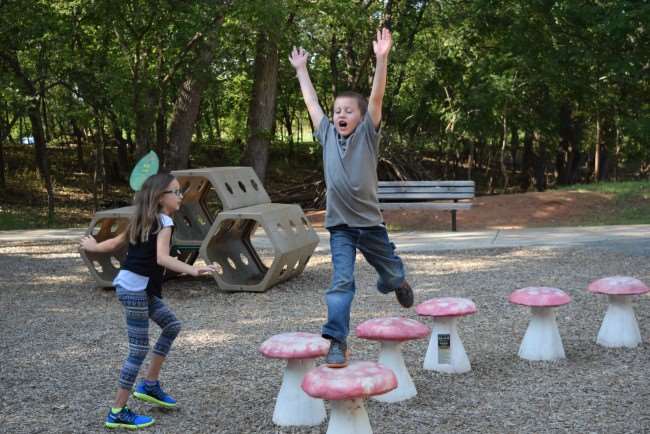 You can get active and have fun almost anywhere. The trick for us is to change things up and do different things. No one said mom and dad can't have fun on the playground too. After I put down my camera, I monkeyed around them them too.
Soul – Build a better you
The goal is to encourage personal growth, social development, and have fun. Through fun games and activities, children build positive social relationships and build character. Boredom buster games like "Who Am I?" or Musical Chairs are two examples of games to play to build character and have fun.
The skills our children learn today will lead them throughout their lives. When we teach them the importance of a balanced diet and staying active, they will grow to become healthy and happy adults. Isn't that what we want for our children?
Find out more about the Triple Play Program and download your copy of the Triple Play Parent Game Plan today! This guide is filled with information and resources to help you and your child develop healthy habits that will last a lifetime.
How do you get active with your family?