Mambo Sprouts and Made in Nature sent product samples for the purpose of this review. I wasn't compensated for this review. All opinions are all mine.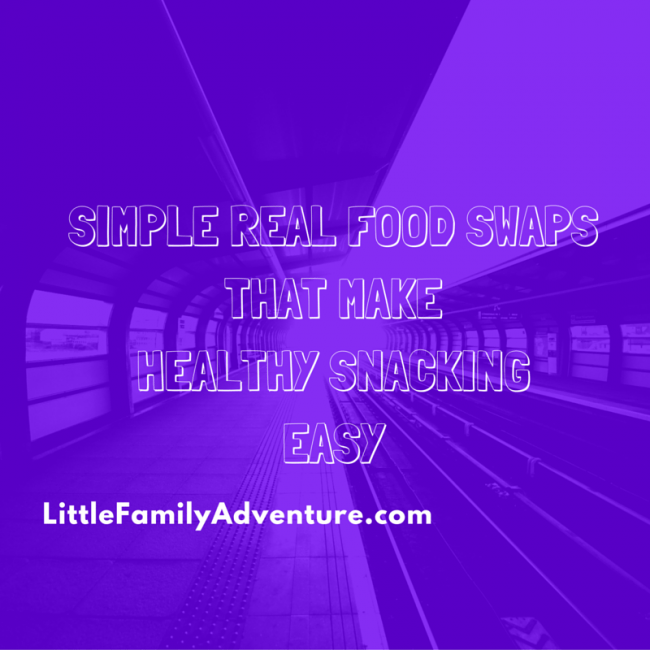 Real Food Swaps Made Easy
Many New Year's resolutions are broken because they are too restrictive, too drastic, and simply not sustainable over the long term. When you make multiple smaller changes over time, those small things add up to BIG ones. This is especially true when it comes to healthy eating. The key to healthy eating is making healthy food choices you actually like and want to stick with. That's why we are involved in the Real Food Experience again this year. Through small weekly challenges, we encourage readers/participants to change one thing; swap one unhealthy food or habit a week for a new healthier one. Though these changes may seem small and overly simple, the end result is a healthier, happier you!
Healthy Eating Means Making Healthy Food Choices
So far in the Real Food Experience, we've talked about reading food labels and adding 2 servings of fruits and vegetables at every meal. Both of those are important because of what I want to talk about today; making healthy snack food swaps. When midday hunger hits, many of us grab whatever is convenient. That could mean grabbing whatever is in our bag, in the refrigerator or pantry, or whatever is in the closest vending machine. If we didn't plan ahead, those snacks may be unhealthy junk food.
Instead of giving in to unhealthy snack options, we need to think ahead and plan for when hunger strikes. When you have an active family that is on the go, carry a variety of snacks that will fuel your family, curb hunger, and taste great.
Swap out unhealthy snacks for foods that are low in added sugar and contain real ingredients like nuts, fruit, vegetables, whole grains, spices, etc.
Healthy Snack Food Swaps
With our family's active life, we always have a variety of snacks in our book bags and in the car. One of the brands I really like to keep on hand is Made in Nature. Their organic snacks have been a hit with my family for the past year. You'll often find their dried coconut strips and dried fruit and nut blends in our snack bags or in the pantry. Made in Nature recently sent me samples of some of their newer products to try out.
LIST OF MADE In NATURE PRODUCTS (as shown above – Top left clockwise)
Tropical Fusion To-Go Snacks with Dried banana, pineapple, mango, coconut, ginger, and cacao nibs
Italian Espresso Toasted Coconut Chips
Rosemary Truffle Kale Chips Supersnacks
Maple Balsamic Fusion with Tart cherries, cranberries, figs, apples, walnuts, seeds, maple, and balsamic vinegar
Vietnamese Cinnamon Swirl Toasted Coconut Chips
Figgy Pops Tart Cherry Fig Supersnacks
These products are all made with organic, real food ingredients. They make choosing a real food snack convenient and easy to do. When you want to snack/eat healthy that's really important. My two favorites have to be the Figgy Pops and the Tropical Fusion.

The Figgy Pops are similar to a cherry chocolate larabar that I have made in the past. They are chewy and just  2-3 balls satisfies my cravings for something sweet.

The Tropical Fusion is a blend of dried fruit, ginger, and cacao nibs. They are sweet and really good. The To-Go Snack portions are perfect for carrying around in my purse or gym bag. They make healthy snacking easy on the go.

Healthy Snack/Real Food Swaps:
Over the last year, we have made simple real food swaps that we have been able to maintain over time. I think they will help you too!
 Instead of a bag of potato chips – choose crispy kale chips (like the one shown above)
Instead of candy –  fresh or dehydrated fruit will satisfy your sweet tooth without sugar peeks and lows
Instead of a doughnut – grab a bag of trail mix, a granola bar, or toasted coconut chips. The Made in Nature Cinnamon Swirl version tastes like Cinnamon Crunch breakfast cereal.
Instead of a soda –  create a fruit infused water
With whatever healthy snack swaps you make, always choose those made with real food ingredients and nothing artificial. Making healthy food choices today will help you be heathier and happier now and in the future.
What are some of the healthy snack/real food swaps that you have made? Share them with us in the comments below.