I've partnered with Red Duck to bring you a #SpiceUpTacoNight giveaway and tell you a little more about their line of organic taco sauces.
Taco Night is a staple in our house even if it's NOT a Tuesday. Whether its crunchy beef tacos or blackened catfish tacos in soft flour tortillas, we love to make it a Taco Night. What about you?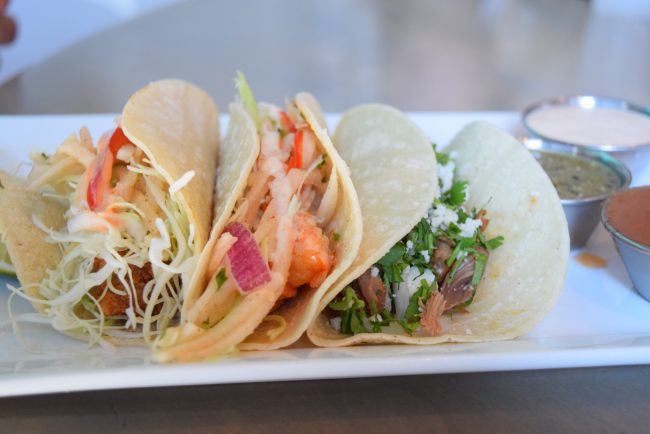 It's true that we use more salsa than ketchup in our house. Doesn't everybody? When Red Duck, an organic condiments company based in Oregon, announced a new line of organic taco sauces, I was excited. I use taco sauce and homemade salsa like others may use ketchup. They are great dipping sauces, flatbread spread (think spicy Mexican style pizza), burger topping, and more. But my favorite way is the classic taco.
Red Duck has three new Taco Sauces I want to tell you about, tell you where to find them on sale now through June 12th, and then give you the chance to win a set of Red Duck Condiments to try yourself. I'm going to list them from mild to hot below so you can find a heat level you like best.
Approachably Mild – Bright with just a little heat, that's what you get with this mild sauce. It adds a great depth of flavor with citrus, bell peppers, and just a touch of sweetness. You can add this to tacos, add to grilled chicken or pork, use as a stir fry sauce, or dip your french fries in.
Uniquely Korean – Adding a little Asian fusion to Taco Night with this sauce. It is a touch hotter and a little sweeter than the mild. This is my favorite with the hint of miso and gochugaru. I added this to a grilled chicken sandwich on rye and it was delicious!!!
Actually Spicy – This one is HOT!! I like hot and it was actually a bit too much for me. But if you like a well balanced heat that tastes good, this is for you.
All three of taco sauces are made with simple organic ingredients. SO it's all the natural goodness without any junk! Each 8oz. bottle retails for $5.49. You can find them on Amazon and at RedDuckFoods.com.
Just in time for Father's Day and the start to the summer season, Red Duck is offering a $12 Trip Deal on their website. Sale runs June 1-12. Choose from these options:
Trio of taco sauces
Trio of a taco sauce, ketchup and bbq sauce
Trio of ketchups
#SpiceUpTacoNight Giveaway
Now it's time for your chance to winner a set of Red Duck sauces.
One (1) lucky winner will receive:
1 each of all taco sauces
1 smoky ketchup
1 smoked applewood molasses bbq sauce
To Enter:
Use the rafflecopter below.
You can enter daily via tweet.
No purchase necessary.
Open to US residents, 18 years and up
Contest ends June 14, 2018 at midnight CST.
Good Luck!!