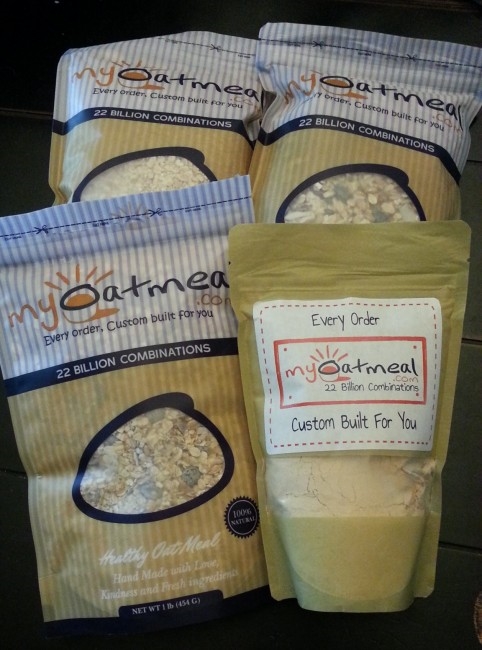 I want to thank MyOatmeal.com for sending me their oatmeal and PB Lean to try out. My family loves oatmeal for breakfast. How can you not love a bowl of oatmeal to start off your day? It's hearty, rich, and completely satisfying. The kids are peanut butter devotees. PB Lean is a dry, dehydrated peanut butter powder that comes plain or flavored. I made an AMAZING frozen treat with Nutella flavored PB Lean and frozen bananas. It is the perfect frozen treat without sugar. Keep reading to find out more!
I haven't bought prepackaged, flavored oatmeal in years. Products like Quaker are just loaded with artificial ingredients and other things I won't feed my family. I was THRILLED to find My Oatmeal uses 100% All Natural and Non-GMO ingredients. If you are looking for Gluten-Free, they have that too. They offer a variety of oatmeal grains, flavors, add ins, sweetener, and more for their oatmeal. Their website says that they have over "22 Billion combinations of healthy oatmeal." How's that for variety? If you can't make up your mind, you can always choose one of their popular, seasonal, special of the month, or mystery blends.
On all of their Make Your Oatmeal blends, you get to choose from 6 kinds of oats, 50 flavorings, 18 dried fruits, 7 seeds and nuts, 3 kinds of protein powder, and 5 sweeteners. All the oatmeal come in 1 of 3 sizes. Oh! I almost forgot. You also get to name your oatmeal. So you could always name it "Hands Off my Oatmeal!" if you want to keep it all to yourself.
I choose a few different blends to try out.

The first one I called Tiramisu.
It contained Quick Rolled Oats with Tiramisu flavoring and brown cane sugar granules. I went simple on this one for the kids. It was like breakfast for dessert. We couldn't get enough of it. It wasn't too sweet, but had all the flavor of eating a piece of Tiramisu. The directions call for water, but I always use milk in my oatmeal. It was creamy and delicious. The kids liked a sprinkle of cinnamon to spend it over the top.

The second one I called Southern Carrot Cake.
It contained Smash Blend Oats, Carrot Cake and Sweet Icing flavors, chipped coconut, dark raisins, and walnuts. This was more for me than the kids. I chose to go without sweetener on this one, although it's recommended if you have flavoring. I wanted to add maple syrup instead of the sweeteners offered. On its own, this oatmeal was good, but did need a sweetener of some kind to bring out all the flavors. It wasn't quit like eating a slice of carrot cake because I couldn't taste much carrot flavor but could taste the spices and icing. I liked the Smash Blend Oats better than the quick oats the kids had in their Tiramisu oatmeal. It just had a richer flavor and better texture. Overall, I really liked this oatmeal and would order it again.

My third choice was a mystery blend.
Mystery blend oatmeal is a surprise. When the company makes custom blends, sometimes they have a little extra. Those extras go into the mystery bag. So you'll never know what you get. I'm not sure what flavorings were in my blend, but there were bits of pecans, walnuts, and raisins. It was REALLY good! Plus they sell it at a bargain! Win! Win!

Nutella PB Lean
For my PB Lean, I choice a lightly roasted peanut with chocolate hazelnut flavoring. I named it Nutella. It tasted just like I combined Nutella with peanut butter. PB Lean has 85% less calories from fat than traditional peanut butter. The package stated
Simply add water to turn this dry, dehydrated peanut butter powder in to a low calorie, low fat, low sodium, gluten free, delicious peanut butter paste.
Mix it in to your protein shakes, in bake with it in pancakes, cookies, muffins.
Alternatively, you can mix PB Lean with jelly or preserves, agave, whipping cream, maple sugar or yogurt for an amazing peanut butter treat!
I chose a different route with my PB Lean and made a vegan, sugar free ice cream. My kids couldn't get enough of this stuff. Here's the recipe: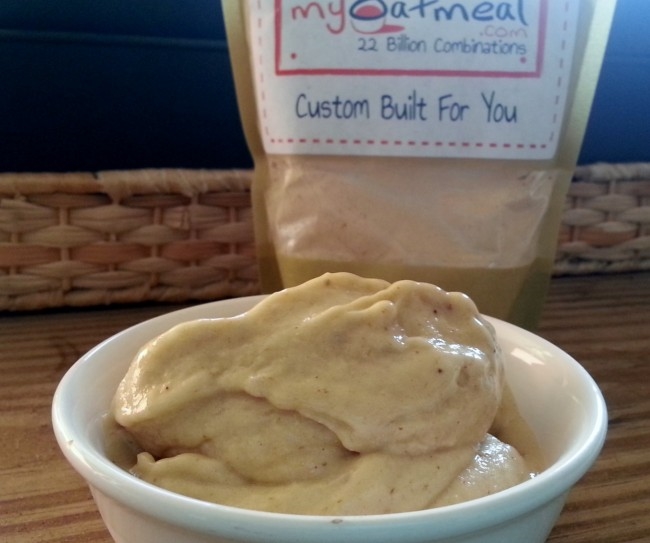 PB Lean Nutella Banana Ice Cream (vegan, sugar free)
1 helping tablespoon Nutella flavored PB Lean
1 frozen banana, cut into slices
Place PB Lean and banana in a blender or food processor. Blend until creamy. Place in a bowl and enjoy.
Overall, I loved all the products I received from MyOatmeal.com. I like supporting companies that use all natural products and are committed to not using GMOs. Since each order is personally made, you can taste the love in each bowl.
Now that it's getting cooler, I'll be setting up my monthly order with them. That way, we'll have plenty of delicious oatmeal.
SAVE 15%
You can get your own customized oatmeal and/or PB Lean by going to their website MyOatmeal.com.
On your first order, enter the discount code healthy15 and save 15% off your order.
If you could choose any flavor of oatmeal to have for breakfast, what would it be?
*Disclaimer: I received samples of My Oatmeal products for this review. All opinions expressed are my own and I was not compensated for them.