Have you made the decision to change the way you eat and start eating healthier with real food? Where do you begin? Just like in a race, you begin at the start line. You can't make healthy, nutritious meals without healthy nutritious ingredients. We are going to revamp your kitchen to give you the key ingredients needed to help you become a healthier you.
First, take a look at what you have in your kitchen. If you want to eat healthy, you'll want to purge your pantry of all the junk food. That bag of double stuffed Oreos, although tasty, will not help you meet your healthy lifestyle goals. The Oreos need to go! To start out, pull all the food out of your pantry. Go through and group foods according to type to see what you have. As you go through your pantry, read labels and notice the ingredients listed.
Take out any food that contains:
unhealthy sweeteners like high fructose corn syrup
Artificial ingredients like MSG and BHT
Hydrogenated anything
Unhealthy oils like shortening and canola oil
Trans fats
Artificial Colors
These foods contain unhealthy ingredients and are not part of a healthy diet. Look through the Healthy Kitchen Inventory List below to see if this food should be replaced with its real food counterpart and if so, add it to your shopping list. For example, if you find mixed nuts that have 'hydrogenated' on the label you remove them from your pantry and replace them with a variety of raw or dry roasted nuts. You can either donate the discarded, unhealthy foods to a charity or begin to replace them over time.
A well stocked pantry will help ensure that you stick to your resolution to eat healthier. More often than I like to admit, when dinnertime rolls around and my children ask, "What's for dinner?," I find myself wondering the same thing. As much time as I spend blogging about food, you'd think that I would have this all figured out! But there are plenty of days when I have no plan, tummies are grumbling, and I start to consider our options and the cost of eating out. Rather than succumbing to the lure of nearby eateries, my well-stocked pantry comes to the rescue. With the right assortment of ingredients continually on hand, your options are plenty. I've also found that many of our "what's on the shelf" meals have inspired some creative cooking and wound up producing some of my family's favorite dishes.
The list below gives you a thorough list of what my family keeps in our kitchen. My family and I are committed to eating Real Food. We don't use overly processed ingredients or foods. You won't find packaged box foods like macaroni and cheese or hamburger helper on this list. They are high in preservatives and other unhealthy ingredients. We only use a few canned goods; olives, tomatoes, tuna, etc. Most canned soups and vegetables are full of salt and have been over processed. When you compare canned vegetables to fresh or frozen versions, the fresh and frozen varieties are much more nutritious.
Take the following list to help you implement a healthy kitchen inventory. You can buy everything all at once or slowly over time. For many of the dry goods, I like to buy from store bulk bins. Grocery stores like Whole Foods and Sprouts have bulk dry goods bins where you can select what you need. You can, generally, save money by doing it this way. When buying from bulk bins, you don't have the added cost of packaging.
Having a well stocked pantry of staples is essential to healthy eating. It will help you start and maintain a healthy diet, help you save money on your grocery bill, and keep you in the race to a healthier you.
Healthy Kitchen Inventory List
Oils, Vinegars & Condiments
Extra-virgin olive oil for cooking and salad dressings
Butter- real butter, not margarine
Vinegars: I like balsamic, red-wine, rice wine, & apple cider.
Asian condiments and flavorings: soy sauce, fish sauce, hoisin sauce, mirin, curry paste
Mayonnaise: I prefer homemade.
Ketchup – Look for a version without corn syrup if buying.
Kalamata olives, green olives
Dijon & German mustard
Flavorings & Sweeteners
Sea salt
Black peppercorns
Onions
Fresh garlic
Fresh ginger
Dried herbs: Choose what you like. I always have the following herbs on hand; bay leaves, dill, cilantro, sage, dried thyme, oregano, parsley, rosemary
Spices: chili powder, ground cinnamon, coriander, ground cumin, curry powder, ground ginger, dry mustard, nutmeg, paprika, cayenne pepper, crushed red pepper, turmeric
Lemons, limes, oranges. The zest is as valuable as the juice. Organic fruit is recommended when you use a lot of zest.
Raw cane sugar
Honey
Pure 100% maple syrup
Canned Goods & Bottled Items
Canned tomatoes, tomato paste
Organic, low sodium chicken broth, and/or vegetable broth. I prefer homemade broth or Pacific Organic brand broths.
Coconut milk for Asian curries and soups
Chunk light tuna and/or salmon
Salsa – Be sure to check the ingredients. We make our own fresh salsa.
Whole Grains & Legumes
100% Whole-wheat & White Whole Wheat flours (Store opened whole wheat packages in the refrigerator or freezer.)
Assorted whole-wheat pasta
Quinoa
Couscous
Brown rice
Rolled oats
Dried beans: cannellini beans, chickpeas, black beans, red kidney beans, lentils
Nuts, Seeds & Fruits
Walnuts, Pecans, Almonds, Dry-roasted unsalted peanuts
Natural peanut butter, especially of you have kids
Tahini- Ground sesame seed butter
Assorted dried fruits- I always have apricots, cranberries, dates, and raisins.
Refrigerator Basics
Whole milk, almond or coconut milk
Plain Yogurt
Cheeses: Parmesan, cheddar, mozzarella.
Eggs (large). Keep them on hand for fast omelets and frittatas.
Dry white wine. If you wish, substitute nonalcoholic wine.
Water-packed tofu
Bacon, although high in fat it can be used sparingly to add lots of flavor. Look for a variety without added nitrates. We prefer Whole Foods uncured bacon and Applewood Nitrate Free Smoked Bacon.
Fresh fruit – I always have apples, oranges, and bananas on hand for a quick snack.
Fresh vegetables – Buy what's in season and make it a combination of colors. We always have salad greens, carrots, celery, red bell peppers, and cucumbers on hand.
Potatoes
Freezer Basics
Frozen vegetables: peas, green beans, broccoli, corn
Frozen berries and fruit
Stocking a healthy kitchen will ensure that you eat healthier. You can't eat junk if it isn't in the house. An added benefit of a healthier kitchen pantry is cost savings. Buying in bulk eliminates the cost of product packaging and that saves you money. Convenience foods like boxed meals and mixes are expensive. By buying staple food ingredients are creating meals from scratch, you save money and healthier.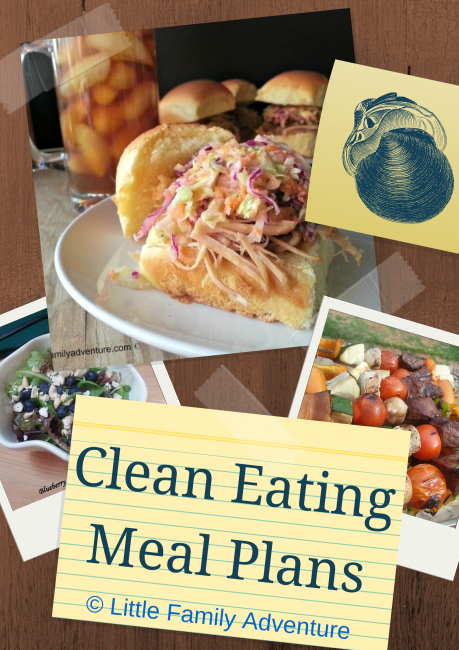 Next, check out our Healthy Meal Planning page. It is filled with every meal plan (weekly and monthly) we have put together. I've found that meal planning is the sigle best way to eat healthy. It helps me plan out what's for dinner and what goes on my shopping list. It ensures that what I bring into my home is healthy and that I feed my family a well balanced diet. There are also some tips for you to create your own meal plans.
Find more information on Real Food by checking out our series, Real Food 101. It is filled with tips and information you can use to to clean up your diet and eat healthier.