Homemade jam is better than anything you can find in a store. It's great on everything from toast to a topping on ice cream. Today's Strawberry Jam with Thai Herbs recipe is a little different than your traditional jam. It features strawberries with fresh herbs; cilantro, lemon basil, and chocolate mint.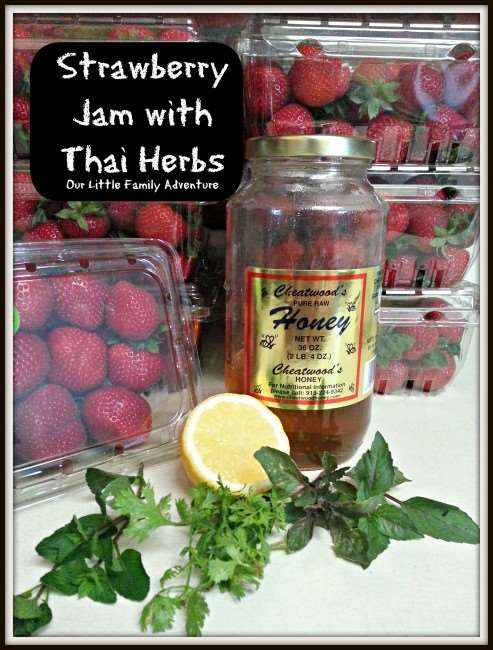 We swapped the refined sugars for honey in this Strawberry Jam. The result is a naturally sweet jam with a lower glycemic index. We've also swapped the packaged pectin for apples, a natural source of pectin. A finely chopped apple is added for its natural pectin to thicken this jam.
This recipe was modified from a recipe I found in Canning For a New Generation: Bold, Fresh Flavors for the Modern Pantry by Liana Krissoff. It 's a great book for anyone wanting creative canning recipes or how to information. (This isn't a sponsored post. I just like the book and have it on my book shelf.)
The herbs cilantro, basil, and chocolate mint are added to this Strawberry Jam for a unique flavor. It's really good and quite unexpected. The herbs bring out the strawberry flavors. If you're not quite so adventurous, you can omit the herbs and have a wonderful traditional strawberry jam. Either way, you'll want to have this jam on hand year around.

Strawberry Jam with Thai Herbs
Ingredients
3 pounds strawberries, hulls removed
1 cup honey
Juice from 1 lemon
1 apple, finely chopped
2 Tablespoons minced fresh cilantro
1 Tablespoon minced fresh lemon basil
1 Tablespoon minced fresh chocolate mint
Instructions
Place strawberries and honey in a large stockpot. Bring to a simmer over medium high heat and simmer for 5 minutes, stirring frequently.
Remove from heat and pour strawberries into a colander set over a large bowl. Drain off the juice from the strawberries.
Return the juice to the stockpot. Add chopped apple and bring to a boil over high heat. Boil, stirring often, until syrup is reduced by half, about 20 minutes.
Return strawberries and any extra juice to the pot, along with lemon juice. Bring to a simmer.Stirring often, simmer for 20 minutes.
Remove from heat and add herbs.
Process jam as 4 half pint jars in a hot water bath for 5 minutes or store in the refrigerator or freezer.
How will you enjoy this jam?
Try it on a soft pretzel, bowl of ice cream, slice of homemade bread, or mixed in plain yogurt.