Reading is an adventure that lasts a lifetime. You can dive into a story and explore new places, connect to characters, and learn something you didn't know before. Summer reading is a great adventure for you and your family to share. The best thing you can do is encourage your kids to explore a new story and do some summer reading.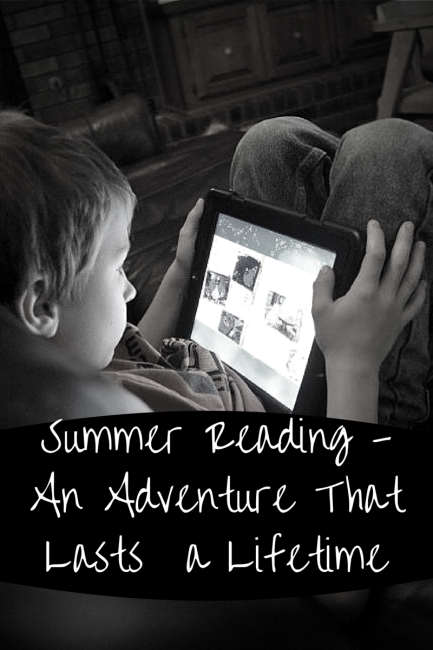 Every summer, my family signs up for our local summer reading program where we promise to read 20 minutes a day throughout the summer. Do you participate in any programs like this where you live? Reading just 20 minutes a day helps them prevent any learning regression, also known as summer slide. My oldest two children love to read a wide variety of topics and are veracious readers. My youngest son, however, has struggled with his reading. He doesn't like to make mistakes, so he is reluctant to read, especially anything not below his reading level. I'm always looking for new books and programs that he'll love and encourage him to read more.
We are avid Disney fans! My kids have been going to Disney World since they were babies and they all have their favorite characters. I found a reading program with stories featuring their favorite Disney characters that my youngest son actually got excited about and wanted to read. When a program gets my reluctant reader excited to read, I just had to share it with you. The program is called Disney Story Central.

Disney Story Central is the largest collection of digital Disney stories available. Stories are designed to encourage kids to develop a lifetime love of reading while featuring their favorite Disney characters. This program is perfect for summer reading because it includes books for pre-readers thru speed readers and is available via iPhone and iPad app, tablet-optimized website and Video on Demand (AT&T U-Verse).
I loved the combination of readers and storybooks available in this program. Leveled readers can be read by you/your child or, like the storybooks, can be narrated while the text is highlighted. My son loved choosing stories with his favorite characters' Big Hero 6 and Gravity Falls.
The program layout is really kid friendly. It was really easy for him to find the books he wanted by searching the character carousel. Plus the program made recommendations just for him. Best of all, the he loved earning stars and trophies for reading.
I received free tokens when I downloaded the free program and logged in the first time. I also received 10 tokens for the purposes of this review to purchase additional stories. I liked that I could assign my son tokens to choose his stories and he couldn't make additional in app purchases when his tokens ran out. Tokens are be purchased in bulk, 1 at a time, or you can sign up for a monthly subscription service that gives kids unlimited access to the whole library for $7.99 a month.
My son loves this reading program. If you have a reluctant reader or one who loves to read, be sure to check out Disney Story Central. Get your children started with their next summer reading adventure and download the program for free at the Disney Story Central website or at the iTunes store. 
I was selected for this opportunity as a member of Clever Girls and the content and opinions expressed here are all my own.