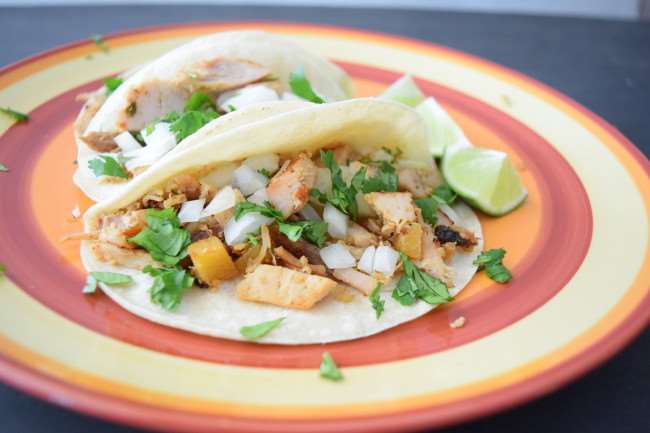 Taco night is a staple in our household. It's a night that everyone looks forward to. So this slow cooker Tacos Al Pastor recipe is one thing we can all agree on. The al pastor meat is marinated pork with fresh pineapple. Using the crockpot makes cooking super easy adn perfect for a weeknight. Plus you'll always have super delicious shredded pork for your tacos.
Al Pastor Meat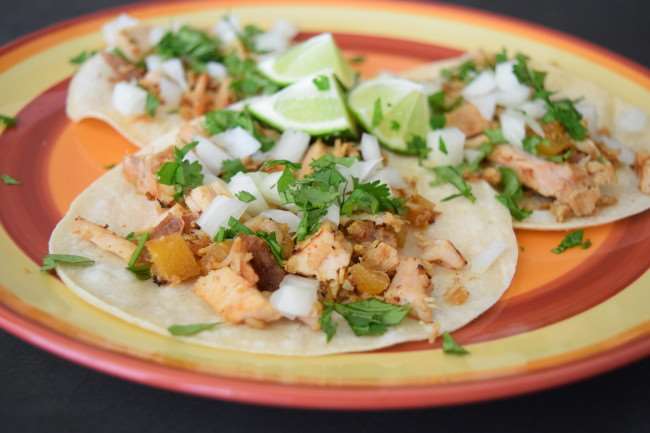 Tacos Al Pastor is a classic Mexican dish of marinated pork. Traditional versions of this recipe marinate pork in a mixture of chiles and pineapple. Then the pork is roasted on a rotisserie until done. In my version, I use chili powder and cumin with the pineapple to achieve the flavor.
For these tacos, make your own tortillas and salsa:
Slow Cooker Tacos Al Pastor
This recipe uses a crockpot to slow cook the pork until it literally falls apart. The cooked pork is then shredded and added back into the cooking liquid and spices to absorb more flavor. The result is something my family loves. Yours will love this slow cooker Tacos Al Pastor recipe too!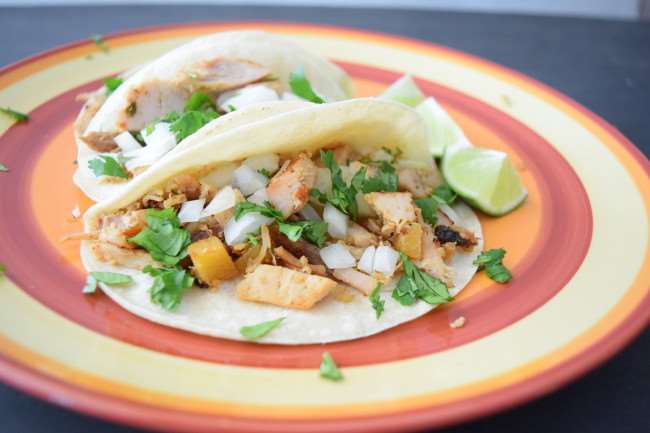 Whether served with accompanying garnishes (listed below) for dinner or with eggs for breakfast, Tacos Al Pastor is sure to be a favorite in your house too! Serve it with fresh corn or flour tortillas for a taste that out of this world!
Tacos Al Pastor (marinated pork tacos)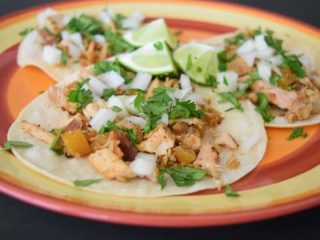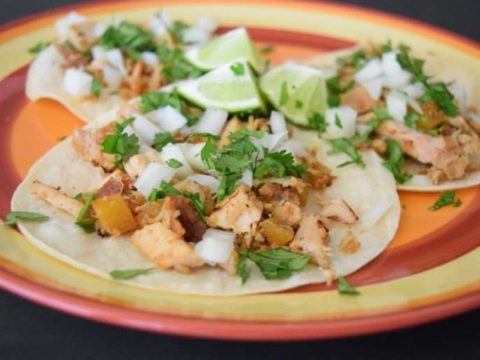 Ingredients
Ingredients:
Pork sirloin roast (about 2-2.5 lbs)
Pineapple, 3/4 cup chopped fresh plus 1/2 cup of water or 8oz can of chucks with juice
1 small onion, diced
1/4 cup chopped fresh cilantro or 3 Tablespoons dried cilantro
1 Tablespoon chili powder
1 Tablespoon ground cumin
1 teaspoon dried oregano
1 teaspoon ground pepper
1 teaspoon chopped garlic
1 teaspoon salt
1 Tablespoon olive oil
8 corn or flour tortillas
Toppings, if desired
Fresh cilantro, lime wedges (for squeezing over meat), queso fresco, chopped jalapeno, chopped radishes, guacamole, chopped onions, pico de galo.
Instructions
Combine add ingredients from pineapple through oil into a crock pot. Stir together and add pork roast. Spoon some of the liquid/spices over the roast now and occasionally during cooking.
Cover and cook on high until meat is fork tender (about 5 hours).
When roast is falling apart, take out of crock pot and shred with 2 forks. Return the shredded pork to crock pot and combine with spices and broth. Keep warm until ready to use.
To make tacos, place desired amount of shredded pork on a tortilla. Add desired toppings and enjoy.
Nutrition Information:
Serving Size:
1
Amount Per Serving:
Calories:

5365
Total Fat:

197g
Saturated Fat:

70g
Cholesterol:

617mg
Sodium:

9079mg
Carbohydrates:

605g
Sugar:

1g
Protein:

276g
Do you have Taco Night at your house? What types of tacos does your family like? Let me know in the comments below.