Thanksgiving is a time of celebration and giving thanks. It's also a time to get in the kitchen and enjoy all sorts of delicious food.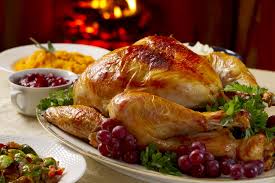 Thanksgiving Food
Over the past two weeks, we have asked our food blogging friends to share their favorite Thanksgiving recipes with us to help you with Thanksgiving Meal Planning. During our first week, they shared a delicious array of delectable pies, cakes, cookies, tarts, breads, rolls, and more at Thanksgiving Menu Planning: Dessert and Bread Recipes
Last week, they shared an assortment of crowd-pleasing holiday appetizers, sides, and salads. You can find all the recipes at Thanksgiving Menu Planning: Appetizers, Side Dishes, and Salads.
In addition to all the recipes being sharing at the links above, we've been pinning all the recipes to our Pinterest boards as well. You can find us on Pinterest.
This week we are asking you to share your favorite Thanksgiving main entrees and stuffing recipes with us. Turkey is a staple in many homes. But not everyone enjoys turkey. So we are asking for all your main entree dishes. It can be vegetarian, vegan, paleo, gluten free, meat protein. etc.
Below you'll find the link where everyone is sharing their favorites. Add your own and join us for a virtual Thanksgiving celebration. Click on the frog icon to see the recipe photos and links. We'll be updated this all week, so check back often.