Tie Dye Veggie Mash is a festive side dish. It combines gingered beet mash, garlic cauliflower mash, and a sweet potato and apple puree. The recipe is healthy and is packed with flavor.
If you are cooking for those on special diets, this is a great recipe to try. The recipe is paleo, vegan, and gluten free. The only fat is from a touch of coconut oil to saute the garlic in for the cauliflower. Everything else is pure vegetable mash. We can't get more "real food" than that.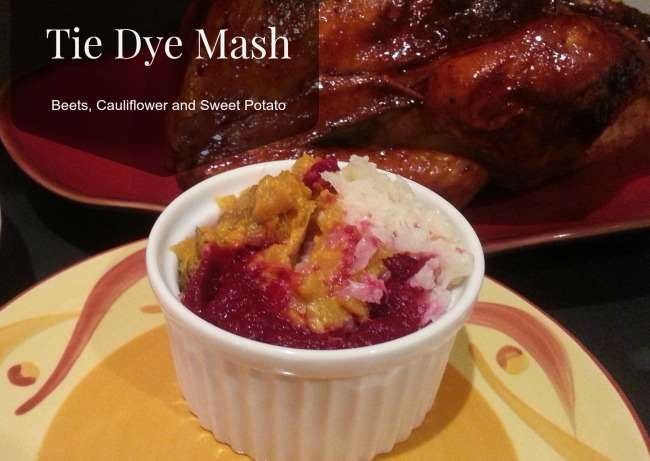 The inspiration for this dish came from a recipe I saw on the Today Show. They were featuring new healthy versions of classic Thanksgiving dishes. The original recipe came from a military wife would wanted to bring together the tastes of home. The concept was great and the dish was certainly colorful. The original recipe was cooked in one pot and took quite awhile as each component was individually cooked. I decided to pull out more pots and change up the recipe a little.
My kids loved this Tie Dye Veggie Mash. I served it to them in individual serving bowls, so they could swirl it themselves. It was fun and looked beautiful on my holiday table. I hope you enjoy it!
Tie Dye Mash
Ingredients
Instructions
Cauliflower Mash
In a sauce pan, add cauliflower, 1/2 teaspoon salt, and enough water to cover.
Bring to a boil, then reduce to a simmer. Cook for 15 minutes for until cauliflower is fork tender.
Drain and set aside to dry.
To the pot you just cooked the cauliflower in, add coconut oil, garlic and 1/2 teaspoon salt. Saute until aromatic.
Make sure the Cauliflower is dry, then add it to the pot with the heat on low and mash together until smooth and creamy.
Transfer into a bowl, cover and keep warm.
Sweet Potato and Apple Mash
In a second sauce pan, add sweet potatoes and apples with enough water to cover them.
Bring to a boil and then reduce heat to a simmer. Cook for 15 minutes or until apples are fork tender.
Drain sweet potatoes and apples.
Return to pan and add cinnamon.
Mash them together.
Transfer to a bowl, cover and keep warm.
Ginger Beet Mash
In a third sauce pan, add beets with enough water to cover them.
Bring to a boil, then reduce to a simmer. Cook until tender, about 20 minutes.
Drain beets and reserve 1 cup of cooking liquid.
Add the beets into a blender or food processor.
Puree, while gradually adding a small amount of the reserved water until the consistency is smooth. (Do not add too much of the reserved liquid.) Add Ginger and blend again.
To serve
Spoon each puree/mash into a large serving bowls or individual serving bowls, swirl to create a tie dye effect or leave them separated.
Notes
The mash can be made 3-4 days in advance and stored in separate containers in the fridge. Re-heat the mash in the microwave and plate right before serving.