In addition to tips to a healthier fall and Halloween, there are affiliate links below. Samples have also been provided by a few companies for review.
Halloween can be scary. Not because of the vampires and little witches roaming the streets, but because it can be hard to eat healthy with all the calorie laden foods coming your way. It starts with back to school and the convenient prepackaged snacks, then the pumpkin spice everything, followed by Halloween candy and the beginning of the holidays.
If you are looking for tips to a healthier fall and Halloween, I have those a few suggestions on foods/snacks that I like which would make healthy snacking a little easier.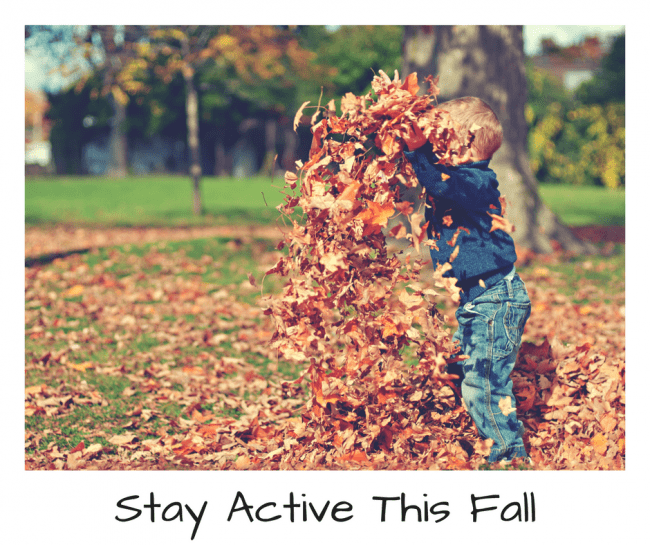 Stay Active this Fall. With the cooler weather, it is a great time to get outdoors. Go for a walk, a hike, or a run. If you need activity ideas, here are 20 activities you can do this fall with the kids. This is actually my favorite time of year to go camping. Crowds are nonexistent and site fees are usually lower too.
When your sweet tooth hits, opt for healthier alternatives. Instead of grabbing for a piece or handful of candy reach for fresh fruit, popcorn, beef jerky, or protein bar. Each of these make great snacks.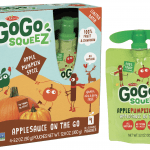 GoGo squeeZ Apple Pumpkin Spice Applesauce pouches – This is anew this fall. Applesauce has been spiced up for the fall and is a huge hit with my kids. The pouches travel well, are great just about anywhere, and also make a good treat for Trick or Treaters. Visit GoGo squeeZ to get a fun Trick or Squeez Kit. Buy it now on Amazon.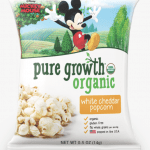 Pure Growth White Cheddar Organic Popcorn – Single serving bags of tasty cheddar popcorn are a hit with my kids. They love that Mickey Mouse is on the bag too. But they really love the popcorn. Each bag is just the right size for a snack and the best part is the organic cheese powder doesn't turn your fingers orange. Buy it now on Amazon.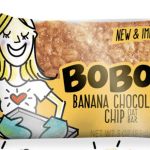 Bobo's Oat Bars – Super moist snack bar that is really satisfying. They just released oat bars filled with nut butter that are really good. But the Banana Chocolate Chip bar is my current favorite. Reminds me of banana bread. Try this own or any of their flavors. Buy them now on Amazon.
Eat a healthy meal before a fall festival, trick or treating, or any other event where healthy food options will be limited. This way you and your little ones will be less tempted to snack. As a general rule, I'll make one of the kids' favorite meals. That way I know they'll eat it. These Turkey Meatballs with a side of Carrot Salad, and Yogurt Parfait are three of those favorites.
If you want to snack on candy, choose those that are made with natural ingredients, preferably organic or non-GMO sourced ingredients, and no artificial ingredients. These options continue to grow year after year. I found these that I really like: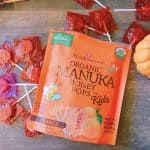 Wedderspoon Manuka Honey Pops – These lollipops are sweetened with Manuka honey, cane syrup, and brown rice syrup. Not only are these a sweet treat but Manuka honey is known for its health benefits. You can read more about what those are here. Buy them now on Amazon.
Torie and Howard Hard Candies – I don't know if I love these candies or the hard tin they come in more. I have been buying these candies for years because they are small and have a great flavor. The Blood Orange and Honey is my favorite favorite but the others are great too. Sweetened with organic sugar, rice syrup, and naturally colored with red cabbage & carrots. If you are watching your calories, each candy has only 12 calories. Buy them now on Amazon.
Torie and Howard Chewie Fruities – Just like the hard candies, these chews are made with organic ingredients. They taste like a Starburst but better! These are chewies soft candy squares sweetened with organic brown rice syrup and dried cane syrup. There are four flavors. Meyer Lemon and Raspberry is my favorite. Buy them now on Amazon
Zollipops – This good for your teeth lollipop was created by a child who wanted a better for you candy. These are sweet lollipops that have no refined sugar, but is instead sweetened with xylitol and stevia. You won't miss the sugar in these lollipops and neither will the kids. Buy them now on Amazon.
Don't buy Trick or Treat candy this year. Instead hand out dried fruit, fruit leathers, or small toys. If you just have to buy candy, see the point above.
Disclaimer: This site featured affiliate links that if you click through and make a purchase through one, we receive a small commission. Samples have been provided for our consideration. All opinions are my own and I only promote those products I really like and would buy/use for my family.
SaveSave
SaveSave