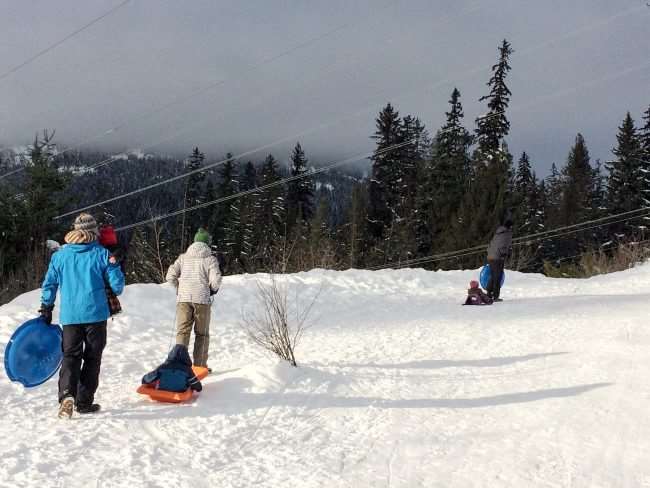 Getting outdoors in the cold winter with a toddler can be difficult. Getting outdoors in the cold with a highy sensitive child can seem downright impossible. I know this from personal experience. My toddler loves to play outdoors, but if the weather is a little too windy or a little too cold, her first reaction is to whine and say that she wants to go home. Incredibly, this reaction is coming from a toddler who has successfully hiked a 6 km trail with 300 metres of elevation gain, with a smile on her face the whole way, in the summertime.
Seeing how my girl thrives outside in the summer, I know I can't afford to keep her housebound throughout our long, snowy winter months. Yet, with all of the other barriers that we run into when planning a day outside with a little one, her typically negative reaction to the winter weather (which is totally out of our control) can easily feel like the last straw before giving up and heading inside for the day. But don't fret! I've found that if I can stick with it, be patient, and make a few modifications to the day, spending time outside in the winter is perfectly do-able and well worth the effort!
Get outdoors with a highly sensitive child
Here are 4 tips to help you get outdoors with your highly sensitive child this winter.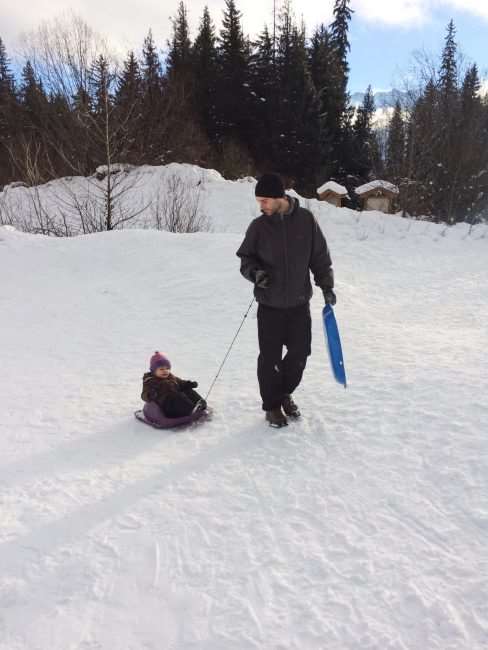 Plan for Transitions
Expect the transition from indoors to outdoors to be tough. Because its winter, your toddler will need to adjust to the cold, wind, and potential snow, which is a lot of extra, and sometimes uncomfortable stimuli compared to a summer outdoor experience. My daughter typically can take anywhere from 5-30 minutes to adjust to the new environment. While this can test my patience, when she finally does come around, I love seeing her explore and thrive while being active outdoors.
Stick with it
Do not get sucked into staying indoors because of your toddler's behaviour, even if an outing does not go as planned. There have been some days where we go outside and my girl is just absolutely unable to enjoy the outdoors because of the wind or the cold. I start to feel regret that we left the house, but it is short-lived. I commonly find that the benefits of getting outside aren't realized until I get home. For example, it often seems that even an outing that feels quite trying makes her more settled and happy to play on her own once we return home.
Another reason to "stick with it" is that sometimes the conditions can change and become more favourable. A little personal story of a day like that – One day, when I decided to take my 1 and 3 year old for a winter hike, we arrived at the trail head to find an incredibly cold wind that nearly swept us off our feet. Since we had already driven the hour to the mountains, I felt committed to giving the hike a try, despite my toddler's protests. It started off very slow and whiny, but then we entered a canyon where the wind died down and from there on we had a really great hike. In fact, it was one of the best hikes I have done solo with my two little girls. Had we packed it in before giving it a try, we would have missed out on this great day.
Plan Your Clothing
Layer your toddler in appropriate winter clothing so that they are able to move freely. A constricted toddler, think little waddling marshmallow, will have difficulty playing in the snow and get frustrated quickly. Do not always assume that your toddler is cold and needs to be bundled until they can't move! Kids tend to run warmer than adults. I often find that my daughter is happier when she wears less clothing than me.
Set a Routine
Keep to a routine as much as possible. This routine does not have to be minute by minute but more block timing. For example, my daughter does a lot better getting outdoors if we get out of the house at the same time each morning. We've also started a routine of her playing outside while I make supper. The more consistent I am with this routine, the better it goes each day. At the same time, don't get overly stressed if you need to change the schedule. Our daughter has become more adaptable because we occasionally choose to take her on outdoor adventures that stray from her regular routine.
These tips have really helped us get outdoors with a highly sensitive child. A little planning and preparation help us be an outdoor family during every season. They can help you too!