It doesn't matter if you are heading into the backcountry to go camping or just pitching the tent in the backyard for some camping at home, you deserve delicious, healthy food every time! I share my fair share of camping recipes and camping menu ideas here, but sometimes you want a quick meal that you can literally just grab and go. Enter in Trailtopia freeze-dried camping food.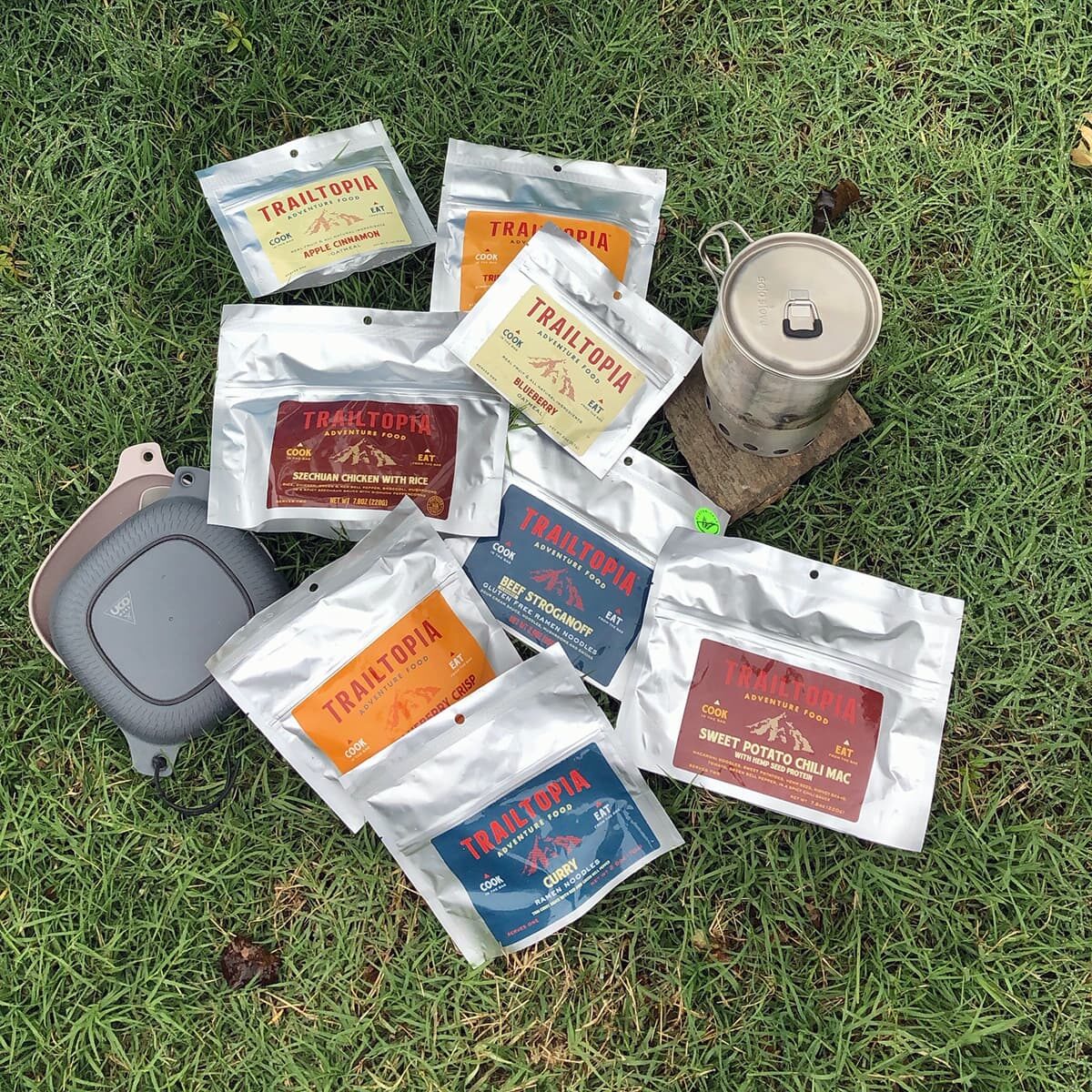 Shown above: Trailtopia Adventure Food pouches, Solo Stove Lite rocket stove with Pot 900, and UCO mess kit.
I recently received a selection of their meals to try out and my family really enjoys them. If you are looking for easy meals for your next camping trip (where ever that may be), let me tell you more. PLUS- I have a giveaway for you so you can try them yourselves.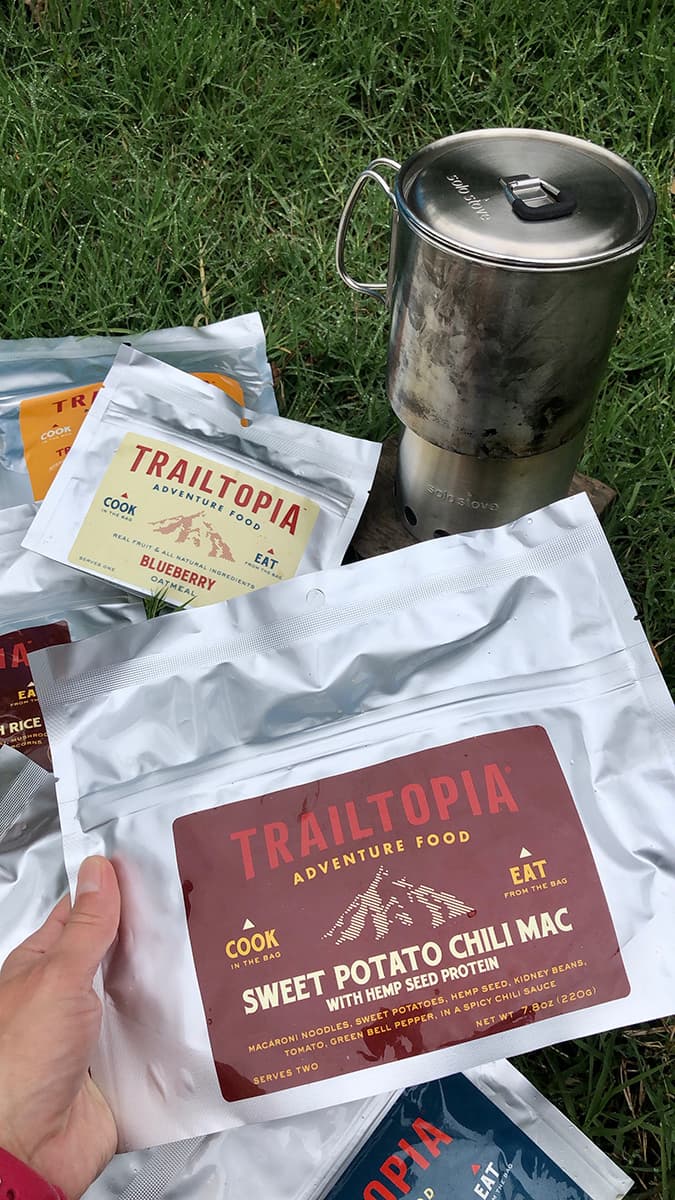 Trailtopia Adventure Food
Trailtopia describes themselves as "adventure food". Based in Minnesota, this family-run business focuses on using freeze-dried, all-natural ingredients including real fruit, veggies, grains, and no artificial ingredients. I love THIS!!! They use ingredients I would use at home and would normally take camping.

Shown above: Solo Stove Lite rocket stove with Pot 900, Sierra Designs Summer Moon 2 tent, Outside Inside Backpack Cornhole
While staying at home the last few weeks, camping in the backyard has been a real sanity saver. Even though we could just grab something from the kitchen, it's a joy to make camping food like we would normally do away from home. The meal options from Trailtopia are also perfect for emergency kits (I live in Oklahoma so we have a few of these), road trips, or any adventure where you want lightweight meal options that don't take up a lot of space. If you are going car camping or RVing soon, check out these other tips for planning a camping menu including how to pack an ice cooler.
Naturally Reduced Sodium
One of the reasons I haven't talked about freeze dried or dehydrated meals here is because they are so high in sodium. But Trailtopia is different. A yeast based extract is used in place of bouillon for flavoring which reduces the sodium by as much as 35% in some of the meals like the ramen noodles.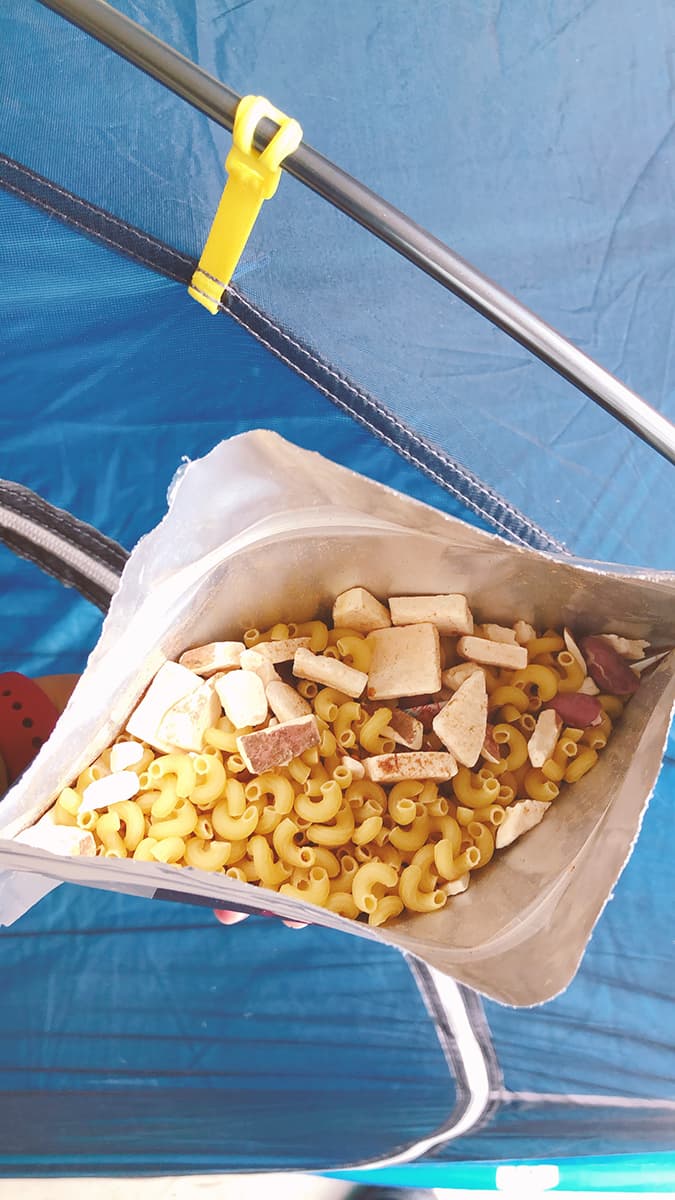 Freeze-Dried Camping Food
The selection of meal options is extensive with 22 dinner entrees, 8 ramen/noodle entrees for lunch or dinner, 9 breakfasts, and 9 desserts. Portions are large with the dinner entrees and desserts serving two while the others serve one. There are gluten-free options like the beef stroganoff, plus vegetarian and vegan options. All of these freeze-dried camping food meals is balanced with plenty of protein and carbs to fuel whatever adventure you are on. My kids like them too!. You can see all the products at Trailtopia.com.
Here's what we tried:
Beef Stroganoff Ramen Noodles (gluten-free)
Curry Ramen
Szechuan Chicken with Rice
Sweet Potato Mac with hemp protein (vegetarian)
Triple Berry Crisp Dessert
Apple Cinnamon Oatmeal
Blueberry Oatmeal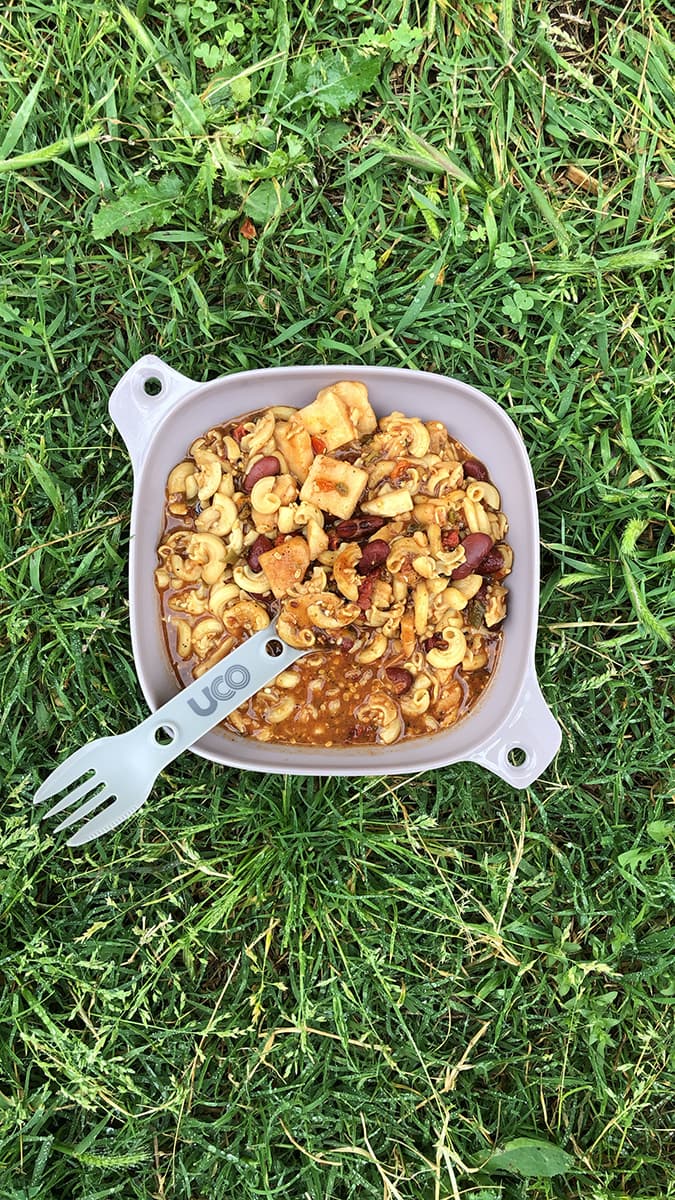 Shown above: UCO mess kit.
All the meals are super easy to make. You just need hot water to reconstitute. I used my Solo Stove (mini rocket stove) and a small covered pot to boil the water. Once you open the meal pouch, you remove the oxygen pack, add the water, seal, and wait 10-15 minutes. Once finished, you can eat directly from the bag or portion it out on plates/bowls. Super simple!!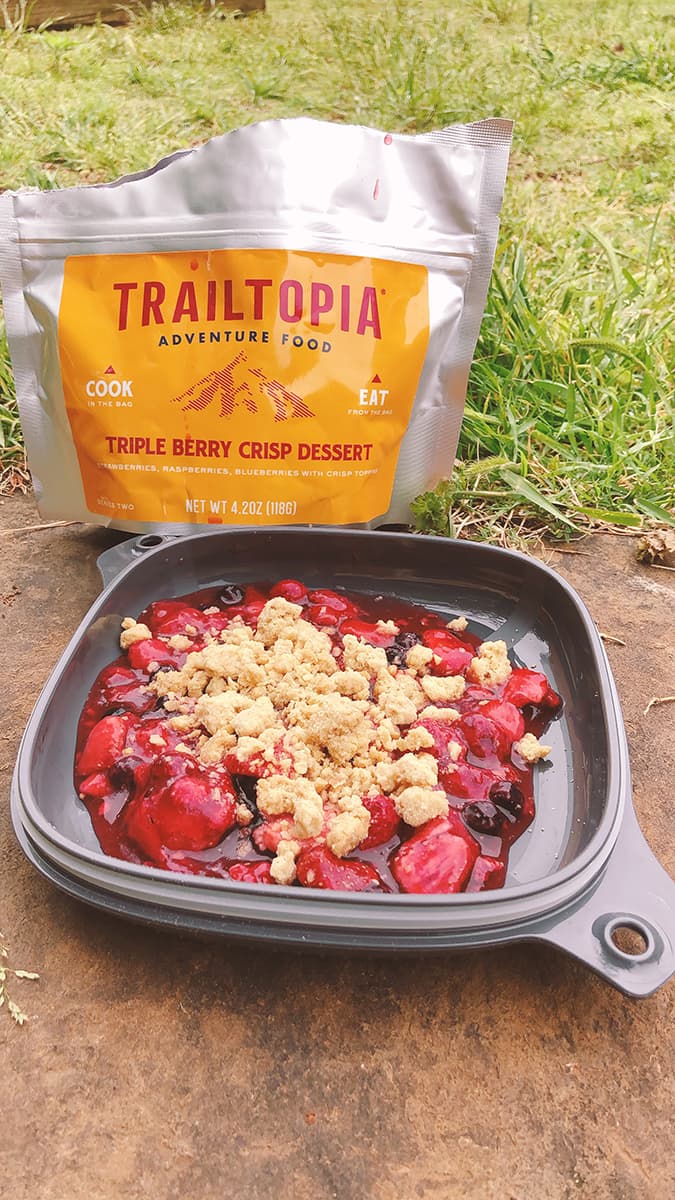 Shown above: UCO mess kit.
Our favorites were definitely the Chili Mac, Stroganoff, and Berry Crisp. One trick I found is that it helped to shake up the ingredients before adding the water. It helps distribute the spices better while cooking. On the crisp desserts, I liked the crumble topping that was added once the berries were reconstituted. I honestly, didn't want to share this one.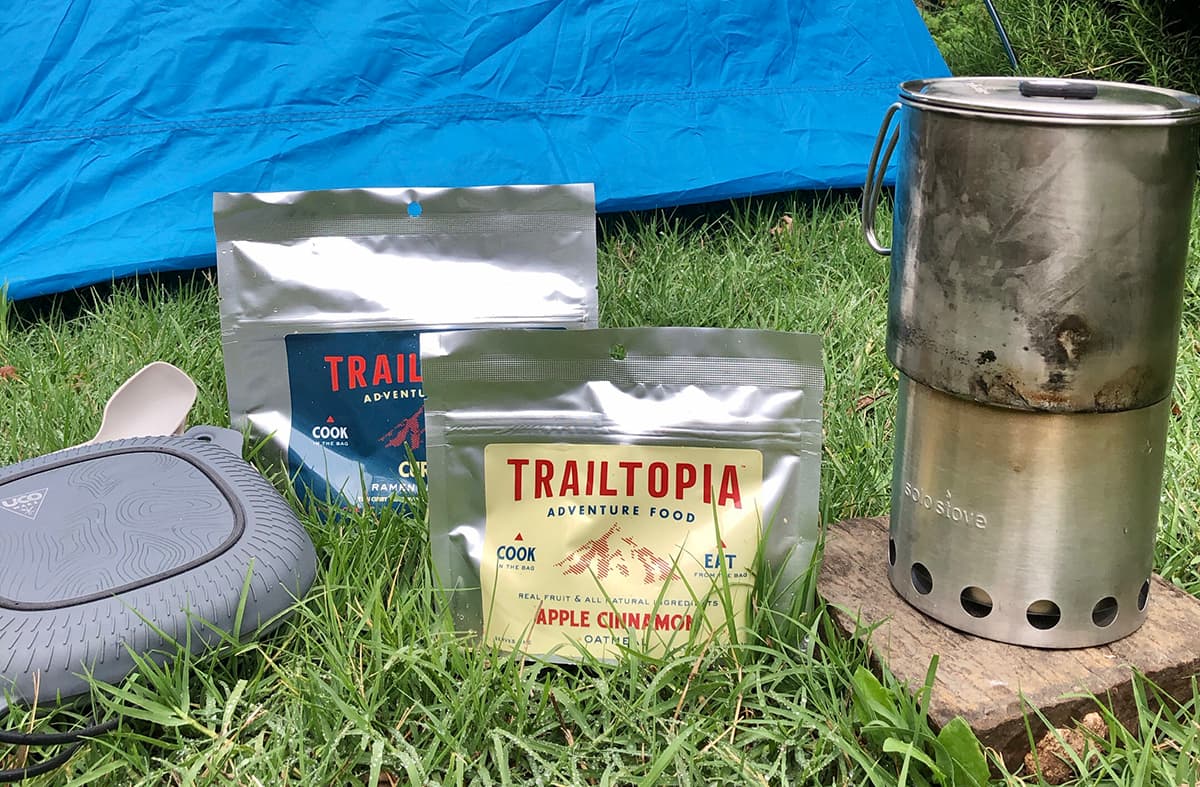 Shown above: Trailtopia Adventure Food pouches, Solo Stove Lite rocket stove with Pot 900 (not in use), and UCO mess kit.
Overall, I loved the ease, ingredients, and packaging of these meals. They are very lightweight making them easy to pack it in and out. You can be assured that we will be added more of these to our camping trips when we actually get the chance to head out again.
Find these products at: