It is fun to be adventurous and try new foods. Universal Yums is a subscription candy box that lets you explore the flavors of far off places without leaving home. International snacks and candy are delivered monthly straight to your door. We got the chance to try this food subscription box and wanted to share our thoughts with you here.
We love to travel and explore new places through their food. But it isn't always possible to travel all the time. So we really like that Universal Yums features a new country each month. In the sample Super Yum Box we received, Turkey was the featured country.
Pin This for Later…..
What snacks did we like best?
Keyifce Fistikli Cezerye – Turkish Delight with carrot, pistachio, and coconut
Mevlana Sekeri – Sagar candies in strawberry
Crunch Tako & Hardal Aromali Cips – Crisps with mustard taco seasoning
There were some different flavors that we have never seen like the kebab flavor chips and rose flavored Turkish delight. Overall we loved exploring the flavors, except one.
Strangest thing we tried?
Toffix Mastic – This chewy candy tasted like a pine tree and none of us cared for it. The guide said that people are divided on mastic. You ever love or hate it. Us? I won't say hate, but we all had a bite and were done.
Reasons to Love Universal Yums
I like this snack subscription box for a few reasons.
It's a unique way to learn about a new culture/country. Each box has a map and information guide with country highlights, historical facts, trivia questions, a regional recipe to make at home, and details on all the snacks/candies in the box. Fun Fact: The legend of the Trojan Horse took place in what is now Turkey.
A good way to try new foods in small portions. I ask my kids to take a bite of every food they encounter because you never know if you like it until you try it. This allows for that bite and if they don't like it, that's fine.
This is a fun food gift idea for someone who has everything and wants nothing.
Budget-friendly with three different cost options. You can choose between three different sized boxes that offer a range between 6 to 14 products each.
Choose from three different levels; Yum Box, Yum Yum Box, and Super Yum Box. Starting at $13.75 a month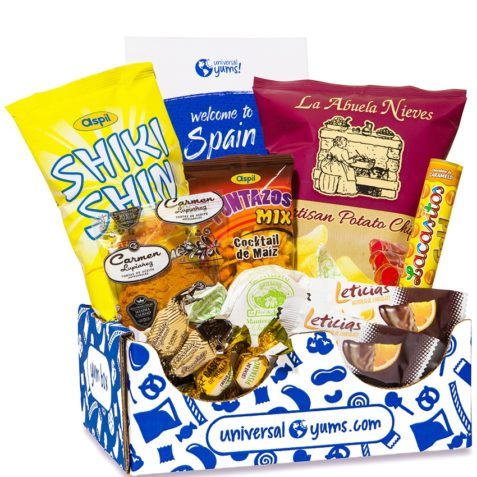 Yum Box – $14.00
from: Universal Yums LLC

Yum Yum Box – $25.00
from: Universal Yums LLC

Super Yum Box – $39.00
from: Universal Yums LLC
Note: Thank you to Universal Yums for supplying a candy subscription box for sampling. The kids loved it so much. I didn't get any food pictures before it was ALL good!