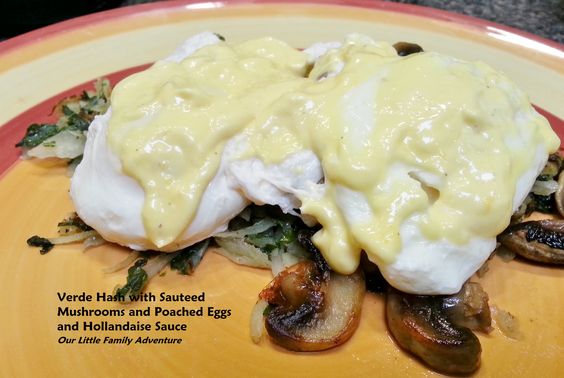 Last week's CSA box included Toscano or Dinosaur Kale. In addition to all the kale coming from my garden, I have grown tired of my recipes for raw kale, sauteed kale, and soups. I wanted to try a new breakfast recipe that wasn't a smoothie. So I started off with Susan's recipe and tweaked it a bit to come up with this Verde Hash with Sauteed Mushrooms, Poached Eggs, and Hollandaise Sauce. SO MY….. It's delicious.
There is a lot going on with this recipe, but the work is so very much worth the effort. I would recommend making the Hollandaise sauce before anything else. For the sauce, I used Julia Child's Electric Blender recipe from Mastering the Art of French Cooking. It is a very easy way to make Hollandaise. I like my sauce a little thick, as you can see from the photo. If your sauce becomes too thick, you can thin it a bit with hot water or milk.
Let me know what you think of this Kale breakfast recipe. If you have other kale recipes, please share them with us in the comments. Thanks!
Hollandaise Sauce
3 egg yolks
1/4 teaspoon salt
pinch pepper
1 1/2 tablespoon lemon juice
1 stick butter
Heat butter in a small saucepan. Heat until foaming hot.
Place egg yolks, salt, pepper, and lemon juice in a blender. Pulse at high speed for 4 seconds to combine. Note: I used a Vitamix and had it set at level 3.
Remove the lid or stopper on the lid. With blades still running, very slowly pour butter into egg mixture. You'll be pouring the butter in a thin stream of drops. The original recipe recommends using a towel over the blender to avoid any splatter when you add the butter. Continue until all the butter is incorporated into the sauce and it is thick.
If making this ahead of time, place the sauce in a glass jar and place in tepid (slightly warm) water.
Verde Hash
2 potatoes, peeled and shredded (about 3 cups)
1/2 bunch kale, thinly sliced (about 3 cups)
1/2 teaspoon onion powder
1/4 teaspoon garlic powder
1 teaspoon salt
1/4 teaspoon pepper
3 Tablespoons olive oil
Preheat a large skillet or griddle over medium high heat. Add the olive oil.
Combine the potatoes, kale, onion powder, garlic powder, salt, and pepper in a large bowl.
Add the potato mixture to the skillet/griddle and form 4 patties. Press down with a large spatula while they cook. Cook for 5-6 minutes per side or until golden brown.
Sauteed Mushrooms
1/2 cup sliced mushrooms
1 tablespoon butter
While hash browns are cooking, heat a skillet over medium heat. Add butter and mushrooms and sautee until the mushrooms are golden brown, about 6 minutes.
Poached Eggs
4 Eggs
1 tablespoon Apple Cider Vinegar
Fill a 2 quart saucepan with 3 inches of water. Add vinegar and bring to a gentle simmer.
Place each egg into the water slowly. Cook for 4-5 minutes, according to your preference.  (4 minutes =firm whites and a runny yolk; 4.5 minutes = yolk that's just starting to set; 5 minutes =set yolk that is still custardy and soft.)
To Assemble
Place golden brown kale hash browns, followed by mushrooms, egg, and top with Hollandaise sauce. This recipe will make 4 servings.