Hi Everybody! It's been a little while since I shared a meal plan with you. Well, I'm back with a GREAT dinner meal plan this week. When you're busy, you want quick and easy recipes. Right? Well, this plan includes several recipes your family is sure to love. I know mine does.
I have been a little slack lately when it comes to meal planning. My wallet can attest to that. I can wholehearted now say that meal planning saves my family money on groceries and going out to eat. Without a meal plan, I'm more apt to say, "Let's just go out to eat." With a family of 5, that really adds up. Plus I've found myself overbuying at the grocery store too. So it's time to get back on the bandwagon and start meal planning again. It's you've been a little slack too, join me and we'll start planning together. It's always more fun with friends anyway.
All the recipes in this weekly meal plan are quick to prepare. Plus they are easy on the wallet. Two nights this week, there's Breakfast for Dinner. We are having a Spanish Tortilla which is a baked omelette with potatoes, ham, and cheese. The other night is a Dutch Open-Faced Sandwich called an Uitsmijter (Out-smi-ter) commonly eaten for breakfast or lunch. Two nights we're pulling out the crock pot for chili and baked potatoes. Other nights, dinner will be ready in less than 30 minutes.
All the recipes in me meal plans feature real food ingredients and are pretty healthy. You can call it "Clean Eating" because I'm not using processed ingredients. The bread and noodles I buy only have a few ingredients and no preservatives. I want to feed my family the best food possible. For me that means, no artificial anything.
For more weekly meal plans, please check out this Clean Eating Meal Planner. It has every meal plan ever shared on Little Family Adventure.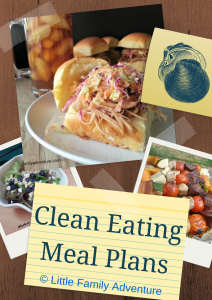 Here's the plan for this week. I hope you enjoy it!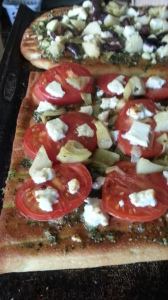 Greek Salad and Greek Flat bread pizzas
Flat bread or pita rounds with pesto, sliced tomatoes, chopped artichoke hearts, Greek kalamata olives, and feta cheese
For pizzas: Assemble ingredients on top of flatbread. Bake for 6-8 minutes at 425 degrees F.
Turkey Noodle soup
8 cups of Chicken or turkey broth , 1-2 cups leftover shredded turkey, 1/2 package of egg noodles, 1/2 cup sliced celery, 1/2 cup carrots, 1 sliced leek, and 1 tablespoon Herbs de Provence
To make soup: Combine all the ingredients, except noodles, in a stock pot. Bring to a boil and add noodles. Reduce to a simmer for 10 minutes or until noodles are al dente.
(Dutch Open-Faced sandwich with fried egg, ham, and Gouda cheese), fresh mixed berries with vanilla yogurt

Chili Cheese Baked potatoes with sour cream and chives,
Wash 4 medium to large sized potatoes and wrap in aluminum foil. Place in a crock pot and cook on low for 6-8 hours. Remove from crockpot when ready to eat. Top with hot leftover chili and shredded cheese. Garnish with sour cream and chives.
So there you have it. This is my family's meal plan for the week. I hope it gives you some inspiration to help decide what's for dinner in your house.
Want more meal plans, recipes, and news from Little Family Adventure?