Natracare provided sample products to review and giveaway. All opinions, as always, are 100% my own.
Reading food labels is a main stream thing. We all want to know what we are eating and putting into our bodies. But do you give much thought into the other products you use? I'll be honest. Until recently, I didn't. It was only after reading an article in a national publication did I start to really consider using organic personal care products. I want to share that article with you. I'm also reviewing a few feminine hygiene products and hosting a giveaway where one of you will win a Natracare Limited Edition Bag filled with products.
Why Use Organic Personal Care Products?
The Huffington Post recently reported on the harmful chemicals found in tampons. The article cited an Argentinian study that found 85% of cotton balls and sanitary products contained glyphosate. Glyphosate is a chemical found in herbicides that is believed to be a "probable carcinogenic" by the World Health Organization. So that means that the cotton used in these products have chemical residue that is linked to possible health risks.
The article goes on to say that sanitary products manufacturers don't have to disclose their ingredients. Therefore, it's really difficult to know the safety and possible health risks of using these products. One way to avoid glyphosate is to use feminine products like pads and tampons that use organic ingredients. Organicly certified products are prohibited from using herbicides, so they are free of glyphosate contamination.
Prior to reading that Huffington Post article, I never gave much thought to the source or quality of the products I used when Mother Nature came calling each month. At a green blogger conference, ShiftCon, I was introduced to Natracare, an organic and natural feminine hygiene company. They sent me an assortment of products to try out; Ultra Extra pads in normal absorbency, Long Wrapped Liners, Super Applicator Tampons, Regular Non-Applicator Tampons, Intimate Wipes, Baby Wipes, Nursing Pads, Maternity Pads, and Organic Cleansing Makeup Removal Wipes.
Natracare strives to provide high quality products. All of their products are free of plastics, clorine, perfumes, and additives. The tampons use 100% certified organic cotton. Becuase their products are free of plastics, they are also biodegradable.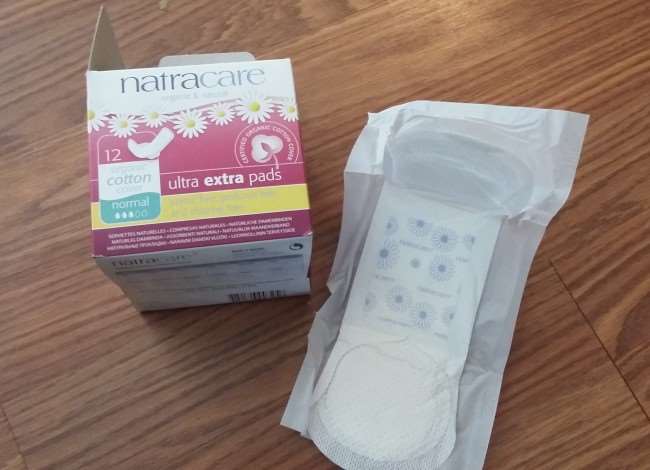 At first look, the Natracare products look just like traditional products. Pads, liners, and tampons came individually wrapped. The packaging is discreet and protects the item until you're ready to use it. I found that these products performed the same or better than tradition products. I won't go into too much detail because of how they are used, but I liked Natracare's products better than what I had been using. Plus the peace of mind that goes with knowing that the ingredients are clearly listed goes a long way.

The wipes are made with 100% organic cotton and the other plant-based ingredients are 82% organic. They use water and a variety of organic oils. The baby wipes contain sweet almond chamomile, and apricot kernel. I love the smell. It reminds me of the way a baby smells. We don't have little ones in the house anymore, but they come on road trips and when we are out and about. The cleansing make up removal wipes are great on my sensitive skin. I haven't been able to use other products like this in the past because it irritates my skin. I didn't have a problem with these wipes.
If you are concerned with the ingredients in the hygiene products you currently use, make a switch. Look for organic products and companies, like Natracare, that are transparent in their ingredients and stand behind their products. You can learn more about Natracare on their website.